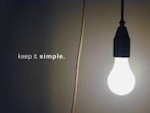 by Abe Udy, Director @ Abe's Audio
Often it's the simple, uncluttered ads that stand out the most.
I was talking to Chris Gates, Commercial Production Manager at Fox FM recently. Chris was the 2012 ACRA winner for best commercial campaign in a metro market.
The winning commercials were simply a voiceover, and nothing else. No music, no sound effects. Just a great concept, a brilliantly delivered voice and some nice processing in the studio.
Chris said '...it's not the most intense production work…..but came together OK in the end. It's funny how some of the ones you submit get up, and others don't get a look in. Simple tends to win at the ACRA's.'
I love that last line. Simple tends to win at the ACRAS.
One clear, uncluttered message, with room for the script to breathe often wins over the opposite.
Keep it simple!