Pure has launched an innovative suite of new products for the iconic Evoke range that are built on Frontier's leading Venice X platform, offering the benefits of SmartRadio to their customers.
The new Evoke Spot, Evoke Play and Evoke Home products offer a diverse choice of usage across any home while taking the listening experience to the next level with a choice of DAB+, FM and Internet Connectivity.
Every model of the new reimagined line is a SmartRadio device and therefore combines the reliability of FM and DAB+ with the choice and flexibility of streaming Internet Radio, Podcasts and Spotify Connect.
Both Pure and Frontier have developed multiple products together, disrupting and changing the industry one collaboration at a time. Looking back on Pure's product history, the Evoke-1 first laid the foundation and then adapted to customers' needs over the course of 20 years, evolving into stereo product (Evoke 2) and then providing enhanced user experience with an added large colour screen and Bluetooth functionality (Evoke H4).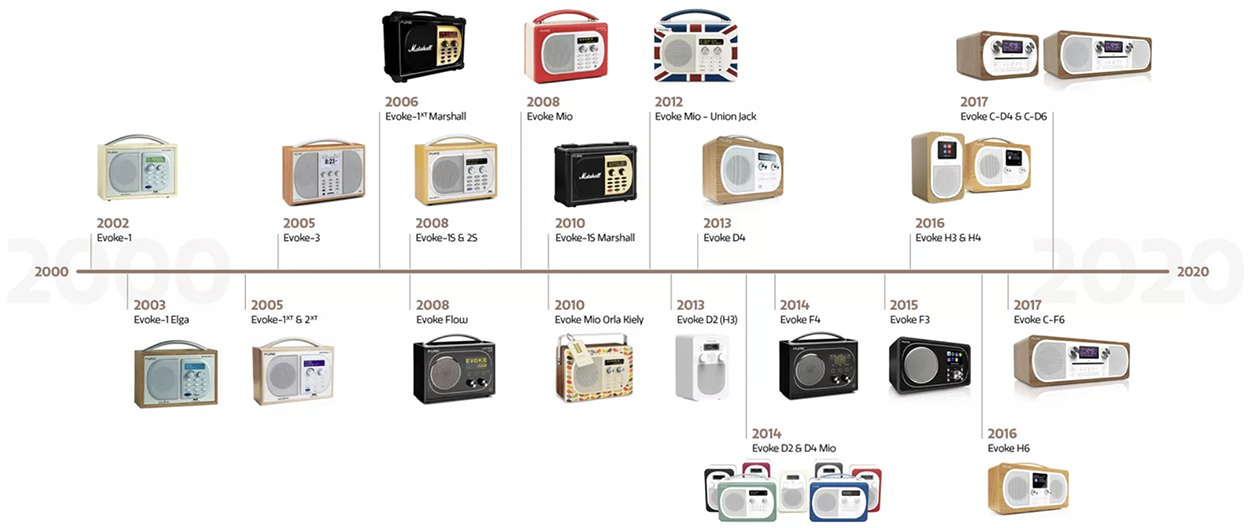 Keeping with this constant evaluation of customer needs and addressing current trends, the latest reimagined Evoke Series composed of the Evoke Spot, Evoke Play and Evoke Home combine the advantages of SmartRadio while keeping contemporary design and focus on usability.
Pure forwent the inclusion of any microphones or voice assistance allowing for maximum privacy.
The new Evoke models feature a foldable colour display that doesn't only save space and make this compact music system look even slimmer, it also makes it easy to conceal distracting lights. Keeping ease of usability in mind, complex functions such as alarm clock, timer or changing the audio source are hidden away under the foldable display while everyday functions are easily accessible on the surface of the devices.
Frontier's solutions are used by the world's leading audio brands and are in millions of devices. Pure and Frontier have shaped the radio market with their innovations over the last 20 years and continue to push ahead.
The Venice X module supports Spotify Connect, Amazon Music and Deezer as well as over 60k Internet Radio stations and 100k podcast episodes.
Head of innovation and product management at Pure, Adrian Nordhaus, says, "We wanted to create a high quality and reliable product that had the best user experience that we could offer to allow us to be competitive in the growing SmartRadio market. We chose Frontier to work with and selected their Venice X platform, which combined high levels of functionality into a single, highly integrated turnkey module that enables SmartRadio products."
Managing director at Frontier, Prem Rajalingham, says, "We are delighted to work with Pure and once again create innovative products that will lead the SmartRadio market. We continue to see the SmartRadio market growing, with brands moving more products from simple DAB + FM to SmartRadio products that combine DAB, FM, Internet Radio, podcasts and catch-up radio."