Inovonics' expansive offering of remote equipment allows users to tap into broadcasts through an easy-to-use remote web interface AM,FM,HD,DAB and DAB+, allowing staff to social distance from any location.
Remote troubleshooting is also made easy with an automatic alert sent to radio engineers via email or SMS text message, whereby they can connect directly with Inovonics gear over dynamic Web interface.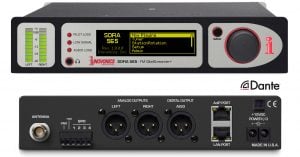 The SOFIA 565 FM SiteStreamer+™ includes many additional features to the popular INOmini SiteStreamers™ which are web-enabled receivers for remote signal monitoring. They are Installed at a broadcast transmitter site, or any remote location with an Internet connection.
The SOFIA 565 provides analog, AES3-digital and DANTE AoIP-audio outputs. The SOFIA 565 can provide signal metrics in real-time and a history of the entire broadcast day, as well as validating and displaying RDS/RBDS program-related metadata. Internet-listening is streamed for up to 10 listeners at once.
Multiple stations can be sequentially monitored using the programmable Station Rotation™ feature.
President & CEO Ben Barber says,"The SOFIA product series is a game changer in the industry and the new 565 FM SiteStreamer+ provides a unique solution to radio broadcast professionals." He added, "I am very pleased that we met our deadline and that customers are receiving their orders on time".
Commenting about the news, AVW Group Marketing & Communications Manager Bharath Narasimmaiah said, "With an upgraded web interface, rich station logo and artist experience feature set, The SOFIA 565 SiteStreamer+ offers advanced features for critical monitoring situations to radio broadcast professionals".
Learn more about the Inovonics family of monitoring products, including Off-air monitoring and + demod/metering equipment for AM/FM/HD-Radio/DBA+/Internet Radio.