Speaking with ARN CEO, Cairan Davis last week, he wasn't offering up much as to what CADA, the revamped EDGE 96.1, is all about.
When asked directly, if he knew anything about it, he replied, "I do, but I'm not going to tell you. We're finalising the last of the launch plans – lots of new people hired in the business. We've got about 30 people down there now working hard on it. Very excited by the opportunity and we'll be launching that in the next four to five weeks, I'd say."
Yet, don't be surprised if it launches much sooner than that – perhaps even later this week.UPDATE: Cada launch date is this Thursday 31st March.

As revealed by departing talent Mike E & Emma in an interview on radioinfo earlier this month, the new national network to be known as CADA will cater to a much younger audience than the current Edge offering.
There were more clues in ARN parent company's HT&E annual report last month which foreshadowed the retirement of the The Edge brand to CADA, a national youth offering "to rival Triple J, targeting 15- to 29-year-olds."
The other week in our article entitled My kids don't listen to Radio. Should radio be worried? ARN Head of Content, Duncan Campbell, speaking about the commercial industry said "We're under stress with the younger demographics – and why wouldn't we be with all the competition out there for those ears and eyes?
"I think we (in radio) haven't really catered for the under 30 demographic (for some time). Being a commercial business, we go where the money is and the money's primarily in 25 – 54's. But as a result, we've shaken loose some of the younger listeners – not all of them – but some of them. I've got nothing but confidence in the medium going forward in terms of its position in the digital future."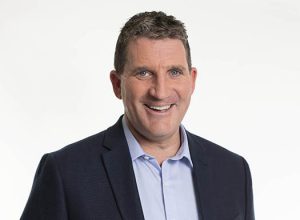 But let's get to the elephant in the room. Big city listed network, ARN, takes over an 80 year old regional family business, Grant Broadcasters, born in Dubbo, during the Second World War. There are economies of scale to be had. Networking to be considered. The staff, naturally, get a bit nervous about whose job is likely to go.
"No one's job is likely to go" says Mr Davis (left) emphatically. "We've been very strong on this from the outset to say that this acquisition was not about cost synergies. There's national revenue opportunity that we see, and we're not going to be looking at that structure. it's a very well-run business prior to us acquiring with a great profit margin.
"If anything, we'll be employing more people as we build our national assets. So, no jobs are going.
"It's got great general managers and talent and regional managers, and we're not going to change with that. The operation model is not going to change. And first three months of ownership have done very, very well."
What has changed, though, is the network's name from Grant Broadcasters to ARN Regional. However there's no plan to rebrand any of the stations to KIIS or GOLD.
"Absolutely not!" says Mr Davis. "The power of those brands in the markets is extraordinarily strong. We're not going to mess with that. I mean, I think you've seen over the last few weeks the strength of content that the range of local radio stations do at times of crisis, particularly the floods in Queensland and southern New South Wales, that's the lifeblood of any community that's out there. Whether it's Power, a Star, 5CC or KIIS doesn't matter. We won't be re-baranding."