FIVEaa breakfast presenters David and Will were out in the cold this week for a good cause.
The station's Jocks & Socks Drive began with a live broadcast from Victoria Park Adelaide this week, with interviews about homelessness and donations from the public.
"It's like a Tom Jones concert," said the pair, who were inundated with jocks, socks, bras and briefs at the OB.
The breakfast pair promised to give free plugs to any business which donated underclothes for the homeless.
"Jocks and Socks are a staple Father's Day gift each year… but this year we're encouraging you to buy a couple of extra pairs to donate to FIVEaa's Jocks & Socks Drive," they said, relating the appeal to the recent Father's Day weekend, when kids often give their dad a pair of socks or undies.
All donations go to the Hutt Street Centre, which provides accommodation for the homeless.
Other FIVEaa staffers are being deployed across Adelaide all week to assist with the appeal.
With only one wheelie bin to store the donations in, David and Will told listeners, think it will be overflowing soon and they will need another one.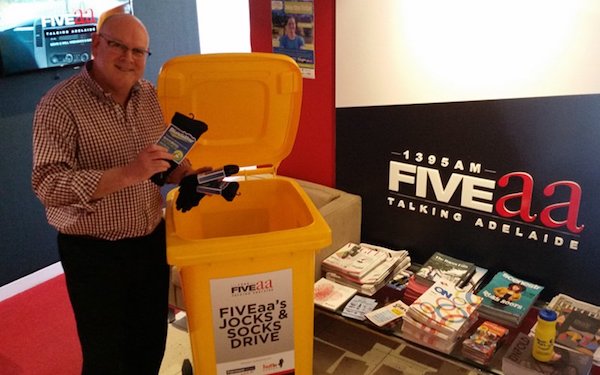 Listen to this week's OB here.