COVID-19 has devastated Australian media with another record decline, but Standard Media Index Forward Pacing Data Suggests an Improving Q3.
While Australia's media industry has again felt the full consequences of the COVID-19 pandemic's impact on the economy in May, with the SMI showing that the economic slowdown is reflected in another record decline in national marketer ad spend (ex abnormals) of 40.4% to $345.6 million.
That represents a year-on-year decline in corporate advertising expenditure of $234 million and puts the Australian market on track to see more than $700 million wiped from the advertising market in just the April to June period.
While Outdoor (-71.1%) and Cinema (-79%) were the biggest losers, Radio spending plumeted by -55.8%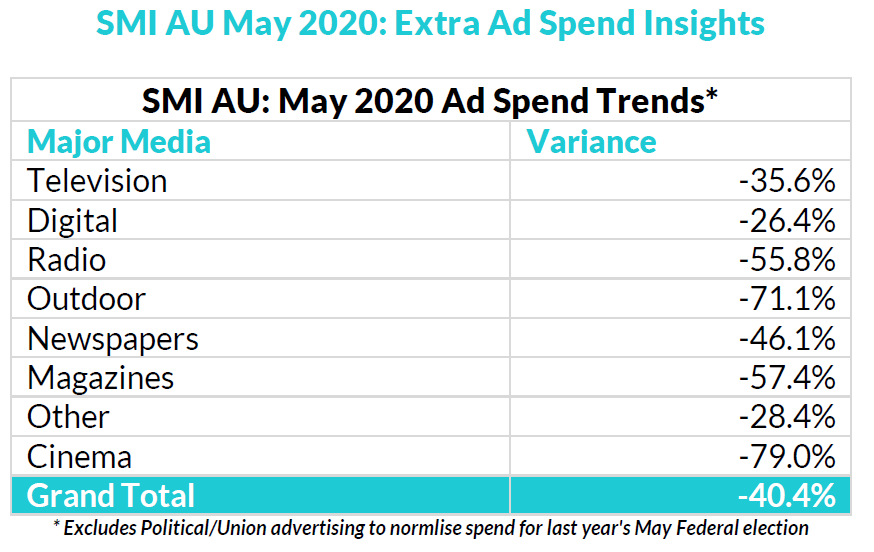 All major media are reporting very large double-digit declines in May following the trend first set in April when ad spend fell 35.3%. And if we add back the Political Party/Union/Industry Assoc category ad spend that abnormally boosted the May 2019 market, today's decline is even larger at 43.8%.
SMI AU/NZ Managing Director Jane Ractliffe said the level of decline is simply far worse than anything ever experienced, with many significant product categories pulling the vast majority of their advertising budgets in May. "In May last year the Travel category was the market's fifth largest but this month its plummeted to 30th position after a shocking 92% fall in ad spend as the industry shut down. Similarly, the value of bookings from the Live Entertainment category slumped 95% and even the large Automotive Brand category reported a massive 62% fall in year-on-year bookings,'' she said.
"The only bright news among the larger categories came from the Domestic Bank category which continued to boost its media investment – this month by 6.2% – as it continued to communicate its relief packages and assistance to its customers.''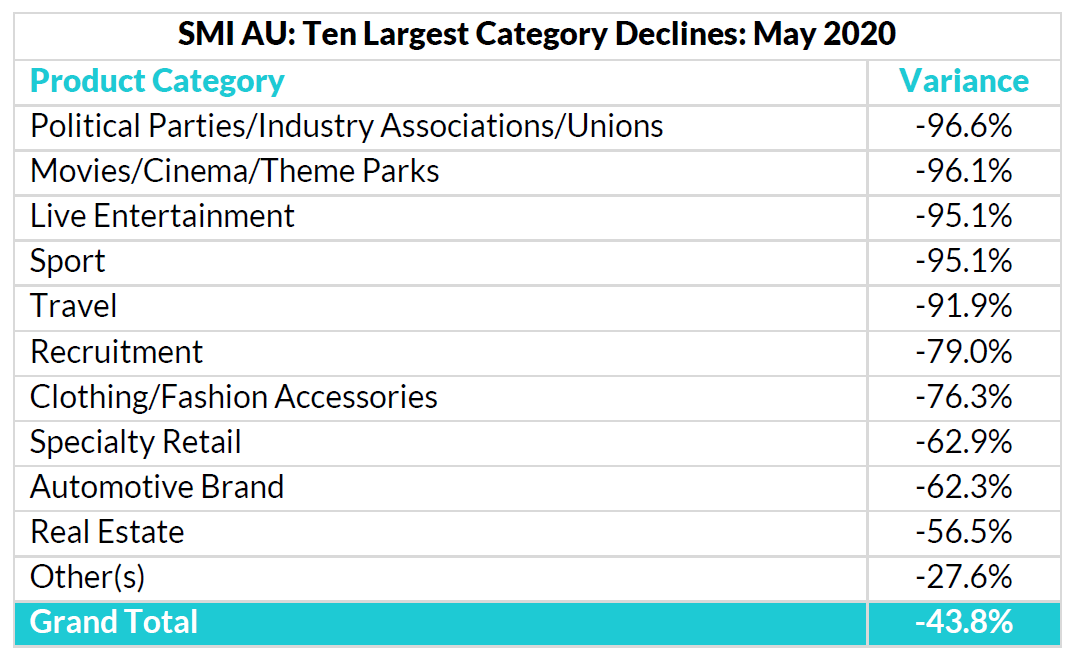 And Ractliffe said there was some other good news, with the market returning to a more normal position in the months of July and August, with SMI's forward bookings data clearly showing far stronger demand for those months. "When we look at the level of confirmed ad spend for July compared to what it was at this time last year, we can see a difference of only nine percentage points and for August the difference is even smaller at six percentage points. Given the difference in demand in May was more than 40 percentage points this shows the market is clearly regaining confidence,'' Ractliffe said.
She said it was also important to note that while these declines are devastating to the Australian media, the same horrendous pattern is being replicated in other world markets.
"SMI has just published our first Canadian ad spend data, and that showed a year-on-year decline in ad spend of 50.1% in May while in the UK the fall was 41.6%, 38% in NZ and 32% in the US. The sad reality is that all sophisticated media markets are feeling the full impact of the COVID pandemic and it's devastating everywhere.''
The continued decline in Australian ad spend now means the market's decline for the January – May period has reached 21.3% while for the financial year-to-date the decline is 12.6%.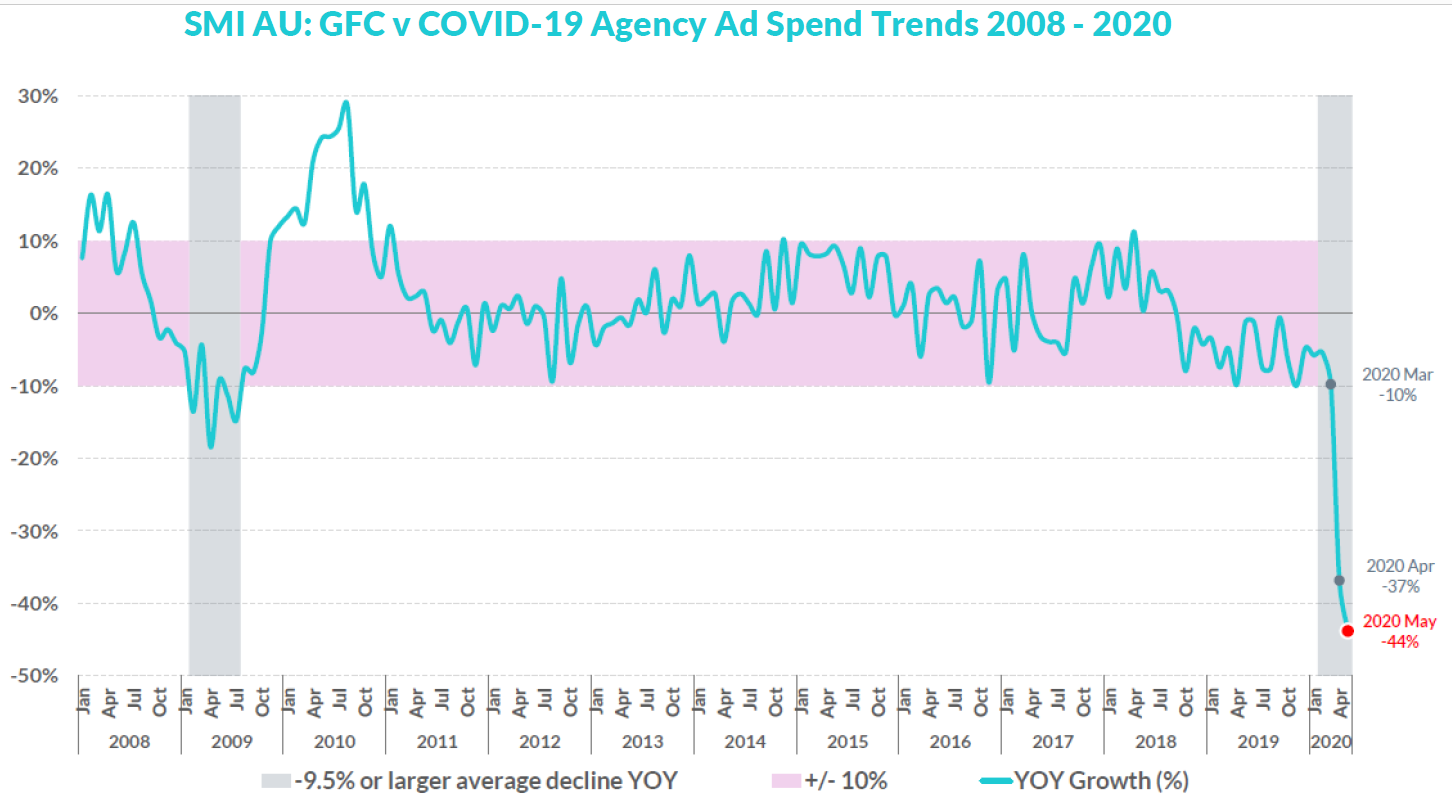 Subscribe to the radioinfo daily flash briefing podcast on these platforms: Acast, Apple iTunes Podcasts, Podtail, Spotify, Google Podcasts, TuneIn, or wherever you get your podcasts.