Steve Ahern speaks to CEO Grant Blackley about Southern Cross Media Group's half year results



Financial accounts are a quicksand of numbers you can sink into if not careful.

SXL's first half year results, released today, are an example of the complexity of financial accounting.

The company has, rightly in my opinion, more clearly segregated its audio and its television business, and this half year's accounts reflect that. The numbers for the Audio and Vision parts of the business can now be seen clearly in the financials (click the chart for more details).
To move from location-based reporting (metro/regional) to platform-based reporting (audio/vision), SXL had to make some changes to the way it reported its assets. One of those things was the value of its transmission assets.

So in the latest set of half year accounts, the company revalued its television towers as it moved that asset to its television division. The result of that was a significant write-down for 'impairment of intangibles' of $226,883 million. It made the company's bottom line show a significant loss, but that is just on paper, it's not real money.

Grant Blackley told me: "Because we made the change to our structure, we had to allocate a value to the tv licences. The last time they were valued was many years ago and they had a high value, but times have changed and the value of tv transmission towers is now much lower… It is a non-cash figure… an accounting exercise."

According to Blackley, the new national organizational structure by output platform is "a better way to think about the business." I agree. There is now much greater depth in reporting, and presumably management and operations.

Given that radio/audio is performing well in terms of revenue, and that its tv revenue has declined, does that mean the company is getting ready to sell its tv business?

"No," says Blackley.

"We are comfortable to retain the television business, we've made a lot of changes to improve both our audio and tv businesses.

"We have employed 105 journalists across the country and put more people into more markets… [the combination of audio and tv] gives us broader marketing appeal and a prominent position in regional Australia."

He admitted that losing tv cricket rights resulted in "a hit of $4 million," but he thinks the rights to the tennis will help reclaim some of that lost advertising revenue.

Blackley also expects the company to gain revenue from this year's state and federal elections. "We will get our fair share from election advertising, in fact we are already starting to see it."

His strategy for radio over the past couple of years has been consistent:
to grow analog radio revenue by brand consistency (ie, all stations are now badged as part of the Hit or Triple M brands)
to convince more national advertisers to spend more money in regional markets
to show total brand listenership by combining digital and analog audience figures
to build new audience and advertising segments for the podcast platform
It appears to be working, mostly.

Then we talked about 2Day FM Sydney.

"We know there is more work there, the job is only half done," he said. "We ended the year better than when we started with 2Day breakfast, more progress will come with time… it is our number one focus at the moment."

Our trend graphs confirm the station's slow growth in ratings, in survey 8 of last year the station had grown its audience to a 4.1% share overall.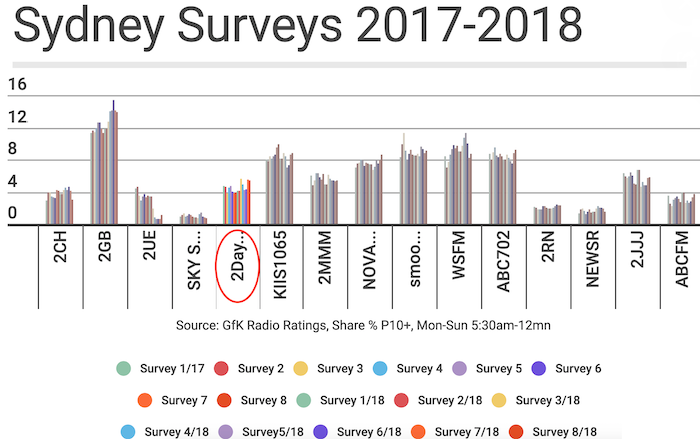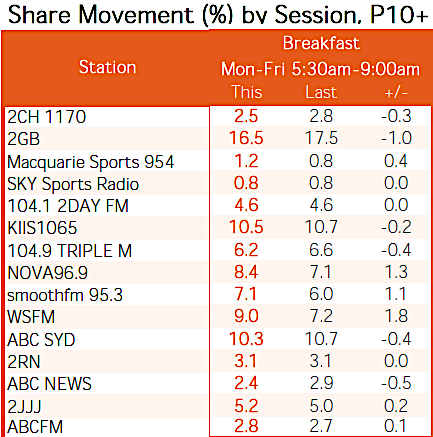 2Day breakfast finished the year on a 4.6% share of the Sydney breakfast audience, up from 2.8% at the end of 2017.

Tripe M Sydney will also be a focus for the company this year. "With Moonman in the morning on Triple M we aim to broaden the station's entertainment appeal, and we are also broadening the music…. Music is a big part of our output and we have to get that right too."

In fact music is about 60% of the programming output of 2Day and Triple M. 35% is personality talk and 5% is news.

A notable item in the first half report is a mention that Canberra FM is now accounted as part of the Audio division, not in the company's 'corporate' figures. SCA owns half of the two FM stations in Canberra, with ARN owning the other half.

Another little item in the accounts reveals the company's deal with the Australian Traffic Network (ATN). Years ago a 20 year deal was signed with ATN which gave Southern Cross $100 million up front and another $108 million over the following 19 years. That deal is noted in the accounts due to it being highlighted as part of the divisional restructure.

Looking to the year ahead, as well as the priorities already discussed, Blackley told me that digital radio will be a big focus.
"DAB is a wonderful growth platform and our company owns half of the available commercial space… we will continue to grow digital and podcasting in the next year."

SXL will pay a fully franked dividend of 3.75 cents per share in March.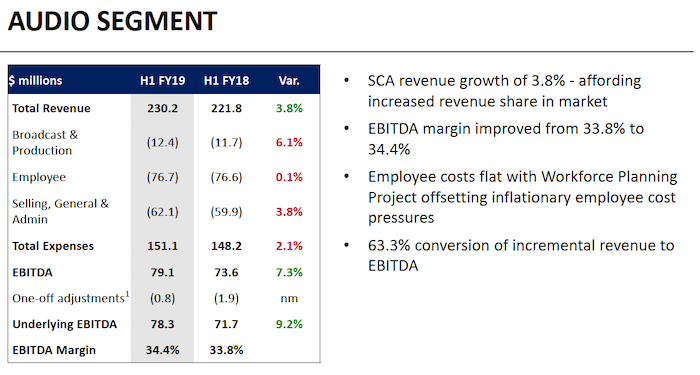 About the Author
Steve is the founding editor of this website.
He is a former broadcaster, programmer, senior executive and trainer who now runs his own company Ahern Media & Training Pty Ltd.
He is a regular writer and speaker about trends in media.