ABC TV and Radio are the most used news brands in Australia, according to this year's annual Reuters Institute digital news report.
The international study reports news attitudes and consumption around the world.
For TV, Radio and Print, ABC's combined weekly usage is 41% of the Australian population, followed by commercial tv channels 7, 9 then 10.
Regional and local newspapers (combined together) are the next most used category, followed by SBS.
Newspapers are broken up by mastheads, but if combined together, News limited capital city papers would have 14% usage.
Nine Entertainment would score about 30% if its tv plus newly acquired radio and newspaper assets were combined (which the survey does not do).
Commercial FM Radio news is used by 6% of the population.
Radio listeners tend to have higher trust that those who rely on online/social media, similar to print readers, but lower than TV.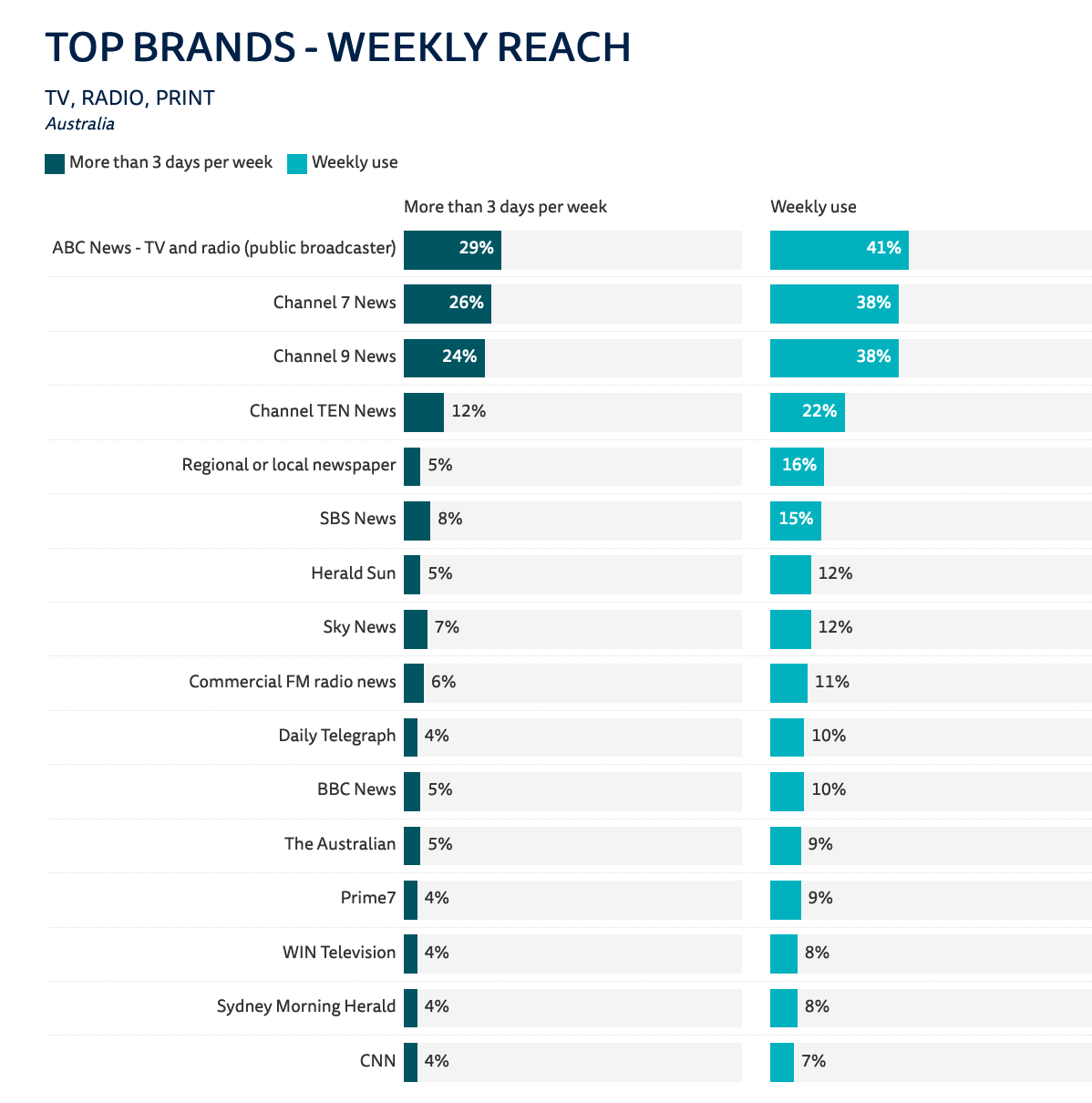 The survey then lists online news brands, with News.com.au and ABC News online jointly holding the top position, at 23% weekly use. Apart from ABC, no other radio news brands rank in the top ten news website brands.
In Chapter 2 of the report, the authors asked which media people would miss the most if they were to close – radio would be missed the most of local news media.
Examining audience reactions to the pandemic, the report says:
"Australian media have benefited from near-record audiences during the coronavirus pandemic and some of the worst bushfires ever seen. But the financial position remains difficult following a series of takeovers, closures, job losses, and changes at the national public broadcaster.

"TV news remains strong and steady and continues to be a significant source of news, especially for the COVID-19 and bushfire crises, while newspapers continue to fall, and social media stagnate. Online, increasing numbers of Australians are using their mobile phones to access news, widening the gap between mobiles and computers."
Commenting on usage of catchup radio and podcasts for news consumption, the report says:
"Podcasts have traditionally been associated with Apple devices, but that is changing rapidly. In the last 18 months Spotify has invested over $500m in podcasting and has reported a doubling of podcast listens. Broadcaster apps like BBC Sounds, ABC Listen (Australia), NPR One (USA), and SR Play (Sweden) now offer original podcasts in addition to live and catch-up radio."

The report tracks a change in habits away from reading to online video and audio consumption.
"For many years bandwidth and technical limitations meant online news was largely restricted to text and pictures. But now, in most parts of the world, it is possible to seamlessly watch news videos or listen to on-demand audio as well. But what do consumers prefer? Reading text is convenient, but can be difficult on small smartphone screens, and a desire to get away from screens may be one factor driving the current boom in audio listening, according to research (Newman 2018).
"We find that, on average, across all countries, people still prefer reading news online, but a significant proportion now say they prefer to watch, with around one in ten preferring to listen. Parts of the world with strong reading traditions such as Northern Europe are most keen on text (54%), while our sample of Asian and American markets is more equally split. The Philippines and Hong Kong are two markets where a majority say they prefer to watch news online rather than read (55% and 52% respectively). Across markets we also find that people with lower levels of education are more likely to want to watch online news, compared with the better educated– a finding which reflects traditional offline preferences around television and print."
According to the report, the COVID-19 pandemic has seen a return to trusted traditional responsible news sources such as radio, tv and print as people, seek reliable information about the fast changing nature of the pandemic, while there has been a decline in trust for online news sources.
"Over the last nine years, our data have shown online news overtaking television as the most frequently used source of news in many of the countries covered by our online survey. At the same time, printed newspapers have continued to decline while social media have levelled off after a sharp rise.
"The coronavirus crisis has significantly, though almost certainly temporarily, changed that picture. Television news has seen an uplift in all six countries where we polled in January and April 2020. Taking Germany as an example, a 12-point decline in reach for TV news was partially reversed as many people turned to trusted sources of news including public service media.
"Weekly TV news consumption rose by an average of five percentage points across all six countries. But it is worth noting that social media were also substantially up (+5) as more people used these networks for finding and sharing news in combination with television and online sites. By contrast, the lockdowns hit the reach of print newspapers and magazines with a six-point drop in Spain, not helped by difficulties in distributing physical copies."
Overall the April 2020 survey found the news media were considered to have done a good job in helping ordinary people understand the extent of the crisis (60%), and also in making clear what people can do personally to mitigate the impact (65%). Though some media have in the past been accused of sensationalising stories, on this occasion only a third (32%) think that the media have exaggerated the severity of the situation, though concern was higher in the United States (38%) and Argentina (41%), and amongst those that distrust the media already.
The level of trust in Australian media has increased, up from 39% to 44%. See detailed analysis of trust across all countries surveyed in this article from Richard Fletcher.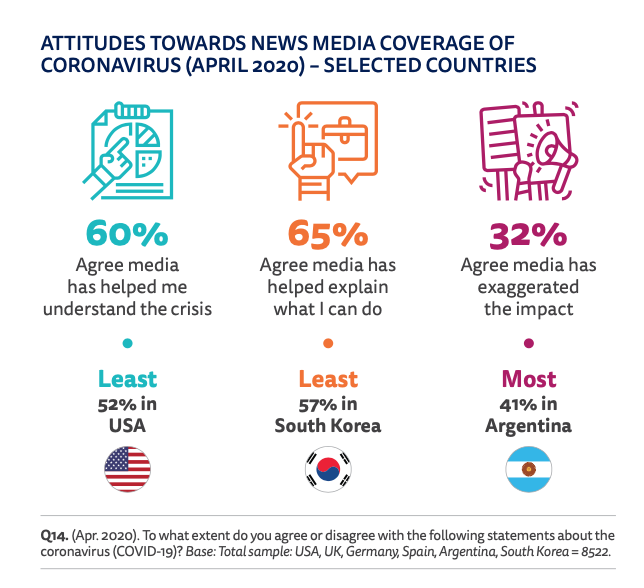 The report notes a return to trust in reliable people and institutions during the pandemic, away from "populist politicians."
"in terms of trust for information about coronavirus, national news organisations score relatively well, behind doctors and health organisations but ahead of individual politicians and ordinary people. In recent years some populist politicians in particular have taken to undermining the media but this coronavirus pandemic has been a reminder that even weakened media play a critical role in informing populations and shaping opinion."
Brand trust for news outlets in Australia saw ABC at the top, followed by other public broadcasters, SBS and the (British) BBC. There was an overall decline in trust in news, which the study attributes to attitudes towards the recent bushfires (click to enlarge).
---
Subscribe to the radioinfo daily flash briefing podcast on these platforms: Acast, Apple iTunes Podcasts, Podtail, Spotify, Google Podcasts, TuneIn, or wherever you get your podcasts.