Do you know what my greatest fear around my radio job is?

It's not ratings related or the chemistry with my on-air partner, nor is it to do with money or my age.

I worry that one day I will make a spontaneous and/or ill thought-out comment live on air or on social media and it will end my career.

This week has seen some profound moments in the cancel culture movement.

Jamie Oliver has removed all reference to Kaffir Lime Leaves.

That's fair enough.

I can no longer fondly recall my beloved Enid Blyton books, despite the fact that I read my son The Famous Five whenever he feels poorly (channeling my inner Enid through the wording there). The simple and old fashioned mysteries somehow made him feel better.

Then Winston Marshall quit Mumford and Sons.

This story has many twists and turns. Fundamentally Winston has left so that his fellow bandmates aren't tainted with his thoughts and opinions. In so many cases when someone does something "wrong", be it big or small, the immediate family and close friends are tarred with the same brush. Choosing to stand by their side is seen as guilty by association.

Lastly, and likely to have a life-long impact on me is sports star, radio and TV personality Dylan Alcott.

We are a sporting family. I've had the opportunity to be part of the 2CC (Canberra) Raiders Call team, which, as a non-rugby league playing female enthusiast, I never thought achievable.
I also love cricket.

Obsessively.

Like the NRL, strictly from the sofa. My son however is an up-and-coming bowler of significant talent. It is a running joke when someone drops a sitter or bowls a doozy that gets smashed for six that I could have done better.

So, when I shared to the family a tweet where Dylan made fun of the Western Bulldogs' (AFL – for the non-sports fans) annihilation of North Melbourne by more than 100 points saying, "Legit reckon I could get a kick for North Melbourne at the minute."

We thought it was hysterical!

I still think it's hysterical.

What I (and Dylan) couldn't have anticipated was the backlash and trolling this comment would get for making fun of a disability.

His disability.

The last thing I thought would happen in this nation of the "fair go" and home of self-deprecating humour was that we would take to task people who choose to take the piss out of themselves.

When I was a teenager, someone in my class made fun of my mum for something that I made fun of on a regular basis. I have never forgotten how much I wanted to thump him. I had the blinding realisation that while I thought it was okay for me to take the mickey out of my loved ones; for an external person it was totally, unforgivably unacceptable.

It is the same for personal comments. Of course, I can serve it up on myself but, like every person in the media or of influence on a social platform, receiving it in response is something else entirely.
I'm going to return to the NRL for a moment.

In season 2021 new rules were implemented to crack down on high tackles and foul play. As teams got their heads (literally) around the changes, matches had send offs, sin bins and even apologies from refs around action taken for accidental incidents.

I hated how the game was affected but as weeks have gone by, players have adapted, matches became increasingly free flowing and I have started to forget some of those dodgy and dangerous activities that needed to be stamped out of the game permanently.

I don't want to shield my children (or listeners) from previous NRL seasons, Enid Blyton or Kaffir lime leaves as, like our own Australian history, you need to learn from the past to understand what can be done to benefit the future.

Equally, as a live and local radio announcer, as much as I try to take both sides and empathy into a situation, sometimes I will say things that turn out to be factually incorrect or become socially unacceptable. I already have and am fortunate that some slipped through to the keeper (sorry – cricket tragic) and others caused a ripple not a wave.

I dread affecting someone else's life in a negative way. But without my own thoughts and opinions on a matter or on my own life I become very boring indeed.

I'm open to having my opinions changed and to saying sorry when I'm wrong…and I will be wrong.

I will have train wreck interviews, days when words come out all wrong (country for example – you all know what I mean) and others when something I deem as innocuous is a trigger for someone else.

I'm writing this here where we all see each other as individuals and people with personal lives and emotions, so I'm sure you relate to much of what I've said.

I also live in Canberra, and this is a place where (whatever you feel about our politicians) some of the worst trolling is given to those who have to make everyday decisions about our health and safety.
Like they're not.
I think about how my words can affect my loved ones and friends. I'm also working with an ally who has considerably more experience in these matters and sometimes heads me off at the pass when I'm about to dive in without checking the water. I'm also having so much fun and most of the time I just am, without thinking about any of the above.

Dylan's response, in part, to the getting bogged down by online responses to what he does or says is this, "They think they do, but they know the persona. So if they're abusing the persona, don't worry, you've got to separate yourself from who you actually are.

"Because the people that really know me are my family, my mates."

In our industry our families and our mates are sources of great fodder for on air. They are more importantly our sounding posts, offering constructive criticism and support when needed.

And vice versa.

In the case of Mumford and Sons' Winston Marshall, his band mates were united in being friends and allies despite his opinions and views that may have differed from their own.

He chose to step aside.

I think all of us in this industry have or will have to make a similar choice at some point about a friend, colleague or even ourselves.

In this time where what is socially acceptable, slanderous and career destroying changes on a regular basis, I hope that you and I make the right ones.
About the author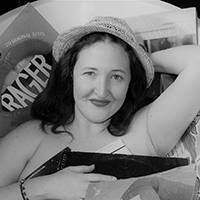 Jen Seyderhelm is an announcer, podcaster, producer, writer, news reader and music historian.
She's Breakfast co-host at 2CA in Canberra.
Jen's podcast, 20/40, celebrates friendship and connection between two women with a 20-year age gap. She is taken her podcast, teaching and storytelling skills on the road as part of an exciting national conversation project.
---
Subscribe to the radioinfo podcast on these platforms: Acast, Apple iTunes Podcasts, Podtail, Spotify, Google Podcasts, TuneIn, or wherever you get your podcasts.
Ask Alexa
:
'Alexa, play radioinfo flash briefing'
or
ask Google Home
:
"Hey Google. Play the latest Radioinfo flash briefing podcast."
---