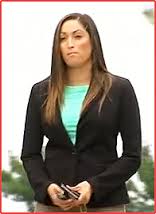 A U.S. federal jury has awarded $1 million to a suburban Kansas City woman falsely described by a radio station as a porn star.

Ashley Patton (pictured) of Olathe, Kansas, sued the owner of 96.5 The Buzz after a DJ identified her on an April 2012 morning show as a porn star.

A weeklong federal trial ended with jurors awarding Patton $250,000 in actual damages and $750,000 in punitive damages. Her lawyer says the company agreed while the jury was deliberating that the verdict won't be appealed.

Patton had been added to a list of names the station posted on its website, which also had a link to the podcast of the show. Both sides agreed that Patton was never involved in the pornography industry.