Our Survey 2 analysis of the networks and cities.
Networks
Southern Cross Austereo
As a whole the Triple M brand had a good survey in the markets that count most for SCA, the standout in Melbourne where it has kicked a little ahead of the FM pack by staying still on a 7.4 share while all the other FM stations lost ground.
In fact, the Melbourne result was just plain weird for stations on the FM band with losses across the board while AM stations 3AW and SEN put on solid audience gains.
But back to Triple M which was steady enough in Sydney too. Unfortunately it sustained losses of over 1.0 in both Brisbane and Adelaide.
In Perth, which is a different kettle of fish, Mix 94.5 retained it's lead in that market with a 13.9 share even though it lost 1.0 in overall share.
The HIT brand, which is down to a 3.3 in Sydney also shed audience in Melbourne but managed to retain second place behind stable mate Triple M on the FM band.
Brisbane's hit105.3 took the biggest hit, losing 1.1 in share while the brand remained steady in Adelaide and Perth, albeit on a low base.
Nova Entertainment
Nothing to see here folks.
In as volatile a radio market place as this, it was a relatively steady result all around for Nova Entertainment.
smoothfm slid a tad in Melbourne (but so did all the FM stations except Triple M). smooth went up a tad in Sydney.
Nova 96.9, Sydney, returned a 0.0 change despite a 0.8 gain in Breakfast 0.6 in Drive and the a 0.6 at Night.
In Melbourne, Nova 100 dropped by 0.6, but as we said earlier, so did its main competitors.
In Brisbane, Nova106.9 managed to claw back some the mauling it got from 97.3FM last time and remains in a solid second in the market. In Adelaide the Nova brand surged ahead to land in third place overall behind Mix 102.3 and ABC882 while in Perth it eased back a little to stay in third spot overall.
ARN
Although more of its stations lost some share than gained it would be nowhere near enough to wipe the smile of ARN's collective faces.
For a start, in the Emerald City where it matters most both KIIS and WSFM went up slightly and almost uniformly to stay in the number one and two FM positions respectively. In fact, with ABC 702 losing an uncharacteristic 1.5, KIIS and WFM are now in the number 2 and 3 places overall with Aunty taking out 4th.
If there was a spot of black in ARN's silver lining then it was in Melbourne where KIIS 101.1 took a 1.0 hit on the back of its Breakfast show which went down by a similar margin leaving it at the bottom end of a pack of six FM stations where only 1.1 separates top from bottom.
GOLD only lost 0.1 to put it on a 6.8 share and in the middle of that pack.
In Brisbane, 93.7 comfortably retained the number one spot despite a slight loss in audience while the venerable 4KQ went up a tad.
In Adelaide too, MIX102.3 while shedding some listeners stayed ahead of the pack while CRUISE1323 also lost some share without ringing any alarm bells.
There was no cause for alarm in Perth either where ARN's latest acquisition 96FM stayed firmly in the number 2 spot.
MRN/Fairfax Radio and Other Talk
Now that the war is over and they're all on the same side, today's survey result would be seen from a very different perspective at head office in Pyrmont.
The standout for Executive Chairman Russell Tate would have to be the hitherto enemy 3AW which powered ahead to dominate the Melbourne market on a 15.4 share, a full 5.0 ahead of second placed ABC774.
Ross and John amassed a staggering 20.1 share for their Breakfast Show while Neil Mitchell managed a very healthy 16.8 in Mornings with no let up in gains through every other shift and day part on the station.
3AW's results dwarfed even the ever reliable 2GB, which is the only station in Sydney to return double digits. Despite a slight drop in listeners, it landed it on a 12.6 share overall. Alan Jones 15.9 share in Breakfast and Ray Hadley's 14.8 Mornings is nothing to sneeze at.
There was no joy at 2UE though with the station slipping back to a 4.8 share after knocking on the door of 6.0 last time. It lost ground in every shift which may tempt management to look at networking 3AW into 2UE. They wouldn't, would they?
In Brisbane the now gutted 4BC rose 0.6 overall to perhaps belatedly reflect Alan Jones's contribution during the Qld elections earlier this year. If so, it augers well for the future of his networked show on a more permanent basis.
In Adelaide where FIVEaa has been quietly kicking goals for its owner, Nova Entertainment, the station turned in a very respectable 11.3 share which can only strengthen the position of MRN's national sales offering.
The newly merged entity even had a good day in Perth where 6PR has kicked again and climbed to a 9.0 share.
The three AM music stations currently owned by the new MRN stayed pretty steady with 2CH returning a 4.2 share and the Magics posting a 4.4 and a 4.3 in Melbourne and Brisbane respectively.
The recently re-listed SKY Sports Radio in Sydney has put on some listeners to arrive at a 1.2 she while the more established SEN Melbourne is back up to a 4.3 with winter approaching.
ABC
It was not a great result for the national broadcaster's local radio service with the only bright spot being Perth where ABC 720 gained 4.0 to end up with a 10.7 share.
In all other markets the local station either remained steady or went down – nowhere more so than in Sydney where 702 took a whopping 1.5 loss to land on an 8.0 share which for the first time in a very long time found it relegated to 4th place behind 2GB and ARN's KIIS and WSFM.
774 lost a little ground in Melbourne but remained comfortably in second place, albeit 5.0 behind market leader 3AW.
In Brisbane and Adelaide, they remained steady.
The ABC's youth platform, triple j, fared much better overall. Small losses in Melbourne and Brisbane were more than offset by healthy gains in Sydney, Adelaide and Perth.
Cities
Sydney
Of the stations that have made recent changes, 2UE dropped, losing 0.9 to 4.8% and Hit104.1 (previously 2Day) fell by 0.3 to 3.3%. Sky Sports Radio continued its slow climb after re-entering surveys this year, rising 0.3 to 1.2%.
ABC702 had the biggest fall, dropping 1.5 to 8.0%. Other movement was minor in this market.
Top station 2GB slipped by 0.4 to 12.6%, followed a long way back by KIIS in second place, up 0.2 to 8.9%. Third placed WSFM rose by 0.3 to 8.2%.
2GB won all timeslots except drive, which was won by Nova. The 10-17 demographic was won by Nova, KIIS won 18-39s, WSFM won 40-54s, 2GB won 55-64s and ABC702 won the over 65s.
Melbourne
Hit 101.9 Fox FM slipped by 0.7 to 6.9%. In other significant movements, KIIS fell by 1.0 to 6.1%, 3AW rose by 1.8 to 15.4% and SEN increased, up by 1.1 to 4.3%.
Top station 3AW was followed by ABC774, which slipped by 0.3 to 10.4%. Third placed Triple M was steady at 7.4%.
Hit won 10-17s, triple j won 18-39s, Triple M won 40-54s and 3AW won the over 55 demographics. 3AW won all shifts in the market.
Brisbane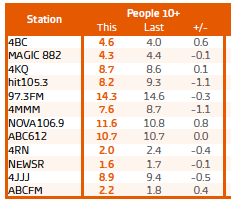 In Brisbane, 4BC, which had a lineup change after the survey finished, increased its share, rising by 0.6 to 4.6% overall. Former breakfast hosts Ian Skippen and Loretta Ryan increased by one share point in the breakfast timeslot, with other shifts also rising. The new 4BC lineup will begin later this month. The two former Fairfax stations, now merged with Macquarie Radio Network, were at the bottom of the commercial radio ladder in the Brisbane market.
Top Brisbane station 97.3 slipped slightly, down 0.3 to 14.3%. Second placed Nova 106.9 rose by 0.8 to 11.6%, followed by ABC612, steady on 10.7%.
Hit105.3 (previously B105), and sister station Triple M both dropped most, losing 1.1 share points overall. Hit was 8.2%, down from 9.3 last survey, while Triple M scored 7.6% overall.
ABC612 won breakfast just ahead of 97.3 then Nova. 97.3 won mornings, afternoons, drive and weekends. ABC612 won evenings. Nova won the 10-17 and 25-39 demographics, Triple J won 18-24s, 97.3 won 40-54s, 4KQ won 55-64s and ABC612 won the over 65s.
Adelaide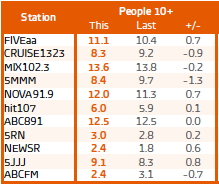 Triple M dropped most in Adelaide, down 1.3 share points to 8.4% overall. Triple j had the biggest gain of the survey in Adelaide, up 0.8 to 9.1%. Hit 107 (previously SAFM) gained 0.1, rising to 6.0%.
Top station Mix 102.3 slipped 0.2 to 13.6%, followed by ABC891, steady at 12.5, then Nova 919, up 0.7 to 12.0%.
Nova won all the under 39 demographics, Mix won 40-64s and ABC891 won the over 65s.
ABC891 won breakfast ahead of 5AA then Mix. Mix won mornings, afternoons and evenings, Nova won drive, Mix won weekends.

Perth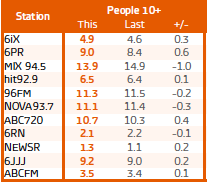 Hit 92.9 gained 0.1 to 6.5%. SCA stablemate Mix 94.5 retained first place, despite suffering the biggest fall of the survey, down 1.0 to 13.9%.
96fm, which recently changed hands from Fairfax to ARN, remained in second place, slipping by 0.2 to 11.3%.
Nova was third, down 0.3 to 11.1%, followed by ABC720, up 0.4 to 10.7%.
Nova won the 10-17 demographic and triple j won 18-39s, just ahead fo Nova. Mix won 40-64s, while ABC720 won the over 65s.
ABC720 won breakfast, ahead of Mix. Mornings and afternoons were won by Mix. Nova won drive and evenings, Mix won weekends.