Name changes were a feature of this survey… so was the continuing rise of Smooth FM.
See our analysis of networks and cities below.
Refresh this page during the day to get the latest updates.

Networks
Southern Cross Austereo
It has not been a good survey for SCA in the two biggest radio markets, Sydney and Melbourne.
Its long time problem child, 104.1 2Day FM was the least of it's concerns, holding its own on a 4.6 share – equal with 2UE's Talking Lifestyle.
101.9 FOX FM, the hitherto FM market leader in Melbourne, though, shed a hefty -1.0 to drop to third place in the FM stakes and #5 overall.
The ever reliable Triple M was down considerably in both cities, -1.2 in Sydney to land on just 4.8 (.2 ahead of 2Day). In Melbourne Triple M dropped by -0.9 despite a small increase in Breakfast. Workday Mornings and Afternoons fell by -2.4 and -2.6 respectively.
Things start to look up a bit for SCA in the other markets. In Brisbane Triple M gains 0.2 while HIT 105 also waxed a tad by 0.3 to to pip 97.3 FM and come in at #2 overall.
In Adelaide, Triple M was up 0.8 but HIT 107 was down by the same margin to finish on a 9.8 and an 8.0 respectively.
Leaving the best till last, in HIT 92.9 enjoyed a 1.4 rise in share while MIX 94.5 rose a tad to easily retain its #1 spot in the market on a 14.5 share.
Nova Entertainment
The day belongs to smoothfm. Exactly 9.9 in both Sydney and Melbourne – enough to establish the brand as the FM market leader in Australia's most populous markets. smooth even beat out ABC SYD for second place overall behind 2GB. smooth took 3rd place overall in Melbourne.
Things were pretty good on the Nova front too with nice little upticks in both Sydney and Melbourne, Nova 106.9 had a blinder in Brisbane, up a whopping 2.8 to catapult it to 12.8 overall and the number one spot in the market. Nova 91.9 had a tidy gain in Adelaide too while Nova 93.7 in Perth was the only station in the NovaEnt universe to shed audience. But it was only -0.6 and it easily held on to second place in the market… so, who cares.
ARN
A mixed bag for ARN with both KIIS and WSFM losing ground in Sydney but both KIIS and GOLD gaining ground in Melbourne. Nothing major except for perhaps WSFM which is down to a 7.0 share after a -1.4 drop.
In Brisbane though, 97.3 FM which led the market last survey was beaten into 3rd place by Nova and HIT after a mere -1.1 loss in share. But the venerable 4KQ enjoyed a 0.6 rise to land on 8.1.
Adelaide was easily ARN's happiest hunting ground with the bulletproof MIX102.3 gaining 0.5 to retain its #1 position and even the venerable CRUISE1323 on the AM band shot up by 1.4 to reach double digits with a 10, flat.
Meanwhile, in Perth, 96FM continues its slow march towards double digits, up 0.4 which brings it up to 9.1 share overall.
Macquarie Media and other Talk
It was an okay survey for the talking macs. The flagships 2GB in Sydney and 3AW in Melbourne were both up a bit to once again tighten their stranglehold on the premier position in Australia's premier markets.

4BC remained steady on its 5.5 share in Brisbane. 6PR lost a little ground in Perth to finish on a 6.9 share overall. Back in Adelaide, the NovaEnt owned talker FIVEaa fattened its audience by 0.3 to hold down third spot in the market on a highly respectable 11.6 share.
On the Talking Lifestyle front, 954 in Sydney continues to defy the naysayers with another incremental increase in share; up 0.2 to a 4.6. In Melbourne and Brisbane, however, where the Talking Lifestyle format has only recently replaced the Magic formula the loss in audience share was deep. From already small shares, Melbourne was down -1.5 to land on 1.4 overall while Brisbane fared a little better, down 0.6 to a 1.5 share.
In contrast 2CH 1170, which was recently bought by Glenn Wheatley's EON group went up by 1.0 to a 3.9 share.
Melbourne's SEN can thank the footy gods for injecting 1.2 worth of audience share to arrive at 3.9 overall while SKY Sports Radio edged up a bit too for a 1.1 share.
ABC
Not a bad outing for Aunty for Survey 2. If FM stations can claim #1 FM in the two markets where AM stations dominate then ABC Local Network stations can claim to be #1 AM in the three markets where FM stations dominate.
ABC MEL was once again in familiar territory with a 0.5 gain to be on 10.3 and hold down its accustomed second place behind 3AW. But for ABC SYD, the sands had shifted. Dropping -0.7 to an 8.0 share, the old stager found itself relegated to third as smooth 95.3 shot up by 1.6 to land on a 9.9.
ABC BRI and ABC ADE were both enjoyed nice gains while ABC PER dipped a bit.
triple j
Not so good for Aunty's youth network. Down significantly in most markets, experiencing huge drops in Brisbane (-2.2) and Adelaide (-2.6). The network's best result was in Sydney where its share fell by only -0.4.
We will speak to ABC Head of Radio
Michael Mason
later to find out what happened.
Cities
Sydney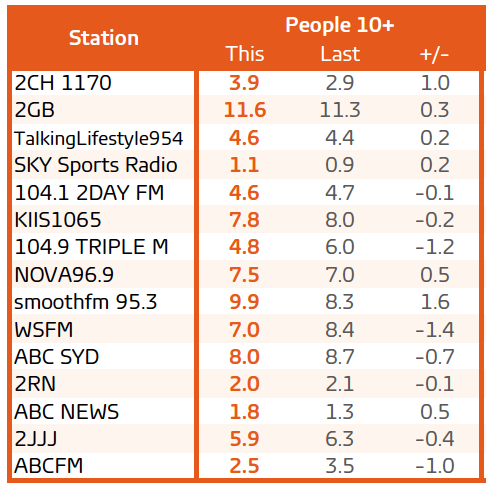 2GB remained clearly at the top of the Sydney market, gaining 0.3 to an overall share of 11.6%.
Smooth fm regained second place position with a rise of 1.6 share points to 9.9%.
Third place went to ABC Radio Sydney, down 0.7 to 8.0%, followed by KIIS, down 0.2 to 7.8%.
Fifth place went to Nova, up 0.5 to 7.5%.
Smooth had the biggest gain of the survey, and also up significantly was 2CH, rising one share point to 3.9%.
Triple M, WSFM and Classic FM suffered the biggest falls this survey.
2GB took out the top breakfast show position, followed by ABC Sydney then KIIS 1065.
Nova won 10-17s, triple j won 18-39s, smooth won 40-54s, 2GB won over 55s.
Melbourne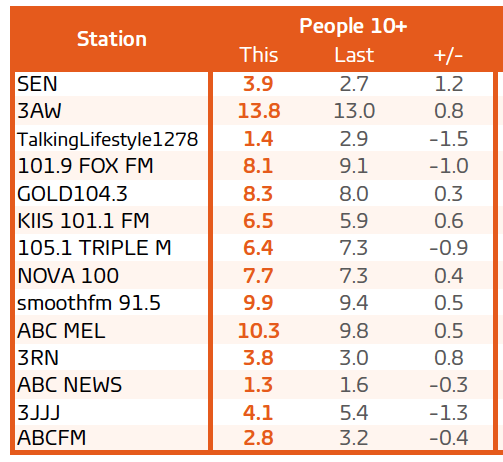 3AW remained firmly at the top of the Melbourne market, up 0.8 to 13.8% overall.
ABC Melbourne held second place with a rise of 0.5 to 10.3%.
Third position (and number one FM) was taken by smooth fm, up 0.5 to 9.9%.
Gold was in fourth spot, up 0.3 to 8.3%, followed closely by Fox, which fell 1.0 to 8.1%.
Talking Lifestyle 1278 had the biggest fall of the survey, with Fox and triple j also dropping significantly. SEN scored the biggest gain of the survey.
3AW won breakfast ahead of ABC Melbourne and Triple M.
Nova won 10-17s, Fox won 18-24s, Nova won 25-39s, Gold won 40-54s, 3AW won the over 55s.
Brisbane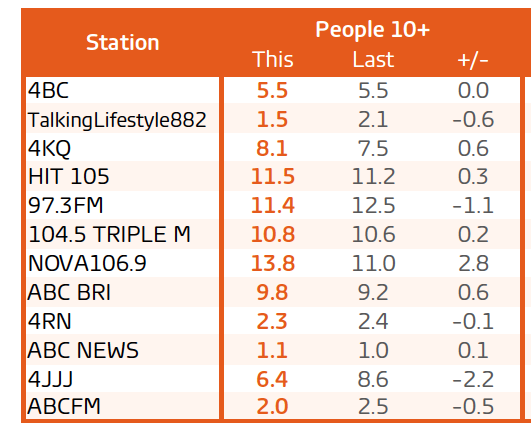 With a lot of movement in the breakfast timeslot, Nova moved into top spot in Brisbane, up 2.8 to 13.8%, the biggest rise of the survey.
Second place went to Hit105, up 0.3 to 11.5%, followed closely by former market leader FM97.3 down 1.1 to 11.4%.
Triple M was in fourth place, up 0.2 to 10.8%.
ABC Brisbane was in fifth place, up 0.6 to 9.8%, the top AM position.
The other significant movement in the survey was triple j, down 2.2 to 6.4%.
The Talking Lifestyle format dropped 0.6 to 1.5%.
ABC Brisbane won the volatile breakfast timeslot, followed by a closely packed triumverate of stations Nova, Triple M and Hit. FM97.3 fwas fifth in the breakfast timeslot.
Adelaide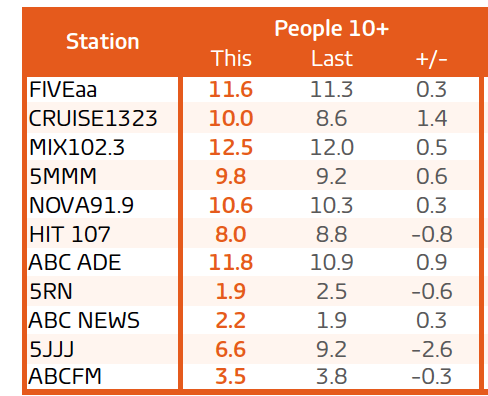 Mix continues to lead the market, up 0.5 to 12.5%.
ABC Adelaide was in second place, up 0.9 to 11.8%, followed by FIVEaa, up 0.3 to 11.6%.
Fourth placed Nova gained 0.3 to 10.6%.
Cruise was in fifth place with the biggest rise of the survey, gaining 1.4 share points to score 10.0%.
Triple J had the biggest drop, down 2.6 to 6.6%, usual for the station in survey 2 after the buzz of the Hottest 100 wears off.
ABC Adelaide won the breakfast timeslot ahead of FIVEaa and Mix.
Perth
Mix94.5 consolidated its top position, up 0.2 to 14.5%.
Second place was held by Nova, down 0.6 to 11.8%.
Hit had the biggest rise of the survey, up 1.4 share points to 10.8, moving into third position.
ABC Perth was bumped into fourth spot, losing 1.3 to 9.4% overall, followed by triple j, down 0.9 to 8.4%.
Breakfast was won by Mix, followed by ABC Perth and Nova