Our Survey 8 analysis of the networks and cities is below.
To view the raw results, click here. For Spin Cycle, click here.

Networks
Nova Entertainment
Christmas has definitely come to Nova Entertainment with Santa delivering sack full of gifts from GfK.
Smoothfm has increased share in both Sydney ( a very handy 6.6) and Melbourne where it has landed on 7.4 which has taken it beyond the realms of a successful niche station to a strong competitor in any contest on the FM band in that market.
While Nova didn't increase everywhere – the brand eased back a little in both Perth and Adelaide – it had a blinder on the eastern seaboard.
In Brisbane, 106.9 streaked home to take the number one spot from ARN's 97.3. In Melbourne Nova 100 remained steady on a 7.8 share but in Sydney 96.9 gained 0.8. This despite breakfast duo Fitzy & Wippa shedding 0.4.
All in all, though , in Sydney which had a very flat survey overall, the two Nova Entertainment stations accounted for most of the upward movement between them.

Southern Cross Austereo
2Day's down to a 3.5 share but given SCA's plans for next year, it can only go up from here – surely?
The rest of the Today Network did okay. In Melbourne FOX held its ground to remain number one FM. B105 rallied to stay in the race in Brisbane. In Perth Mix94.5 eased back a tad but still leads the field by a comfortable margin while the extensively refurbished hit107 in Adelaide slipped just 0.2 as it hunts for a new audience.
The Triple M Network did okay too. Not so much in Sydney which has been on a bit of a roller coaster of late, this time taking a dip of 0.7.
In Melbourne, the station enjoyed a slight gain returning a 7.8 share (Mon-Sun) but is a 0.8 better station Mon-Fri managing a meagre 4.7 share on weekends now that the Footy's finished.
Brisbane also enjoyed a slight uptick but Adelaide put in a sensational performance posting a 1.8 gain. That leaves Perth's 92.9 with a small loss of 0.2 in share.

Australian Radio Network
Although they've been popping the champagne corks all year at ARN, this time they could spring for a better quality bubbly – no more of that non-vintage stuff.
In short the radio conglomerate achieved an increase for both their Pure Gold and KIIS/Mix streams in every market with the exception of Brisbane. Not to worry.
Management should be thrilled that both KIIS and WSFM recorded gains in Sydney and while Jonesy and Amanda remained steady on a 9.9 share, Klye and Jackie O were back to their best form, up 0.8 to an 11.3 share.
In Melbourne, GOLD was back on an 8.0 share from a 7.2 last time and even the soon to be defunct Mix101.1 managed a modest 0.3 gain.
Meanwhile in Adelaide the seemingly unstoppable MIX102.3 extended it's lead to 4.1 over AM talk station FIVEaa and 4.3 to Nova 91.9. Cruise 1323 also enjoyed a healthy 0.5 gain.

Fairfax Radio, MRN and other Talk
It was a great survey for Fairfax Radio if you don't count Sydney. In every other market where they operate, their stations were up 3AW (0.6) , 4BC (0.6) and 6PR (0.5). Even their Magic AM music brands in Melbourne and Sydney went up.
But 2UE, for which they held such hope having come so close to breaking a 6.0 share last time, slipped back to whence it came the time before. Of course, one survey does not a trend make and the signs are still there that the station is on the right track even if it has more twists and turns than they'd like.
Meanwhile, the trend of 101 surveys at the top continues for Alan Jones and the 2GB juggernaut. Drive is the only shift where the station yields to Nova with its top rating networked program. 2CH eased a little.
In Melbourne, SEN has shed it's winter audience coat to be 0.8 lighter for summer, settling on a 3.7 share.
In Adelaide, Nova Entertainment's one AM talk station is by no means the black sheep of the family having lifted itself to second place overall in that market.

ABC
Not much to smile about at the ABC these days, least of all the ratings. Local Radio went down to varying degrees in every market except Perth where it remained steady on a 9.0 share.
triple j fared better with a mixed bag. Up 0.5 in Sydney, steady in Melbourne, up 1.0 in Brisbane, down 0.9 in Adelaide and up 0.6 in Perth.
Cities
Sydney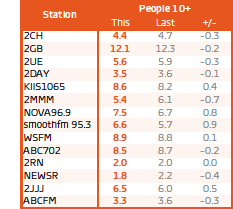 The Sydney market was stable this survey, with all movement under one percentage point. Triple M slipped most, down 0.7, and Nova had the biggest gain.
Top station 2GB slipped by 0.2 to 12.1%, followed by WSFM, which gained 0.1 to 8.9%.
Third placed KIIS gained 0.4 to 8.6%, pushing ABC702 into fourth place on 8.5%, down 0.2. Nova was fifth on 7.5%, up 0.8.
KIIS won 10-24s, triple j won 25-39s, WSFM won 40-54s, ABC702 won 55-64s and 2GB won the over 65s.
2GB consolidated its lead in breakfast, followed by KIIS. 2GB won mornings, afternoons and evenings. Nova won drive, WS won weekends.

Melbourne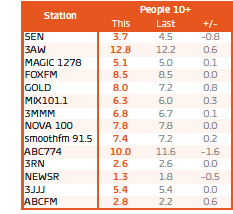 3AW retained top spot, gaining 0.6 to 12.8%. ABC774 was second after a drop of 1.6 share points to 10.0%.
Fox was third, steady on 8.5%, followed by Gold, up 0.8 on 8.0%. Nova was steady in fifth place on 7.8%.
Nova won 10-17s. Fox won 18-24s, triple j won 25-39s, Gold won 40-54s and 3AW won the over 55s.
3AW won breakfast ahead of ABC774. 3AW won mornings, Gold won afternoons, Fox won drive, 3AW won evenings and weekends.

Brisbane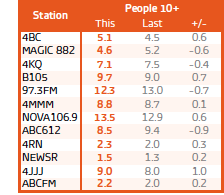 Nova gained top spot in Brisbane with a rise of 0.6 bringing it to 13.5%. 97.3FM was pushed into second place after losing 0.7 and dropping to 12.3% overall.
Third placed B105 gained 0.7 to 9.7%, followed by triple j, up one share point to 9.0%, then ABC612 in fifth place on 8.5%, down 0.9.
B105 won 10-17s, Nova won 18-39s, 97.3 won 40-54s, 4KQ won 55-64s and ABC612 won the over 65s.
Nova won breakfast ahead of ABC612, and dominated all other weekday shifts in the market this survey. 97.3 won weekends.

Adelaide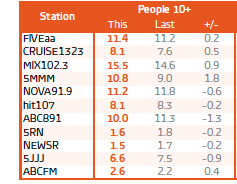 Mix 102.3 topped the market, with a lead well ahead of other stations. Mix was up 0.9 to 15.5%.
Second was FIVEaa, up 0.2 to 11.4%. Nova was third, down 0.6 to 11.2%.
Fourth placed Triple M gained 1.8 to 10.8%, followed by ABC891, down 1.3 to 10.0%.
Newly rebranded Hit 107 (previously SAFM) dropped 0.2 to 8.1%.
Nova won 10-39s, Mix won 40-54s, Cruise won the 55-64 demographic and FIVEaa won 65+.
FIVEaa breakfast (pictured) tied for top breakfast spot with market leader Mix 102.3. Mix won all other weekday and weekend dayparts.
Perth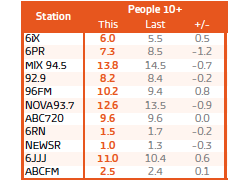 Market leader Mix 94.5 retained its lead in Perth despite a drop of 0.7 to 13.8%. Second placed Nova 93.7 dropped 0.9 to 12.6%.
Triple j was third, up 0.6 to 11.0%, followed by 96fm on 10.2%, up 0.8, then ABC720, steady on 9.6%.
Nova won 10-17s, triple j won 18-24s, Nova won 25-39s, Mix won 40-54s and ABC720 won the over 55s.
Mix 94.5 won breakfast ahead of ABC720. Mix won mornings and afternoons, Nova won drive, evenings and weekends.