Our analysis of networks and cities
Refresh this page regularly to get the latest updates.
See the raw results and twitter discussion here.
Networks
Southern Cross Austereo
The highlight for SCA in Survey 4 is the continued domination of FOX on the FM band in Melbourne. While every other commercial FM station shed share, FOX rose 0.7 to just a shade under a 10 share overall – 1.8 ahead of it's nearest rivals, with Hamish and Andy's shift rising most on Fox.
In Sydney, though, the hit network flag bearer, 2DayFM fared not so well with a slight drop to remain on a dismal 4.1 share despite the fact that Breakfast enjoyed a rise of 0.6 to land on 3.9 – it's highest return since Rove & Sam began. But drops in the rest of the field, including -0.7 for the Hamish and Andy Drive show negated Breakfast's gains.
In Brisbane and Adelaide, the hit stations waned by a -0.6 share each. But Perth gained 0.7 to place the station on a 10.9 share and # 3 overall. And while we're in Perth, SCA's Mix94.5 easily retained top spot with a 0.8 spurt and a dominant 15.3 share.
At the Triple M network things were fairly steady. Sydney bounced back to a 6.5 share overall on the back of 0.7 rise in Breakfast with the Grill Team, landing in rare 7s territory, with a 7.1 share in that shift.
MMM's Hot Breakfast with Eddie, Mick and Luke remains Melbourne's #1 FM Breakfast with a 9.5% share, although the station experienced a small drop. Not to worry, SCA still has the #1 and #2 FM stations and Breakfast shows in Melbourne.
In Brisbane both the station and the Breakfast show stayed rock steady while Adelaide took a -1.2 hit to land on a 9.3 share overall.
NOVA Entertainment
Crazy or insane – which ever way you choose to describe it, the result for smooth 95.3 was stunning. The station put on 1.4 to leapfrog KIIS 106.5 for the #1 FM spot in Sydney. Interestingly, it achieves this by dominating every shift, including Weekends, on the FM band except for Breakfast and Drive.
In Melbourne, smooth 91.5 shaved a tad off it's previous result but turned in a highly respectable 7.2 share overall.
Sydney was a Bobby Dazzler all 'round for Nova Ent. with Nova 96.9 turning in its best performance in living memor with Nova 96.9 turning in its best performance 2009 with a 1.1 gain to land on a 8.1 share with Fitzy & Wippa on 7.7 in Breakfast.
The result puts the station at equal #2 with KIIS, giving Nova Ent. line honours for #1 and #2 FM stations in Sydney. In Melbourne's FM race things aren't looking so good for Nova. It's 1.0 ahead of KIIS but 3.0 behind market leader, FOX and all the other commercial FM's are in between.
In Brisbane, however, the sun shone brightly once again for Nova which put on a 1.6 spurt to reach 13.7. That number, along with a huge tumble by 97.3FM was enough to gain the top spot in the Brisbane market.
While the changes were not as dramatic in Adelaide, Nova relinquished the hard earned #1 spot they wrested from Mix last survey. In Perth, Nova retained its steady grip on the #2 spot behind Mix 95.4
ARN
ARN's dream of owning the #1 and #2 FM station in each capital city took a battering in Survey 4.
In Sydney, the best it could do was a tie for second place by KIIS with Nova behind smooth at #1. More worrisome is WSFM which continues to lose momentum and is now on a 6.2 share, behind MMM on 6.5.
Melbourne is not so hot either for ARN with GOLD also in a tie (with MMM) for #2 FM and KIIS languishing in last FM spot on a 5.1 share.
In a 4.6 share turnaround, Brisbane's 97.3FM suffered perhaps the biggest drop for ARN. The station tumbled out of the top spot with a fall of 12.6 while competitor Nova shot up by 1.6 to claim the crown. The venerably 4KQ did, however, manage to gain 0.4.
96FM, Perth added no joy to the day, languishing in 6th place overall.
The only good news was out of Adelaide where both Mix and Cruise gained some share with Mix 102.3 retaining the top spot.
Macquarie Media and other talk
The elections don't seem to have helped talk stations generally, with 2GB continuing a slow slide in ratings. The station returned an 11.6 share which, nonetheless, still places it as number one and 2.3 ahead of second placed 702 ABC.
In Melbourne, the number one station, 3AW shed -1.2, but from a higher base of 14.6 which puts it 4.3 ahead of 2nd placed 774 ABC.
In Brisbane, 4BC went up a tad but from a low base as did 6PR but from a higher base.
2UE also went up a tad but continues to struggle on a 4.0 share.
The honour of the biggest gain for a talk station in Survey 4 went to the Nova Entertainment owned FIVEaa in Adelaide which gained 1.0 to come in second overall in the market with an 11.6 share.
ABC
Despite the election or, perhaps because of it, ABC Local Radio lost ground in every market except Melbourne where it gained 1.0 to comfortably hold second place with a 10.5 share. It and market leader 3AW (14.8) are Melbourne's only two station in double digits.
triple j performed one better, with losses in Sydney, Perth and Adelaide but gains in Melbourne and Brisbane.
Cities
Across the country, the election campaign effect this survey was not uniform, but there were some interesting trends. Unlike the election, where votes are still being counted, the votes for radio markets are now in and the results have been declared. Here is our call of the seats.
Sydney
In Sydney the election seems to have polarised listeners, just as it did voters. The two major parties (music Vs talk) were neck and neck, with disenchanted voters supporting a raft of independents, but not enough to get too many of them over the line.
Just as Bill Shorten surprised the electorate with an unexpectedly strong showing, Smooth's easy music format, complimented with a credible but low-key news service, scored well with the radio listening electorate, and like the incumbent Malcolm Turnbull, news/talk stations 2GB and ABC702 lost a little of their expected majority.
2GB remained on top of the market, dropping 0.2 to 11.6%, followed by ABC702, down 0.6 to 9.3%.
In third place was smoothfm, which benefitted from a 1.4% swing towards it, taking it to 9.1% and pushing KIIS from its third position.
KIIS and Nova tied in fourth place, KIIS holding on to its constituency, rock solid on 8.1% and Nova gaining 1.1 share points to also score 8.1%.
Triple M 6.5%, WSFM 6.2% and triple j 5.8% followed the top stations, while the rest of the minor parties scored below 5%. 2Day was down 0.3 to 4.1% and 2UE rose 0.3 to 4.0%.

Melbourne
The talk radio coalition in Melbourne had mixed fortuned, with right leaning top station 3AW losing a significant 1.2 share points, dropping to 14.8%, while left leaning ABC774 remained in second place, gaining 1.0 to 10.5%.
Third placed Fox took advantage of disaffected talk radio voters to increase its margin, up by 0.7 to 9.7%.
Gold and Triple M were equal fourth, with Gold down 0.2 to 7.9% and Triple M down 0.3 to the same figure.
Smooth91.5 did not do as well as its Sydney counterpart, down 0.2 to 7.2%, followed by triple j on 6.2 and Nova on 6.1. KIIS lost 0.6 to 5.1%

Brisbane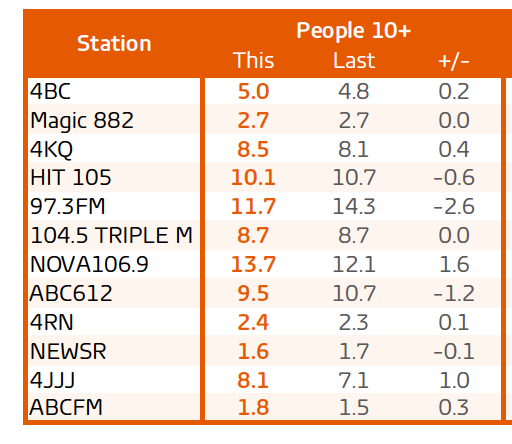 Nova 106.9 claimed victory in the Brisbane electorate, with a strong 1.6 share point rise, delivering a winning vote of 13.7%. Peter Doherty captured the celebrations at Nova campaign HQ.


Incumbent 97.3 fell into second place after losing 2.6 share points to score 11.7%.
Hit105 was third, down 0.6 to 10.1%, followed by fourth placed ABC612 on 9.5%, down 1.2 share points in a swing away from ABC talk in the Brisbane market.
Triple M was fifth, with a steady result of 8.7%.

Adelaide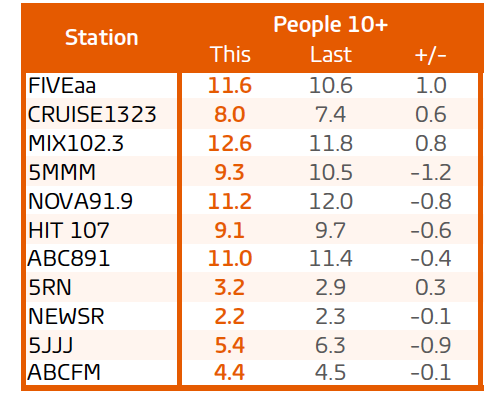 Mix 102.3 consolidated its top position in Adelaide, up 0.8 to 12.6%.
Voters seemed to want the brand of election coverage served up by talk station FIVEaa, lifting it 1.0 share points to 11.6%.
Nova 91.9 just held on to third place after slipping 0.8 to 11.2%, closely followed by ABC891, slipping 0.4 to 11.0%.
Fifth placed Triple M suffered a big swing against it, down 1.2 to 9.3%

Perth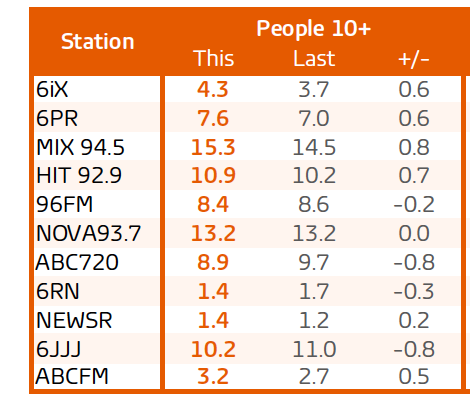 Perth's top station Mix 94.5 consolidated its pre-poll leadership, up 0.8 to 15.3%.
Second placed Nova 93.7 was steady on 13.2%, followed by Hit 92.9 in third place, up 0.7 to 10.9%.
Fourth placed triple j lost 0.8 to 10.2% beating sister station ABC720 in above the line voting.
ABC720 was placed fifth, losing 0.8 to 8.9%