Geoff Field worked with Kyle and Jackie O at 2DayFM for 7 years from late 2003 to March 2010 and tomorrow he'll be reunited on their KIIS FM breakfast show

"I'm returning to the Kyle and Jackie O show tomorrow on KIIS FM after 8am for a one-off reunion", Geoff announced on Facebook.

Although it appeared the cat was already out of the bag with the duo mentioning Geoff's appearance on-air this morning, quickly filling his Facebook inbox with messages.

"I'm really looking forward to it, because it will be great to look back on all the good times …".

Geoff left the breakfast show under "mysterious circumstances".

"… that's water under the bridge and I've moved on and hold no animosity to Kyle or Jackie.

"In fact I'm really looking forward to seeing them after 6 years off the show."

Geoff was let go by SCA last year employing Emma Freedman has National Drive News Presenter on SCA's Hit Network.
radioinfo caught up with Geoff on his albeit once off return to Kyle and Jackie O.

"I started working with Kyle and Jackie O in late 2003, before being hired as their newsreader for their national drive show in 2004 – I then moved with them to breakfast in 2005 and stayed with them till March 2010.
"In that time I became a third member of the show, with many great things happening like "Sydney's first illegal gay wedding" where I had a ceremony with my partner Jason to highlight the fact that same sex marriage was not allowed in this country", he said.
"The Scare Geoff segment was introduced where I did everything from Skydive, swim with sharks and get dumped in the middle of the desert, with the task of getting back to Sydney!"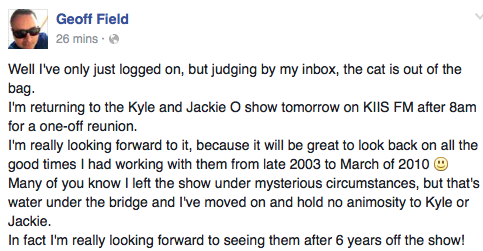 Arriving at Ayres Rock as part of the Scare Geoff segment