In an initiative aimed to raise breast care awareness and encourage women to check their breasts on the first day of each month, Grant Broadcasters have partnered with The McGrath Foundation.

Based on an idea starting with 7HO's Jane Turner in Tasmania, Grant Broadcasters will be working with the McGrath Foundation, by having one special on air personality from each station across the network, encouraging women to check their breasts on the first day of every month. The aim is to get women to be proactive about breast care and get into the habit of self- checking on a regular basis.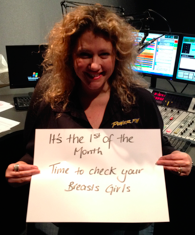 The campaign will be driven through ongoing CSA's and interviews with McGrath Ambassadors and Local Breast Care Nurses and will be rolled out across all social media platforms, as well as reminders and breast awareness information online.
The McGrath Foundation's McGrath Breast Care nurses initiative is set to extend into regional markets with a focus on younger females in the community.
Grant Broadcasters spokesperson, David Rogerson says, "Early detection can save lives and with the support of The McGrath Foundation, Grant Broadcasters are proud to assist with getting the message out and raising awareness for this very important cause."