Few people reach a 60 year milestone in radio. That sort of celebration is reserved for monarchs blessed with longevity and few alternative career prospects.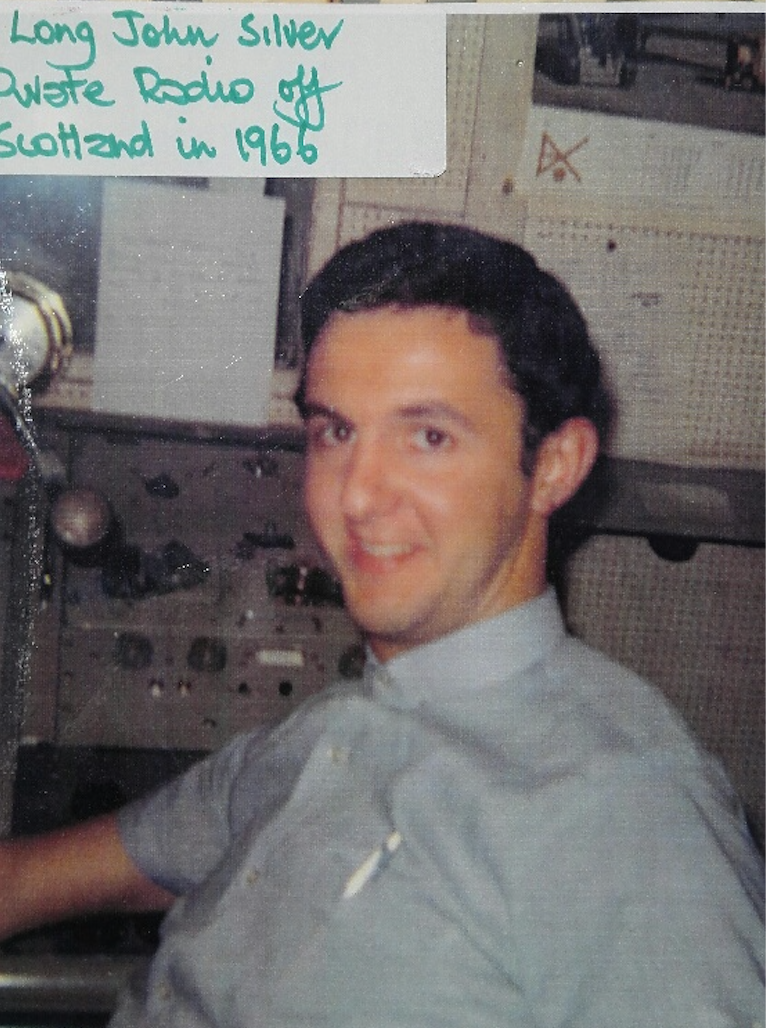 John Kerr has been radio's ultimate journeyman, starting his career in 1957 on 2GB as an intern for the legendary Jack Davey.
By the following year, he found himself on-air at 2PK, Parkes (far left). He was just 16.
A stint at 2DU followed before he arrived in Canberra in 1960 where not only was he heard on 2CA but seen on the local television station.
Then, in 1966, his career took a fateful turn as he joined an exclusive club off the shores of Britain onboard a pirate station, Radio Scotland (left).
There he made friends and contacts that would stay with him for the rest of his life.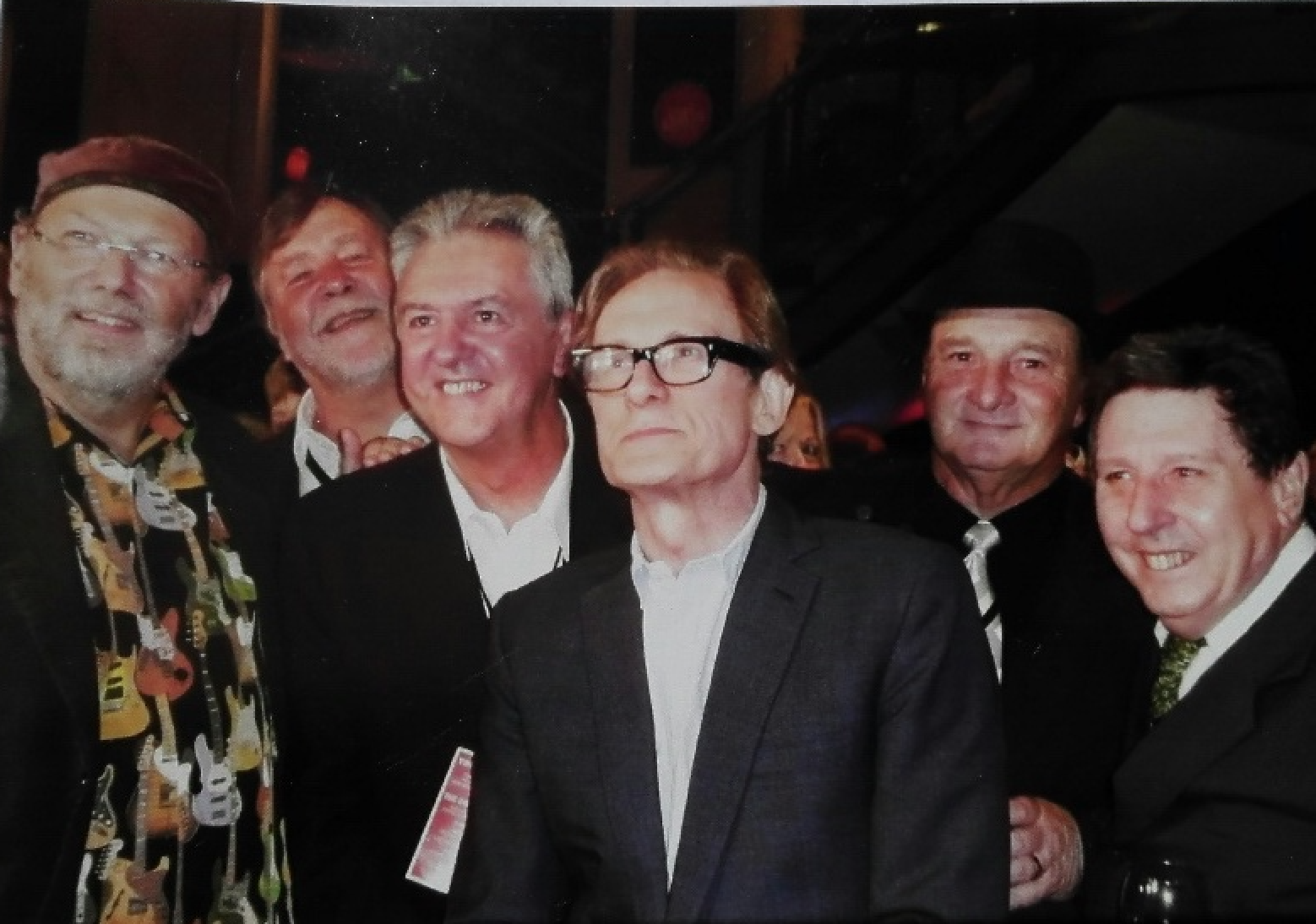 Above – The shot taken at the Sydney premiere of "The Boat That Rocked" includes from left to right: Glenn A. Baker (Rock Historian) Dermot Hoy (2CH – Radio Caroline and Radio Scotland) John Kerr, Bill Nighy (star of the movie) Norman St. John ( former radio/TV man from Queensland -Radio Caroline and London ) Graham Webb (Radio Caroline).
But it didn't take long for the pirates to be sunk by aggressive legislation that cut off their funding by penalising advertisers.
Soon Kerr was back in Australia, but this time on 2UE in Sydney where he'd work for the next five and half years before returning to 2CA Canberra as Program Director and Morning Host in 1973. It was a decision which became the low point of his career.
For the first time in Australian radio history, 2CA had a commercial competitor in Canberra, 2CC. When the first survey came out, the new station had decimated 2CA. In an ironic twist, Kerr had encouraged one of his best friends to take the top job there.
"Nick Erby had been my boss at the first stint at 2UE and we became friends. During my second time at 2CA Nick and his wife came to Canberra to stay with us as he was contemplating taking on the role as GM of 2CC.
"It's history that shortly after its introduction it was named by Billboard magazine as 'International Radio Station of the Year.'
"If you're going to be knocked off it may as well be to a friend and to a power house of a station," Kerr says philosophically.
With that bubble burst, Kerr found his way to 2GO Gosford on the NSW Central Coast where he spent a happy 13 years doing Breakfast and building a burgeoning voice over business.

Above: John Kerr (that's him on the right) with Italian movie star, Gina Lollobrigida
It was during the 2GO years that he lists some of the funniest things that ever happened to him in radio. "2GO heavily supported local rugby league and all on-air personnel attended The Wyong Leagues Club for that years official launch. For some reason our Sports Director, the fabulous Darrell Eastlake had removed my name tag from my 2GO jacket and replaced it with his name badge – then placing "John Kerr" on his Jacket.
"Towards the end of the night a little old lady came up to Darrell – read my name badge and thought he was the one doing the breakfast program. She spoke to Darrell indicating she'd been a member of The Breakfast Club for years and had never won a prize. The 'devil' in Darrell took hold as he raised his formidable stature and with his booming voice told the lady to 'piss off' That's ONE listener I never regained at 2GO."
In 1994, Kerr was asked to rejoin 2UE to do the mid-dawn show, New Day Australia, which turned out to be one of the great highlights of career.
"Winning the overnight survey on 2UE in 1999 is memorable. Following a lot of hard work and effort I scored 31.2% which has rarely ever been attained by anyone in Sydney. Our overnight talkback rivals at the time were 2GB who came in on 7.4% and The ABC who reached 5.5%."

John Kerr with British recording arist Katherine Jenkins
By 2006, he moved to the weekend version of New Day Australia and in December 2012, John Kerr announced his retirement from radio after 55 years on-air with his final show on Sunday, 27 January 2013.
"Yeh, I'd do it all again in a heartbeat." says Kerr. "What I would do differently would be to take it all a little bit more seriously.
"The first time at Canberra with Steve Liebmann was just fun, fun, fun. We were in our late teens – king of the kids in Canberra, etc.
"The 'pirate' days were the same but it was when I hit the big time for the first time at 2UE ( 1968 ) that I should have been much more serious about endeavouring to become as good as I could possibly be on air."
Of course, old radio announcers never retire they just change stations and work for less money. John just can't walk past a microphone and does a weekly program called the Award Winning Kerr's Country Show on community station 91.4FM on the Gold Coast.
John Kerr says of his 60 year run in radio, "Doesn't seem like 'yesterday,' but it sure doesn't feel like 60 years!"
Peter Saxon