Jonesy & Amanda's Best in Show OB saw the breakfast radio duo trying their hand at everything from shearing a sheep to going head to head as their home-baked treats were judged by Barbara Reichert Chairman of the CWA's Tea Room Committee at the Sydney Royal Easter Show.

Jonesy made a chocolate cake (from the packet) called 'Oreo Surprise' while Amanda baked a simple pound cake – which she iced with a photo of herself.
Jonesy's cake almost needed a chainsaw to cut through it and, not surprisingly, Amanda was crowned champion cake maker … Jonesy still thinks the competition was rigged.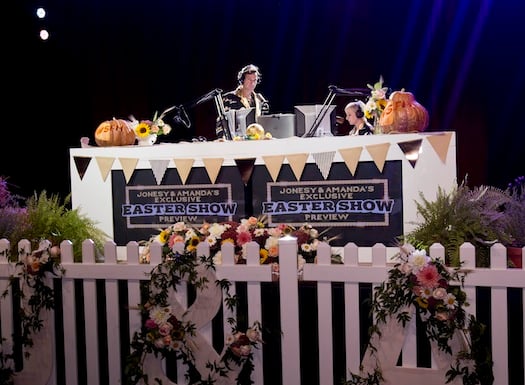 And the ultimate thrill for any fan of the fairground, imagine having a laughing clown – everyone's sideshow alley favourite – made in your likeness (photo above).

Troy Cassar-Daley stopped by and performed his song 'Freedom Ride' live and Jonesy & Amanda also met Jim Murry and Fred the Ram – the most photographed ram in the world who shot to stardom when he met Prince William and Princess Kate and bowed to them. Jonesy also tried his hand at sheering a sheep.