Radio ratings survey 4 results have been released.
Big breakfast change in Sydney, Kyle and Jackie new leaders.
No covid lockdowns during the survey swings Sydney away from talk,
Talk still strong in Melbourne, a big jump for ABC Mebourne.
See more info below each chart
The survey was conducted by GfK for Commercial Radio Australia between Sun Apr 18 to Sat Jun 26, 2021, in a period where Melbourne was in covid lockdown for part of the survey but other cities were not.
Related reports: Trends, Cumes, Spin, DAB Stations
Previous results here.
Click the charts to pop out a full size image.
AM/FM/DAB+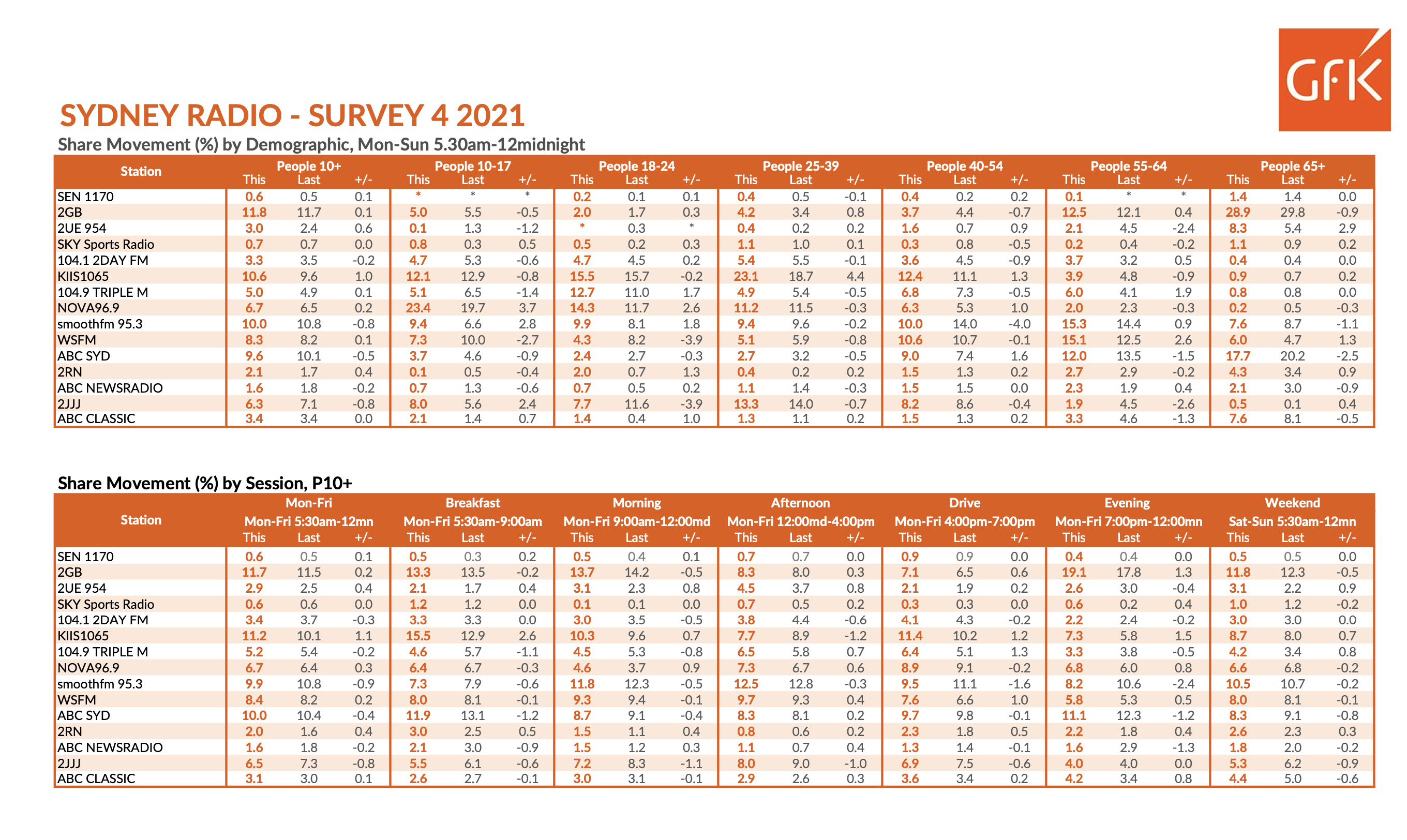 2GB retains #1 spot in Sydney
Ben Fordham loses Breakfast crown to Kyle and Jackie O
KIIS106.5 now #2 overall
2GB, KIIS, WSFM, NOVA, TRIPLE M, 2UE, all gain in share of listeners.
2DayFM, smooth95.3, ABC, triple j and SEN all shed audience share

Here is our Trend Graph of Sydney breakfast shows. For more trends across all markets, see the full trends report here.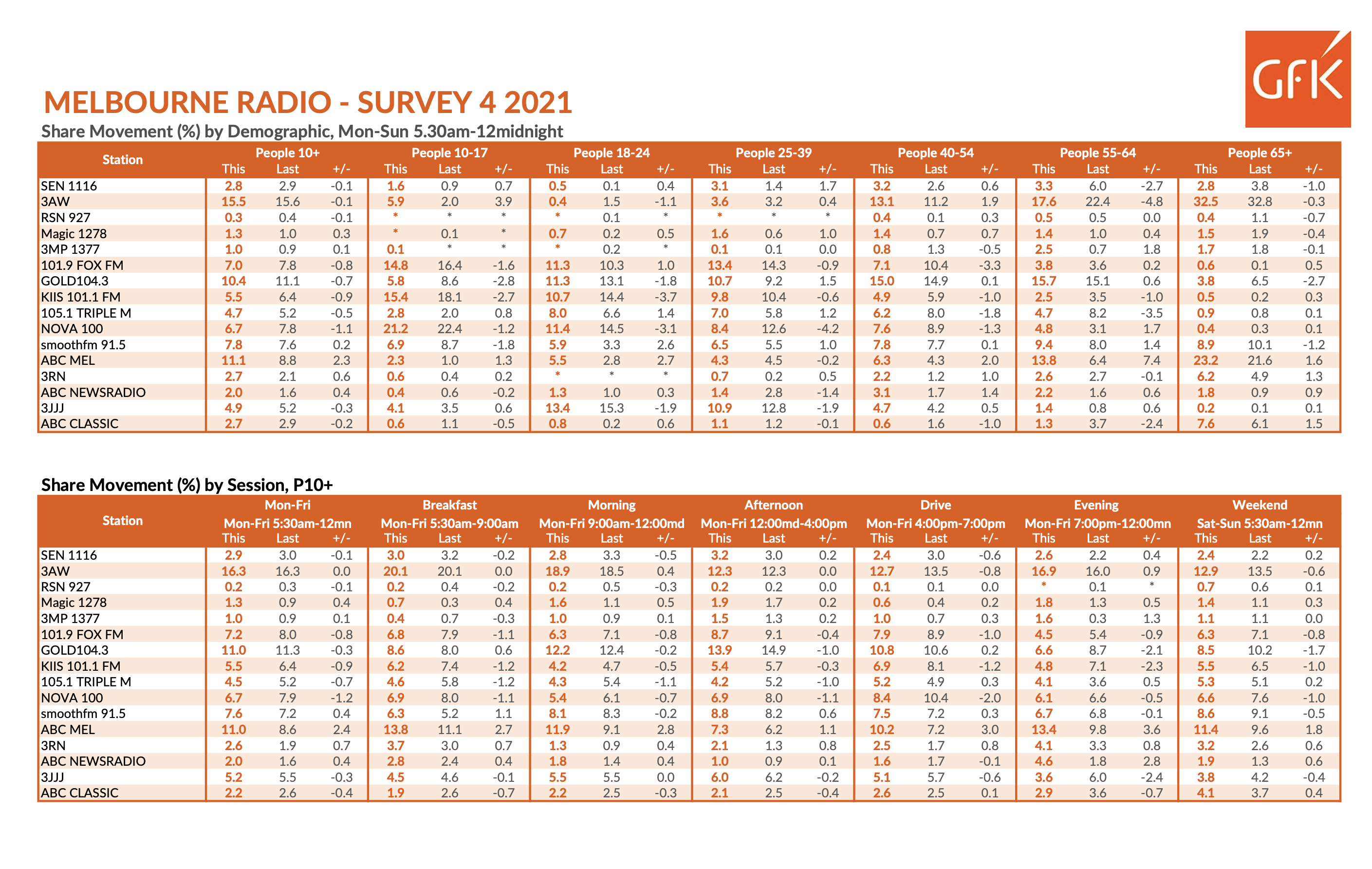 ABC Melbourne has the biggest rise, up 2.3 share points to 11.1 overall
Nova records the biggest fall, down 1.1 to 6.7
3AW retains top position, slipping 0.1 to 15.5% overall
Breakfast: 3AW top with 20.1, ABC Melbourne second on 13.8 with a big jump, Gold third on 8.6
Drive: 3AW top, followed by Gold then ABC Melbourne
Demographic leaders: 10-17 Nova, 18-24 triple j, 25-39 Fox, 40-54 Gold, 55+ 3AW
Melbourne was in covid lockdown for part of the survey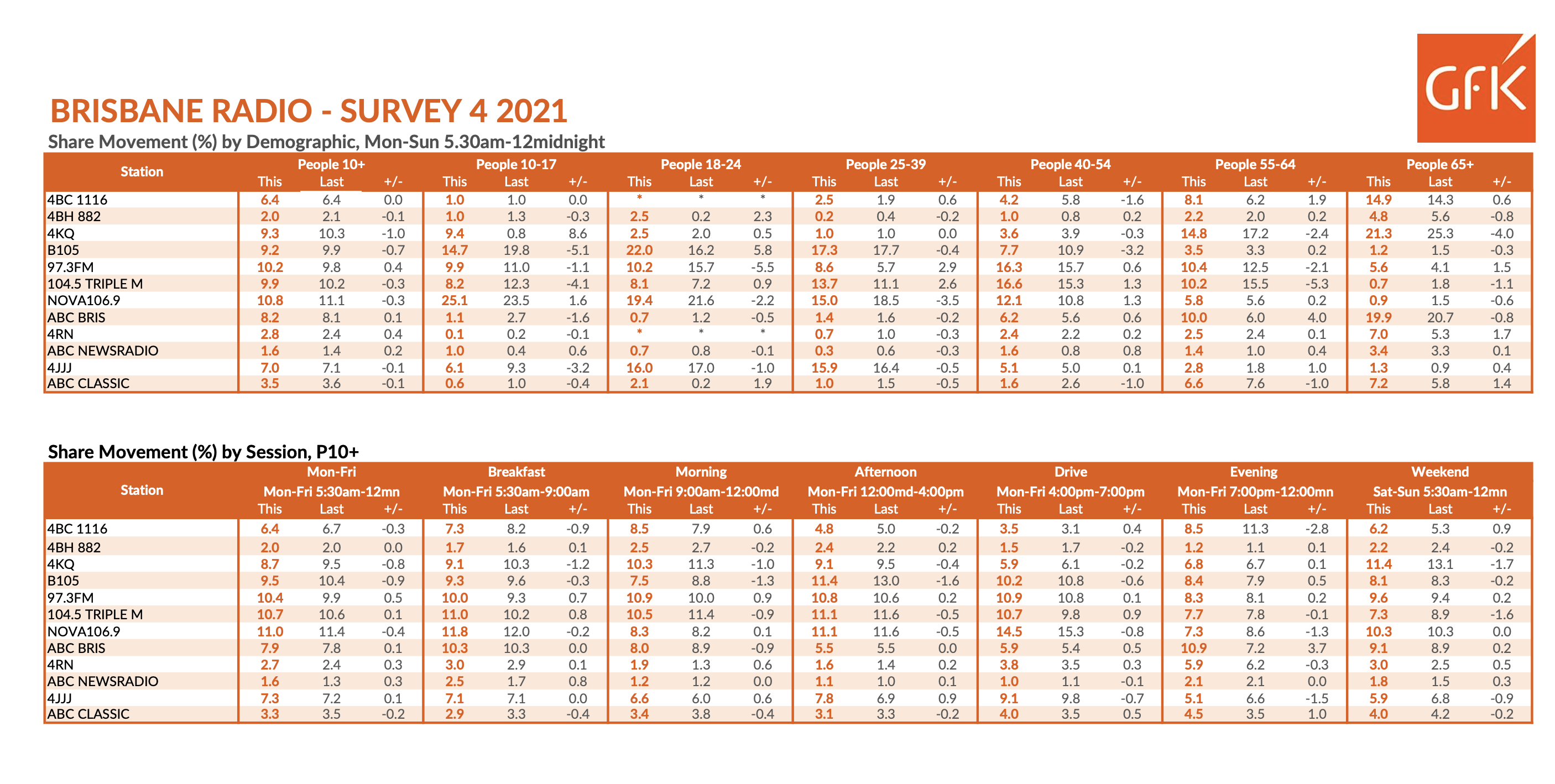 Surprisingly, not much movement in a usually volatile market.
NOVA remains on top.
Biggest gain goes to 97.3FM and biggest loss (-1.0) to 4KQ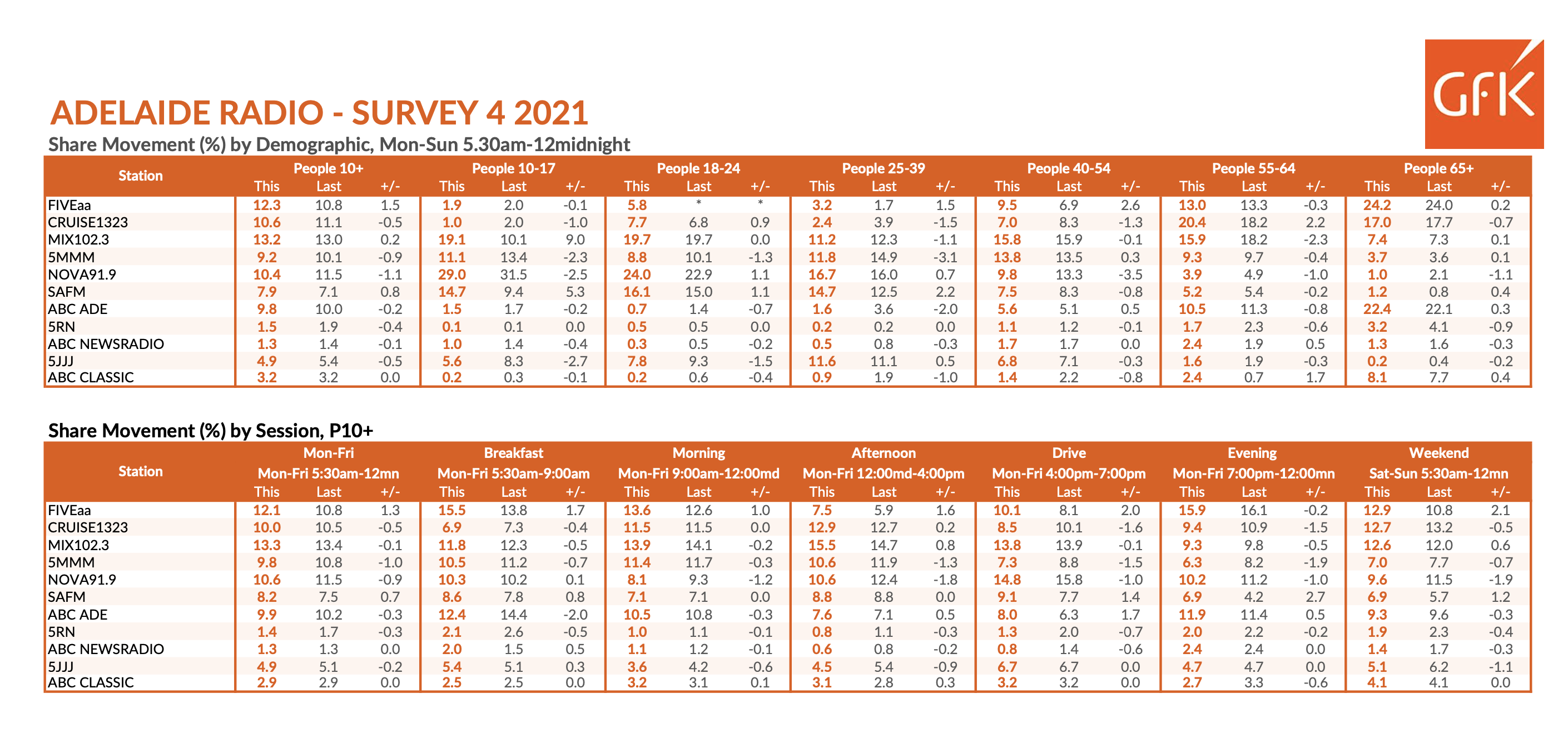 1.5 gain for FIVEaa, now #2 in market.
FIVEaa and ABC, #1 and #2 in Breakfast
MIX102.3 retain #1 spot overall with small gain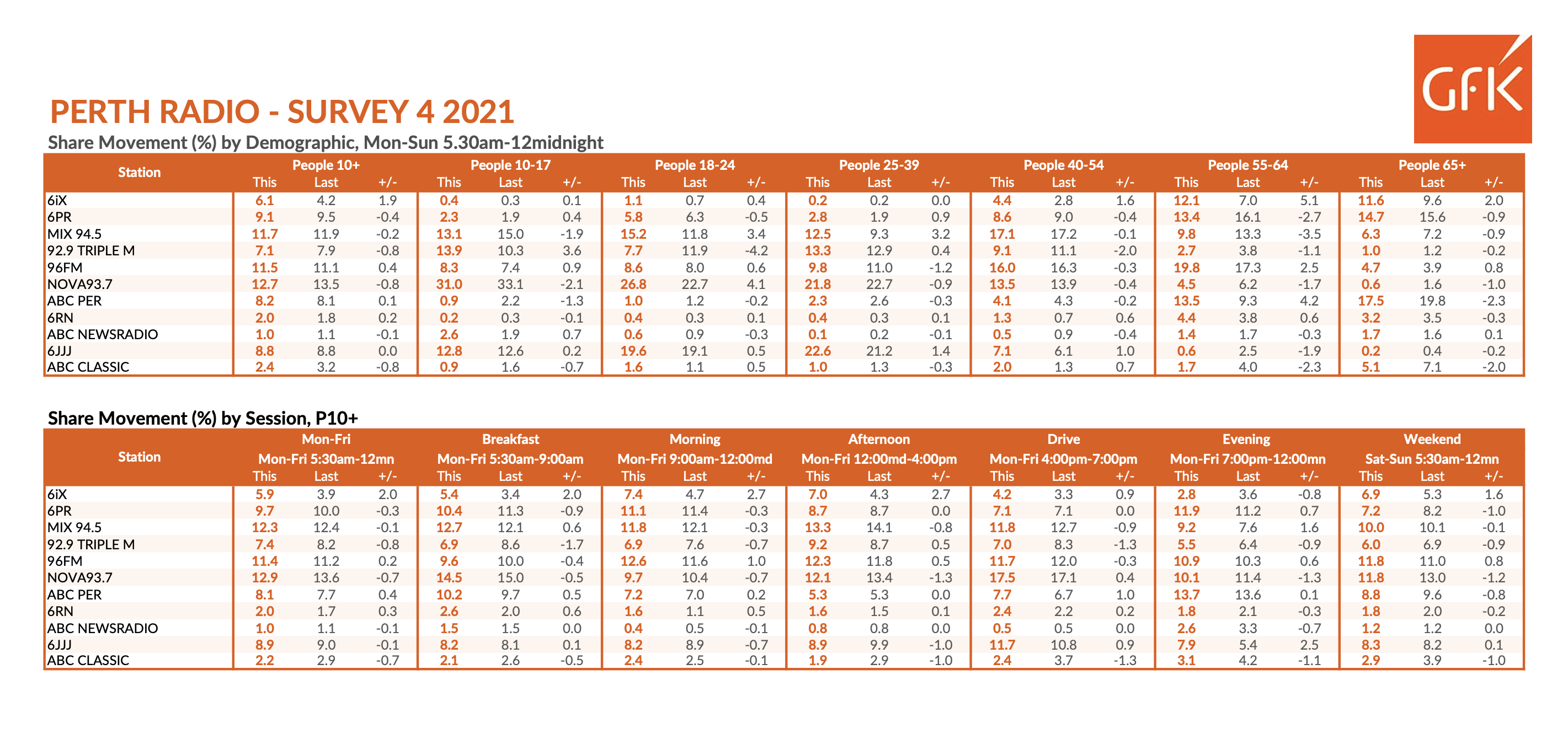 A big gain for 6IX, up 1.9 share points to 6.1% overall
Nova and Triple M slipped most, both down 0.8 share points overall
Nova retains #1 position with 12.7%
DAB+ Only stations
---
Subscribe to the radioinfo podcast on these platforms: Acast, Apple iTunes Podcasts, Podtail, Spotify, Google Podcasts, TuneIn, or wherever you get your podcasts.
Ask Alexa
:
'Alexa, play radioinfo flash briefing'
or
ask Google Home
:
"Hey Google. Play the latest Radioinfo flash briefing podcast."
---