LIsteners to Marcus Paul's Radio 2SM breakfast show have rallied around him, hoping he won't be replaced by Alan Jones.
Callling Jones a 'conspiracy theorist' and 'dangerous,' listeners have supported Marcus Paul.
Some have suggested John Laws should hand over one of his program hours to Jones.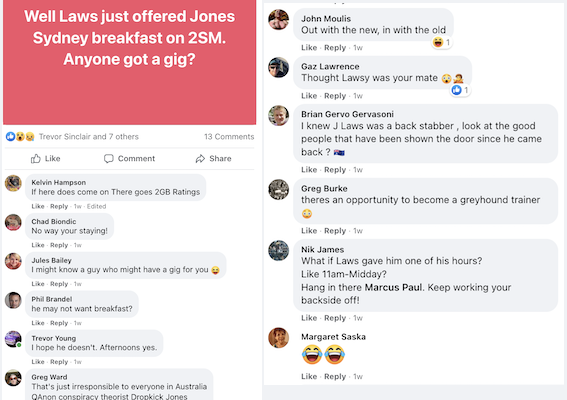 Marcus Paul told radioinfo via Facebook:
All I can say is our breakfast show is doing some great work covering all the issues and interviewing the news makers. Always without any credit or recognition.

Not to mention minimal resources and zero marketing.

All of this Jones stuff is just a bit of distraction. In any case there are other dayparts and I'm enjoying the speculation.
See our previous report. Click the comments icon in the embedded posts below to follow the conversation on social media.
Marcus Paul permanently took over 2SM's breakfast show last year after Grant Goldman passed away. He previously worked as a journalist at SCA, ARN and i98 and was an on air presenter at 2CC Canberra.


---
Subscribe to the radioinfo podcast on these platforms: Acast, Apple iTunes Podcasts, Podtail, Spotify, Google Podcasts, TuneIn, or wherever you get your podcasts.