A community station on the outskirts of Melbourne may go off air if it cannot resolve a dispute with Hume Shire Council that could see its transmission tower pulled down.
North West FM 98.9 had been negotiating for years about the placement of a new mast on the top of the council building, but just when things looked set to be finalised the council "backed out of their agreement and refused to let [the station] turn it on."
In 2008 the then CEO of the Hume City Council invited North West FM to install its new antenna on the roof of the new Hume Municipal Offices to significantly improve the radio signal across the broadcast area.
All went well for a while, with the council helping the station to get all the site reports, permits and licences.
North West FM bought a new antenna and installed it in August 2012 in the location assigned by Council, at a cost of $60,000.
Hume City Council drew up a lease agreement which was fine-tuned over many months, but then the Hume Council "backed out of their agreement and refused to let us turn it on," according to the station.
Now the Hume City Council has ordered the station to remove the antenna from their building by Friday September 4, 2015.
The station, which published council correspondence about the dispute on its website, is urging rate payers to pressure council to reverse the decision.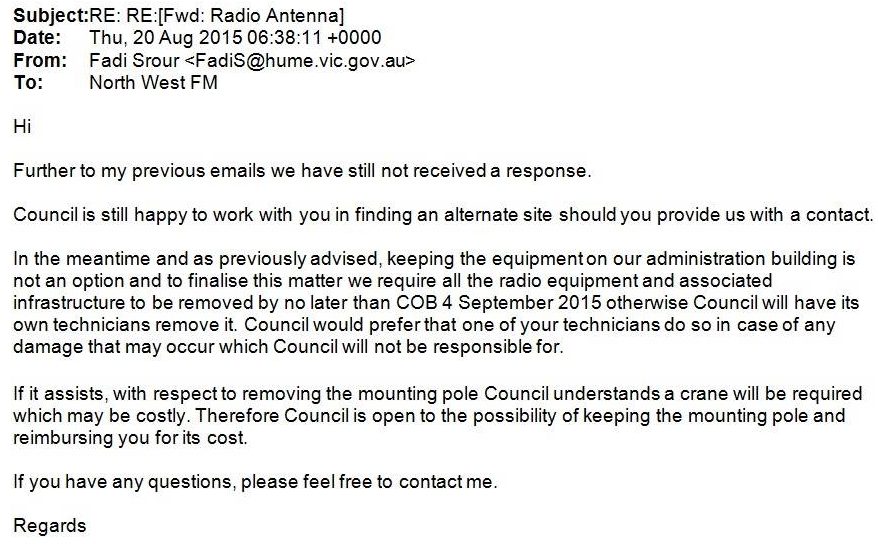 The City of Hume is a local government area partially within the metropolitan area of Melbourne, approximately 20 kilometres north-west of the city centre. It is one of Melbourne's key gateways, providing a vital transport network to the eastern seaboard. Hume City has an area of 504 square kilometers (21.01-3 p1) and
is bound by the Merri Creek, Maribyrnong River, Western Ring Road, Calder Freeway, Jacksons Creek and the foothills of the Macedon Ranges.
radioinfo has contacted Hume Council for comment and you can read their reponse here.