A new study released today by global firm Edison Research reveals the digital audio, social media, mobile and podcast habits of Australians.

The Australian Infinite Dial Study commissioned by Commercial Radio Australia, Southern Cross Austereo and Triton Digital, provides new insights into what Australians are consuming online.
Key findings indicate in the new digital era, radio continues to be the key driver of audio consumption in Australia.
Radio is the leading audio option across multiple platforms in the marketplace, with 85% of people having listened to an AM/FM via broadcast and online or DAB+ station either via free to air broadcast or online in an average week, compared to Spotify 21%, Podcasting 10%, Pandora 8%, Apple Music 6%, Google Play All Access 2%.

CRA chief executive officer, Joan Warner said: "The radio industry continues to innovate across all platforms and this study allows us to start comprehensive trending of our listeners as their audio and platform preferences evolve. We have our Share of Audio study that looks at how much time is spent on online and on free to air audio, this study looks at the percentage of respondents who consume each type of digital platform, as opposed to time spent listening."
"The results show a lot of people continue to listen to radio and enjoy its content here in Australia," Edison President Larry Rosin (pictured) told radioinfo.
Can you offer any insight as to why AM/FM radio listening is low in America (64%) compared to Australia (85%)?
"There are a number of factors why the American figure is lower. One is we have an entire optiion that is unavailable down here which is satellite radio. You can pay to subscribe to 200 channels of content including 100 music free channels, so that is one factor.
"The data seems to show streaming is less expensive and have been taken up faster. in the US compared to Australia.
" But the US radio industry is pretty robust and resilient as well, it's just even stronger here in Australia."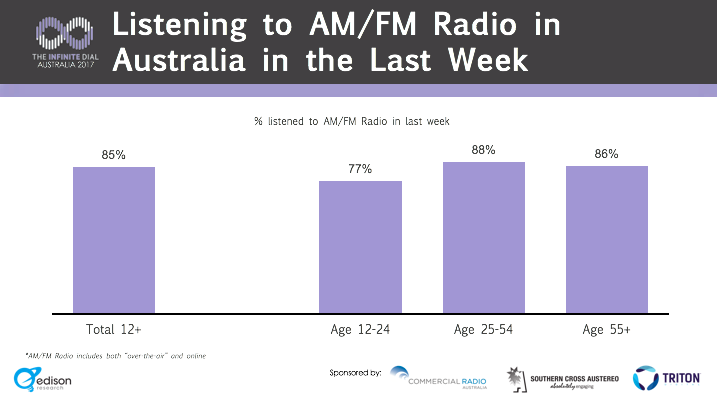 What do you see as the industry's main threat?
"Well, Australian radio seems to have a lot of compelling content, giving people reasons to listen all the time.
" After that, the thing I do try to have broadcasters focus on, is to think about hardware and that is something they are not used to doing. Broadcasters are more into software. Creating content they just sort of trust people will have receivers to comsume it on. If you buy a car there's a radio in it, people have a clock by their bedside and usually it has a radio connected to it. So it's really important broadcasters not only think about the content they make but making sure its succesful across any kinds of hardware people have ans things that come to mind quickly are the phone ofcourse and other new devices like the Amazon Echo and the Google Home Assistant.
" So I do caution people to think about hardware as well as software."
How innovative is the Australian radio industry compared to the US?
"Well that's a great question and it doesn't speak directly to the survey but in my experience it used to be the common activity during the 70's, 80's and 90's, to fly off to America, before you could access radio on the internet, and listen to American radio to be exposed to new ideas ad new strategies that they could then fly back to Australia and employ but by every account that activity has wained darmatically and its more likely American people will look to Australia for ideas and insights now."
The Infinite Dial research for Australia is patterned on the longest-running survey (1998) of digital media consumer behaviour in the USA and provides a profile of the 2017 Australian digital consumer.

"The Infinite Dial Australia explores the penetration of online digital audio and social media in Australia and looks at the technology that Australians are using and it's interesting to see how Australia compares to the USA," explains Larry.

Back in 1998, when you first started doing these digital surveys in the U.S., presumably there was only AM/FM radio, satellite radio which had only just started, and owned music.
Can you recall what the relative listening percentages between AM/FM radio and owned music were back in 1998?
"That specifically we don't know going all the way back to 1998. That study was inspired by the advent of this new thing, internet radio and we look back at the questionairre from that first study which was 19 years ago and it is just incrediable.
" We talked about things like the world wide web, asking questions that seem so utterly quaint. But even in that study we were suprised 6% of Americans listened to radio over the internet. We were shocked that it was a high as it was. So we started tracking the idea of radio over the internet just as it was brand new and getting off the ground and we've tracking it ever since with now the majority of Americans listening to on-line radio. That would include all forms."
Key Australian Infinite Dial findings include:

Radio is the leading audio platform consumed by Australians with 85% of people having listened to an AM/FM or DAB+ station in an average week, compared to Spotify 21%, Podcasting 10%, Pandora 8%, Apple Music 6%, Google Play All Access 2%. [This was included two paragraphs ago but I guess repeat it if you feel necessary]
Twice as many people are listening to AM/FM radio (on-air and online) than all online audio streaming services each week (85% vs.43%).
89% of Australians use AM/FM sometimes when in the car and nearly 50% use an AM/FM radio almost every time they are in the car. With now 36 vehicle brands in Australia including DAB+ digital radio, 10% of people use DAB+ radio almost every time they are in the car.
Despite new ways to listen to AM/FM/DAB+ radio, 79% of the population have one or more radios in their home.
72% of Australians are familiar with podcasting (60% USA) and 29% of people have listened to a podcast.
17% have listened to a podcast in the last month, with 25-54 year olds making up the largest share of monthly podcast listeners. An average of six podcasts are listened to each week by those who are weekly podcast listeners.
73% of Australians have used YouTube to watch music videos or listen to music;59% have used YouTube to watch music videos or listen to music in the last month and 44% in the last week.
80% of people currently use social media and 9 in 10 of those aged 12-54 years are current users. Facebook awareness is highest (98%), followed by Twitter (95%), Instagram (94%) and Snapchat (84%). Awareness of all these social media brands is higher in Australia than the USA.
Facebook is more likely to be the most-used social media brand among 12-24s in Australia than the USA (58% vs. 39%), however Snapchat is less chosen as the most-used among this group in Australia than the USA (16% vs. 31%).
Penetration of smartphones and tablets in Australia is been greater than the USA, however penetration of internet connected TVs is higher in the U.S.
88% of Australians own a smartphone, with ownership highest amongst 12-24 (95%) and 25-54 year olds (95%). Ownership in Australia is 7% higher than the U.S (81% overall).
53% of people own an internet-connected TV, with ownership highest amongst 12-24 (71%) and 25-54 year olds (60%).
Netflix is the most popular on-demand video service, with 35% of Australians having access to a subscription.
The Australian Infinite Dial study was conducted in February and March 2017 and uses a nationally representative survey of 1007 people and is a random probability telephone sample, comprising both mobile phones and landlines, of all Australians aged 12 and older. The study in the USA has become the report card on digital audio and other digital media, and is widely used and quoted by broadcasters, ad agencies, and the financial community.
The Infinite Dial study can be downloaded at www.radioitsalovething.com.au
Slide credit Edison, The Infinite Dial Australia