The first radio ratings survey results for 2023 have just been released.
Kyle and Jackie on KIIS scored top spot in breakfast, KIIS moved to number one overall
2GB's Ben Fordham dropped to second in the breakfast timeslot
ABC dropped in most cities
3AW rose, KIIS fell in Melbourne
KIIS up, B105 down in Brisbane
Nova up, talk stations down in Adelaide
6PR down, 96fm up in Perth
The first survey for the year was conducted by GfK for Commercial Radio Australia between Sun Jan 15 to Sat Feb 25, 2023. Cricket was still being played during this period and school holidays were still taking place for the first two weeks of survey.
Previous survey results here.
Our interactive data graphs are below the raw figures.
Click the city charts to enlarge them.
SYDNEY
KIIS 106.5 moved into top position, gaining 0.3 to unseat 2GB from number one spot
2GB lost 1.5 share points and dropped into second position
Third placed smooth slipped 0.1 to 10.3%
KIIS grabbed the top breakfast slot back from 2GB as the two stations continue to battle for breakfast dominance over the past few surveys
KIIS had the highest cume
Smooth Relax had the most DAB+ listeners of the DAB+ only stations
3AW consolidated its top position, up 1.5 to dominate the market with 16.6% overall share
Second placed Gold gained 0.5 to 12.4%
Third placed Fox gained 0.9 to 9.8%
3AW Ross and Russel continue to hold the number one breakfast show, with Christian O'Connell on Gold increasing his share in second place in the breakfast timeslot.
FOX had the highest cume
KIIS 90s was the top DAB+ Only station
BRISBANE
B105 lost its top position, sliding 1.3 to 11.7% into second place.
Nova 106.9 moved into top position, while slipping 0.5 to 12.2%
KIIS 93.7 gained 1 share point to 10.8%, moving into third position in the market
Nove had the highest cume
Smooth FM Brisbane was the top DAB+ Only station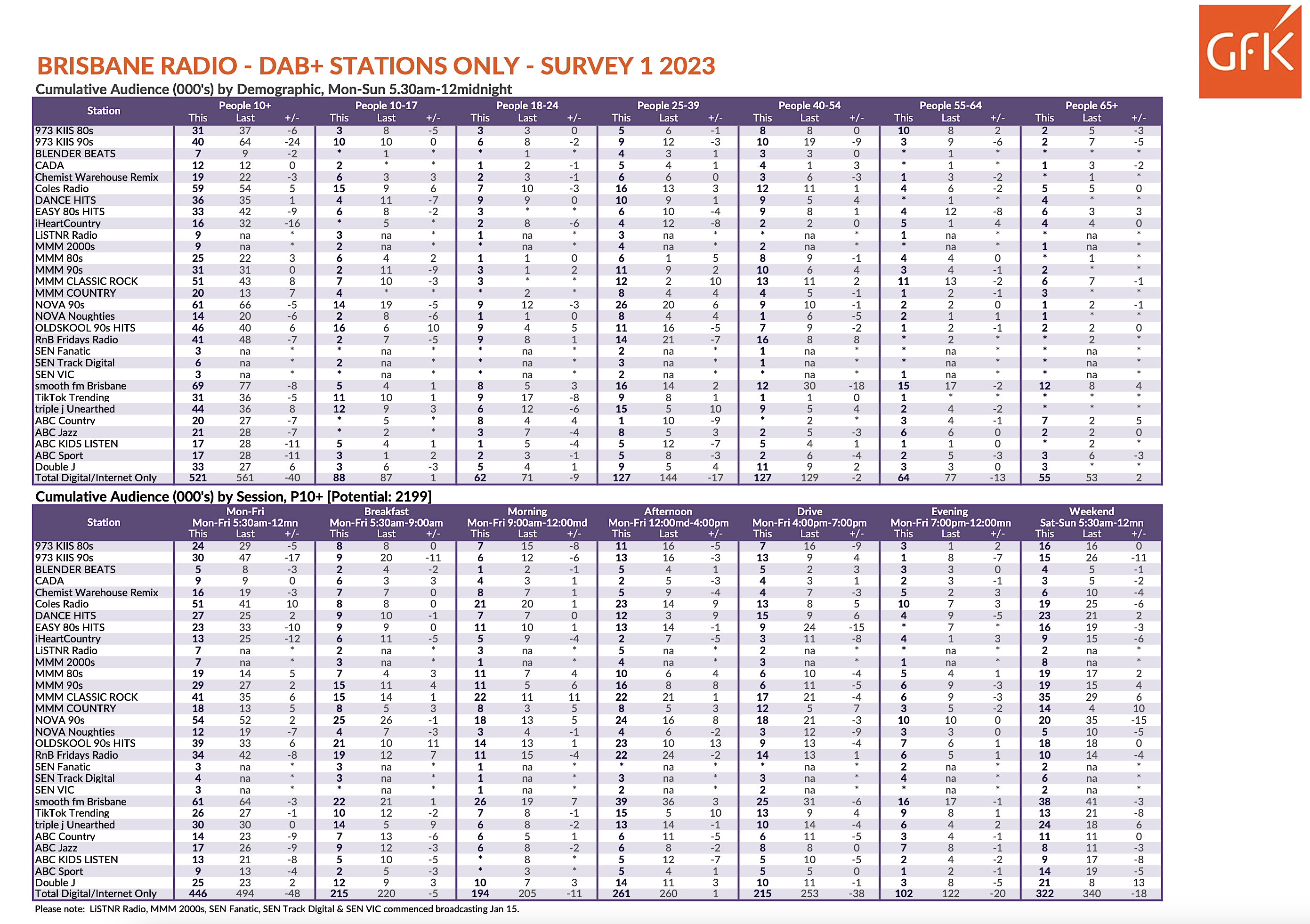 ADELAIDE
MIX 102.3 consolidated its top position, up 0.5 to 12.3%
Nova jumped into second place, gaining 2 share points to 12.1%
Triple M moved into third position, up 0.9 to 10.7%
Talk stations FIVEaa and ABC Adelaide fell
FIVEaa retained its number one position in breakfast
Nova 91.9 had the highest cume
Smooth FM Adelaide was the top DAB+ Only station
PERTH
Nova comfortably retained top position, despite slipping 0.9 to 17% overall share
96fm pushed its way into second place, up 1 share point to 12.1%
Third placed Mix was steady on 11.2%
Nova dominated the breakfast timeslot ahead of 96fm and Mix
Talk station 6PR had the biggest drop of the survey, down 2 share points to 6.5%
Nove 93.7 had the highest cume
Smooth FM Perth was the top DAB+ Only station
DATA CHARTS