Exclusive coverage of the Podcast Day audio conference
Radio Sodoma is a radio station in hell… and Finland's hottest podcast.
The satirical podcast is written and presented by Antti Holma and produced by Elina Ylä-Mononen, an audio producer at Finland's national broadcaster YLE.
The idea for the podcast came from a brainstorming session where the creators wondered what if hell was real and you could tune in and hear what was happening by listening to Hell's radio station.
It is a scripted audio drama podcast with a huge following of over 6 million people.
The host is an immortal radio DJ who is having an affair with Satan.
Holma, who writes and stars as the hellish DJ told Podcast Day:
"My primary tools are hatred and envy. I got carte blanche to create what I wanted from the Finnish national broadcasting company.
"It is satire, but also a thinly veiled vendetta against everybody. It turns out not everyone wants to be positive, some like the vicious biting satire about society, politics, religion and corruption. It is a triumph of filth."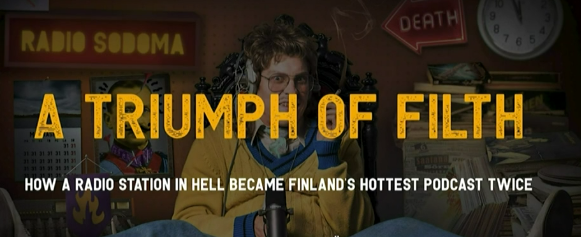 In one parody segment in the second series, Satan has been sacked from his job due to an organisational restructure in Hell, so he goes on the radio as a talk show host. In one talkback call, the Prime Minister of Finland rings to know how things are progressing with his deputy.
"Who's calling, is it God?"
"No, it's the Prime Minister. I just think I'm God…" He then asks Satan about his deputy.
"She's not here, she's not dead yet," says Satan.
"She is to me, she's dead inside," says the president.
Radio Sodoma is a high production with quality sound design and dramaturgy. The producers seem to have hit on a successful formula for podcast success.
"How did we get this satire to become so popular without pissing anyone off? People seem ok with radical, bighting jokes. Comedy can be entertaining.
"The darkness of the humour was a huge plus, it gives catharsis. So was the fact that it is audio not video," said Ylä-Mononen.
Characters in the show are based on real people who are condemned to hell.
"There is an absurdity to it that makes it easier to tolerate,…
"We also needed to know the law, so we could avoid breaking the legal boundaries. So far no one has sued us for slander. We go through the material and we think about the ethics while we are developing the script…
"It is different making jokes about public figures rather than regular people… A lot of people recognise themselves, but the reaction is usually delight at being satirised in the show."
It took 18 moths for the first series to reach 1 million listeners in Finland, a country of about 6 million people.
The second series only took one month to reach just about everyone in that country.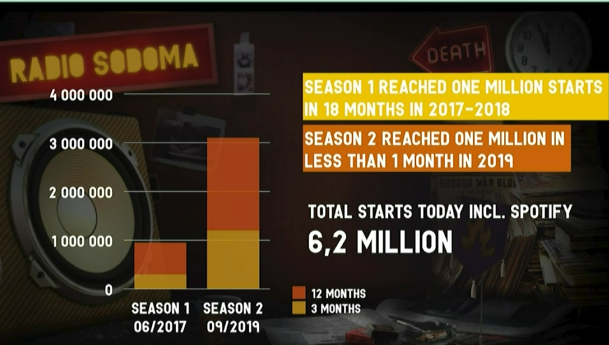 Both creators value the freedom they get in making the program from the national broadcaster.
"The public broadcaster supports us. They have a great liberty of being free from commercial sponsors, this liberty can be passed on to artists to use it for something special and to break some boundaries. They help us protect the integrity of the script and allow us to make shows like this, it is very important…"
At the end of their session at Podcast Day the creators of the podcast wished participants "a courageous and filthy day."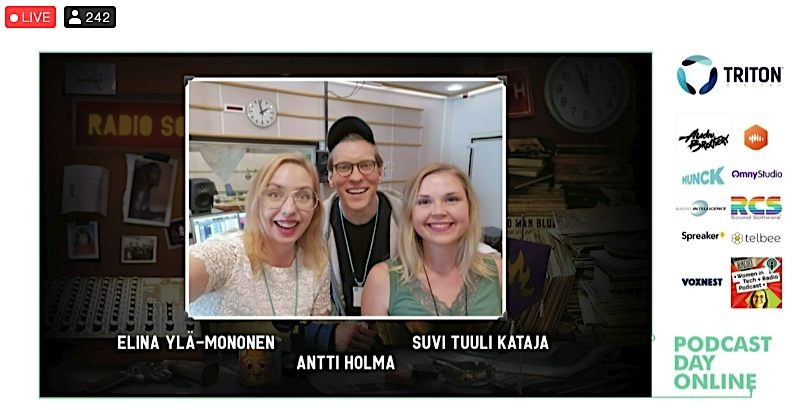 Podcast Day is a spin off audio summit conference from Radiodays Europe.
The postponed Radiodays Europe conference will take place next year in May 2021. More details here.

---
Subscribe to the radioinfo podcast on these platforms: Acast, Apple iTunes Podcasts, Podtail, Spotify, Google Podcasts, TuneIn, or wherever you get your podcasts.