Southern Cross Austereo held its 2014 client and agency function at the Museum of Contemporary Art in Sydney, emphasising how the company's talent will engage with clients in a deeper way than ever before.
"We now have a roster of talent who are used to working with clients… they know how to put the commercial in commercial radio," said National Sales Director Andrea Ingham.
The statement was an unspoken reference to Kyle and Jackie, who have now left SCA for ARN. While K&J were not mentioned by name at the glittering event, there was a big emphasis on how the company will engage more than ever before with clients in a postiive way.
At the end of the presentations, Justice Crew performed for the assembled guests.
Other messages from the night included that SCA is rebuilding its base for the future. "Of course it will be tough," said Guy Dobson, "but we will out-create and out-freshen the opposition."
Key figures mentioned were: 62 online communities and 6 million listeners for the Today Network, 2.5 million monthly page impressions for the Triple M network, and a range of ways to engage regional audiences through SCA's local works network and Southern Cross TV.
"We know audiences and customers better than anyone," said Dobson, boasting 5.2 million radio listeners across the national SCA network.
SCA's digital head Clive Dickens, told staff and guests about the newly launched Omny, an app which integrates SCA audio segments with your favourite news reports, local weather, and your own playlist. "We are proud to be Australia's most socially engaged media business," he said. SCA has 1.7 million followers on twitter across its various accounts and is engaged on multiple levels with audiences and clients.

After paying tribute to his old friend Steve Kelly, SCA's CFO who passed away recently, Southern Cross Austereo CEO Rhys Holleran told the audience: "SCA is about creating compelling content that talks to our audience and also allows clients to talk to them."
Commenting on the so-called 'radio wars' being discussed, Holleran said: "SCA's strength is in its diversity across Australia and its collaboration with clients." In 2014, SCA will be at the forefront of creating change in the radio industry and will focus on the regeneration of its brands towards products which meet client needs, according to Holleran. Innovation and forward thingking will be two key objectives of the year ahead.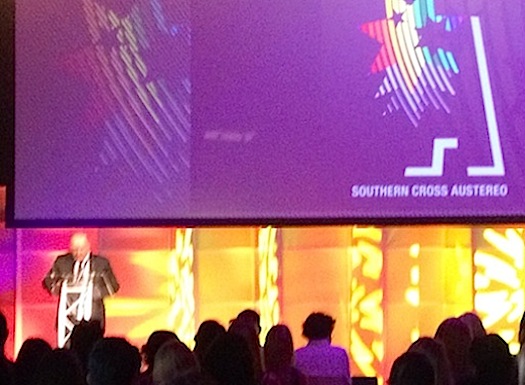 Guests were invited to engage with SCA on twitter, using the hashtag #SCAengage. See some of the interactions here, including this selfie of Dan with the boss.

Hamish and Andy with News Editor (and radioinfo Brains Trust expert) Deborah Clay.