A flash mob of choir members descended on the ABC in Sydney yesterday as protesting cuts to Radio National continue.

A Facebook event was created calling on singers to musically protest at the Ultimo headquarters.

"The powers that be at the ABC have taken into their heads to savage the live music content of radio national. If you think this is an abomination and would like to assist, we will be musically protesting at the ABC in Ultimo."

The song they sang as they roamed the ABC foyer was 'a delicate Baroque piece called Bullshit'.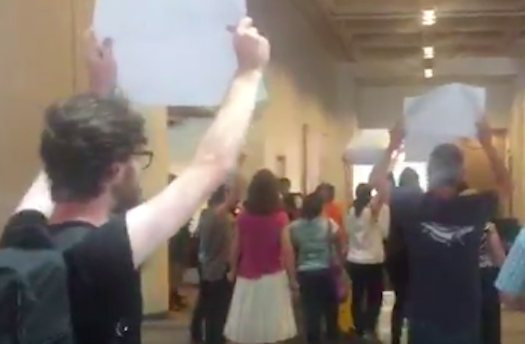 Literally THE most ABC/RN protest is happening right now in the foyer. pic.twitter.com/PFjqZb3imq

— Lucy Carter (@lucethoughts) February 28, 2017


Yesterday's demonstration follows last week's protest with members of the Community and Public Sector Union (CPSU), Hands off Radio National Music and ABC Friends gathering at Ultimo.