Our Survey 3 analysis of the networks and cities.
Refresh this story during the day for the latest updates.
See the raw results charts plus a rolling twitter discussion on radioratings here.
View Spin Cycle here.
Networks
NOVA Entertainment
With an upswing in both Sydney and Melbourne it seems that smoothfm is unstoppable. Sitting on 7.6 and 7.4 shares respectively, smooth is comfortably outperforming its Nova stablemate in both cities. It is no longer doing well as a cheap-to-run niche operator, smoothfm has become a serious contender for FM supremacy.
On the other hand, the Nova brand did not fare so well with both Sydney and Melbourne recording drops. It has been rare for Sydney to out-rate Melbourne. Sydney's 6.8 share puts 969 into 7th place in Sydney while 100 is in the same position in Melbourne but on a 6.3.
It was better news in the other markets with Nova gaining ground in each one. In Brisbane, which has long been seen as a two horse race between Nova 106.9 and ARN's 97.3, Nova sitting in second has managed to close the gap to within striking distance of 97.3FM in first.
Southern Cross Austereo
Finally some bankable news for SCA with Triple M powering ahead in every market. In Sydney, the M's put on 1.4 to jump to a 7.2 share overall, the highest it's been for years with the Grill Team gaining 2.0 to land on a highly competitive 7.8 in Breakfast.
In Melbourne, Eddie and the Hot Breakfast continues to dominate the FM band with the station tied for 3rd place with GOLD overall.
Although the brand is not so strong in Brisbane or Adelaide, it nonetheless improved in both markets. Over in Perth, 92.9 also enjoyed a healthy rise.
While Triple M's performance will make for much back slapping in the halls of management it is unlikely to completely distract from the performance of hit104.7 2DayFM which has sunk to a 2.7 share.
Moving right along, Melbourne's hit station, The FOX, remained steady on a 6.9 share but lost ground in the rankings, overtaken by smoothfm and GOLD. The hit brand lost a little ground in Brisbane too bur remained solid on a 6.0 share in Adelaide.
But in Perth, the ever reliable MIX 94.5 remains a comfortable leader in the market on a 13.5 share.
ARN
By and large, a great survey for ARN with GOLD/WSFM rising in both Melbourne and Sydney. Melbourne, in particular was pleasing with GOLD jumping 1.1 in share to be level pegging with Triple M.
The KISS brand also gained ground in Melbourne although it still lags behind a tight pack. Meanwhile in Sydney, KIIS 106.5 was steady as a rock to stay atop of the FM pile.
While there's no cause for alarm, last survey's runaway leader in Brisbane, 97.3FM lost some of the distance between it and second placed Nova which is once again within striking distance. Although they dropped to a 7.7 share, no-one would be slashing wrists in the 4KQ bunker either.
Adelaide continues to be a happy hunting ground for ARN with both Mix 102.3 and Cruise waxing in audience share to command 23.1 per cent of the market between them.
In Perth, the recently acquired 96fm shed a smidgen to place it 4th overall on a 10.9 share.
MRN and Talk
The recently merged entity, MRN, has retained the number one station in both Sydney and Melbourne through 2GB and 3AW. Both, however, returned reduced shares and audience numbers to go with it. So did their other stations. 2UE, 2CH and Magic 1278 all went down too.
In Brisbane, though both 4BC and Magic 882 went up and now have almost 10 per cent of the market between them. Having sold 96FM to ARN, MRN's lone station in that city returned a 7.8 share, down from 9.0 last time.
In Adelaide, NOVA Entertainment's only talk station FIVEaa continues to impress posting a 12.0 share putting it well in the hunt with the market leaders.
With the footy season well under way, Melbourne's sport specialist SEN has risen to a 4.6 share, not quite the 5's the station has shown in the past.
ABC
For local radio it was steady book. Couldn't be more steady than for 702 in Sydney which remained on a 8.0 share and in 4th place.
Melbourne's 774 on an 11.5 share sits comfortably in second place behind 3AW, the two being the only stations in double digits in that city. Brisbane was up a tad, Adelaide down a tad, while Perth's 720 suffered the network's greatest loss, just 0.9 to drop to 5th in the market.

triple j
Aunty's ageing youth network had mixed results but with a standout performance in Perth where it has always been best loved. The station had a spectacular jump of 2.8 to land on a 12.0 share putting it at number two in the market overall.
In Sydney and Melbourne the brand enjoyed more modest gains (0.2 and 0.5 respectively) but in Melbourne its 6.1 share puts it in the pack with the likes of Nova and KIIS.
Brisbane is where the j's took their biggest hit – down 1.1 while Adelaide shed 0.4.

Cities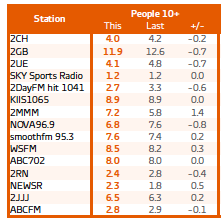 Sydney
Triple M scored the biggest rise in Sydney, gaining 1.4 share points and rising to 7.2% overall. Sister station 2Day/Hit fell 0.6, bringing it below a three share, to 2.7%. Nova fell 0.8 to 6.8%, 2UE and 2GB dropped by 0.7.
2GB remained at the top, at 11.9%, followed by KIIS, steady on 8.9%.
WSFM was in third place, up 0.3 to 8.5%, followed by ABC702 steady on 8.0%. Smooth was in fifth place on 7.6%, a rise of 0.2.
Nova won 10-17s, Triple J won 18-24s, KIIS won 25-39s, WS won 40-54s, 2GB won the over 55s.
2GB won all timeslots except drive and afternoon, which were won by KIIS' new drive duo Hughesy and Kate and WSFM's Lars Peterson in his first afternoon shift, respectively.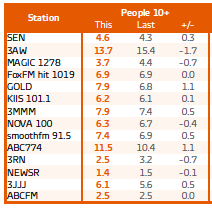 Melbourne
Top station 3AW had the biggest fall this survey, down 1.7 share points to 13.7% overall.
Gold and ABC774 had the biggest gains, both rising by 1.1 share points.
ABC774 was in second place on 11.5%.
Gold and Triple M tied for third place, both scoring 7.9%. Smooth was fourth on 7.4%, up 0.5. Fox was fifth, steady at 6.9%.
Nova won 10-17s, Triple J won 18-39s, Triple M won 40-54s, 3AW won the 55+ demographics.
Brisbane
Triple M had the biggest gain in Brisbane, rising 1.5 share points to 9.1% overall. Triple J had the biggest fall, down 1.1 to 7.8% and 4KQ also fell by one share point to 7.7%.
ARN's 97.3 slipped 0.6 to 13.7, but remains in top position. Second placed Nova gained 0.7 to 12.3%.
ABC612 was third, up 0.1 to 10.8%. Triple M jumped into fourth place with 9.1%, and Hit 105.3 was fifth, down 0.2 to 8.0%.
97.3 and Nova won the 10-17 demographic. Nova won 18-39s, 97.3 won 40-54s, ABC612 won the over 55s.
97.3 won breakfast ahead of Nova and ABC612. 97.3 also won mornings, afternoons and weekends. Nova won drive and evenings.
Adelaide
Radio National had the biggest fall in Adelaide, down one share point to 2.0%, while most other stations were steady.
Mix 102.3 retained top spot, up 0.7 to 14.3%.
Nova moved into second place, up 0.4 to 12.4%, followed by ABC891 down 0.2 to 12.3%. Fourth placed FIVEaa gained 0.9 to 12.0%. Cruise was in fifth place, up 0.5 to 8.8%.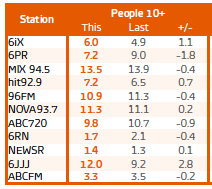 Perth
Mix 94.5 slipped by 0.4, but retained top spot at 13.5%.

Triple J scored the biggest rise of the survey, up 2.8 share points, rising to second place, on 12.0%.
Third placed Nova rose by 0.2 to 11.3%, while 96fm dropped to fourth place, down 0.4 to 10.9%. ABC720 moved into fifth place after dropping 0.9 to 9.8%.
Nova won 10-17s, the 18-39 demographics were won by Triple J, Mix 94.5 won 40-64s and ABC702 won 65+.
Breakfast was won by ABC720, ahead of Nova and Mix. Mix 94.5 won mornings, afternoons and weekends. Nova won drive and 96fm won evenings.