Analysis of the networks and cities for Survey 4 2014.
See the overall figures here and check back for network spin releases here (as they are added).

Analysis
SCA
Overall, it's a good survey for the Triple M network. For the Today Network, not so much with Sydney down by another 0.3.
In Sydney, the M's were rock steady on a 5.9 share with another small uptick for The Grill Team which is making a name for itself both as an entertaining breakfast show and a sports authority. 2Day-FM, on the other hand slipped to a 4.2 share overall with just 3.0 in breakfast.
It is better news all 'round in Melbourne. Triple M's bounced back with a vengeance taking a share of the FM lead on 7.6 (still miles behind the outright leaders ABC774 and 3AW). Eddie McGuire's Hot Breakfast is back up to an 8.5.
Meanwhile FOX also enjoyed a small gain to put it up to a 7.2 on the back of rises in breakfast Drive and Nights.
In Brisbane too, both SCA brands rose but remain well behind market leader 97.3 FM. In Adelaide, though, both brands experienced small drops.
Perth, however, remains a shining light for SCA with Mix 94.5 extending it's lead with a 15.1 share and 92.9 waxing it's share by 0.8.
Nova Entertainment
For the first time in a long time, more of Nova Entertainment's stations went down than went up. Not that alarm bells would be ringing at HQ. The networks still maintain a healthy position in the market place.
For smoothfm brand it was a case of Sydney up and Melbourne down for a more than adequate 6.5 and 6.7 respectively.
For Nova 969 it was a small drop in Sydney (0.3 overall) but a bigger one for (0.9) for Fitzy & Wippa on breakfast.
Melbourne's Nova 100 also slid ever so slightly as did breakfast. But Brisbane's Nova 106.9 took the networks biggest hit, shedding 1.2 overall with Morning and Afternoons losing 2.2 share points each.
Things didn't get much better in Adelaide with Nova 91.9 shrinking share by 0.9. But thing were looking up in Perth where Nova 93.7 gained 0.4 and is in second place behind Mix 94.5. However the station claims to be number one in cumes with 512,000 people tuning in each week.
ARN
If this were a real estate report you could say that the bubble has burst for KIIS 106.5 FM and the Kyle and Jackie O breakfast show. The station's down to a 7.9 and breakfast to a 9.0 share while its biggest rival is forging ahead.
But what would ARN care? Given that that rival is WSFM which is up to a 10.2 and it's breakfast duo, Jonesy and Amanda up to a giddy 11.5.
But as well as the Golden station did in Sydney, GOLD FM in Melbourne took a tumble (-1.0) while Mix 101.1 stayed exactly the same on a 7.1 share.
They're laughing in Brissy with 97.3 FM extending its lead to a 15.3 share, 3.7 ahead of nearest rival, Nova. Even the venerable 4KQ put on 0.5 share points.
In Adelaide MIX 102.3 remains unassailable with its 16.3 share overall while Cruise 1323 sails along on 8.5.
Fairfax Radio and Talk stations
No doubt the PR department at Fairfax will find some nuggets deeper in the numbers, but it's hard to see how they'll put a positive spin on the top line results.
They could say, at least, that 6PR in Perth has had a blinder, up 1.1 to a 9.0 share while Fairfax's one FMer, 96FM, also put on 0.5.
In Melbourne, 3AW continued it's upward trend waxing 0.3 to finish on a 12.8 share. Trouble is, ABC774 put on 0.8 to leapfrog it for the number one spot.
Meanwhile, 3AW's hitherto bulletproof breakfast pair, Ross and John are sitting on a massive 16.6 share. Yet, it was not enough to stave off Red Symons on 774 who had a massive lift of 1.2 to put him on top with a 17.2 breakfast share.
The news for Fairfax gets worse in Brisbane where 4BC is down to a 4.9 share. But that's not as bad as Sydney which returned a 3.8. Every shift on the station is down – except for mornings, which rose by 0.2 for a share of only 2.7.
2UE will find no solace in the fact that while they went down by 0.4, 2GB went down by 0.7. GB easily retains the lead in Sydney, 2.3 ahead of second placed WSFM and 3.4 of third placed ABC 702.
In Adelaide, Nova Entertainment's FIVEaa lost ground but remains in double figures on a 10.6 share overall. Melbourne's sport station SEN is up to 4.5.
ABC
ABC Local Radio had great survey overall. 774 in Melbourne for the second time this year has beaten 3AW to take over the top spot.
Sydney also fared well, with 702 up 0.5 and its new breakfast presenter Robbie Buck increasing his share by 0.9 to make the show number two behind Alan Jones and just ahead of a surging Jonesy and Amanda.
While Brisbane's 612 and Adelaide's 891 remained steady, Perth's 720 was the only ABC Local station to lose ground. But only by 0.4.
As often happens in this part of the year triple j was mostly down. In fact, it went up in Adelaide but was down everywhere else.

Cities
Click the chart pics to view the whole city results.
Sydney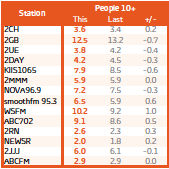 While other stations battle each other for the under 40 audience, over 40 targeted stations have raced home on the outside rails to grab the top three positions in the Sydney market.

2GB remains top station with 12.5%, a drop of 0.7 share points this survey. WSFM is fast catching up, scoring the biggest gain this survey and consolidating its second position with a gain of one share point to 10.2% overall. ABC702 is in third place, up 0.5 to 9.1%.

Melbourne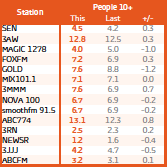 In the month that she leaves ABC Radio, departing Director Kate Dundas would be pleased to see ABC Local station 774 top the Melbourne market.

ABC774 gained 0.8 to score 13.1% overall, moving it to top spot, above 3AW, which was relegated to second place. 3AW gained 0.3 to score 12.8% overall.

There is daylight between the top two stations and the rest of the field, with the third placed stations scoring in the 7s. Gold and Triple M tied for third place with 7.6%. Gold lost 1.2 share points, the biggest drop of the survey for this market, while Triple M gained 0.7. Fox gained slightly, up 0.3 to 7.2% and Mix was steady on 7.1%.

Brisbane


97.3 had the biggest gain of the survey, up 1.4 share points to 15.3%, consolidating its number one position with more than three points separating the number one and two stations.

Second placed Nova 106.9 lost 1.2 share points, the biggest drop in this market, scoring 11.6% overall. Third placed B105 lost 0.5 to 10.1%. Triple M was fourth with 9.3%, up 0.7 and ABC612 was fifth with a steady 9.2%.

Adelaide


The top position in Adelaide went to Mix 102.3, down 0.4 to 16.3%, well ahead of the next batch of stations, which scored in the 10s.

Second position was tied, with Nova 91.9 and ABC891 both scoring 10.8%. Nova dropped 0.9 share points, while ABC891 gained 0.1.

FIVEaa was in fourth place, losing 0.7 to score 10.6% overall.

Perth


Mix 94.5 consolidated its top spot with a rise of 0.6 share points to 15.1% overall.

Second placed Nova 93.7 gained 0.4 to 11.8%, followed by 96FM on 11.1%, up 0.5.

ABC720 was in fourth place, down 0.4 to 10.6%, followed by triple j, which suffered the biggest fall of the survey, down 2.0 share points to 9.7%. 92.9 was in sixth place, up 0.8 to 9.3%.

6PR had the biggest rise of the survey, up 1.1 to 9.0%.