Peter Saxon asks three CDs.
In a radioinfo article back in 2015, soon after Donald Trump announced his candidacy for the U.S. presidential election, titled How to be a Shock Jock – secret revealed, I devoted the final section to candidate Trump and pondered whether he'd make a better talk presenter than a president.
How do you spot raw talent?
He may not be the best candidate for leader of the free world, but Donald Trump has all the hallmarks for a successful career as a Shock Jock. God knows America needs more of them.
U.S. polls show Trump is the leading candidate for Republican nomination. He was recently interviewed by conservative radio host Hugh Hewitt on his Salem network show. Hewitt asked Trump some foreign policy questions mainly to do with the Middle East – a fairly prominent issue, one would think, for an aspiring President.
On a question about how he perceives the difference between Hamas and Hezbollah he said he 'will know the difference when it's appropriate.' Trump accused Hewitt of springing a string of "gotcha" questions on him, like that one. Surely for a Presidential hopeful the questions were about as "gotcha" as asking a candidate for Governor of the Reserve Bank his view on how interest rates affect inflation.
Trump's grasp of foreign policy, at that time, was about the equivalent of Pauline Hanson's understanding of the word 'xenophobic.' But unlike Hanson, Trump was not about to ask, "please explain?" Instead he went on the attack calling Hewitt, "a third rate radio announcer" and was reportedly considering blacklisting him from future interviews.
I'd sign Trump up now… if not for the sake of American radio, for the sake of the world.
Well, that was then and this is now and it's fair to say, his presidency was quite a shock to many good people – on both sides. Or, put another way, as a president, he'd make a great shock jock.

With Joe Biden declared the winner of the election, unless the incumbant can convince the courts of skulduggery at the ballot box, and have the results overturned, he'll be 'pursuing personal interests' come January.

So we asked three of our wisest Content Directors: If given the opportunity, would they hire the Donald as a talk presenter for their network?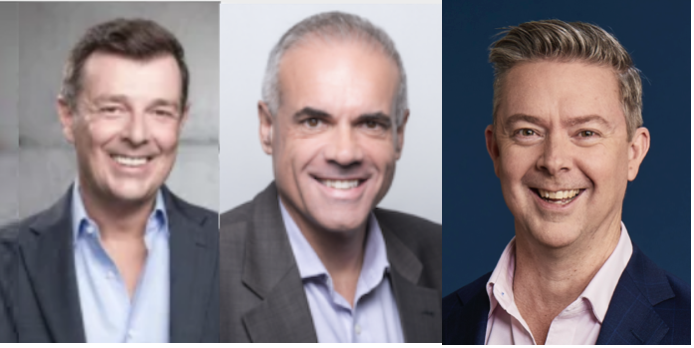 First off, we asked ARN's Duncan Campbell, (centre) who has lengthy experience wrangling shock jocks the likes of Kyle Sandilands at KIIS 106.5.

"I don't know whether I would, to be honest," says Campbell, "There's an argument that he would make a fantastic talk show host on radio – he's going to be polarising. If it had been pre his time as President, probably, I would've. But I don't know about post."

Next we spoke to Nova Entertainment's Paul Jackson (left) who has FIVEaa Adelaide in his remit, "I think the psyche may be quite different in what's happening there. He's certainly a showman and an entertainer… but I'm quite happy with our team David & Will, who are doing a very good job.

"I don't think we would be trying to entertain that (hiring Trump). I don't think he would last very long on the radio without getting suspended."

Finally we spoke to someone who is responsible for a whole string of talk stations, Nine Radio's Greg Byrnes (right) who doesn't hesitate, "Yes I would. Controversial, unpredictable, engaged, colourful… he'd be great.

"Although I fear his fee would be a stumbling block."
Peter Saxon
---
Subscribe to the radioinfo podcast on these platforms: Acast, Apple iTunes Podcasts, Podtail, Spotify, Google Podcasts, TuneIn, or wherever you get your podcasts.