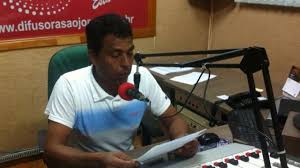 A Brazilian radio announcer was killed by two assailants who shot him during a live broadcast.

The attackers, who had knocked on the door and been allowed in, shot Joao Valdecir de Borba (pictured) in the abdomen after locking one of the announcer's co-workers in the restroom,

The suspects subsequently fled in a dark-colored Fiat Strada.

The 51-year-old De Borba had worked at Radio Difusora AM for a decade, having hosted several music programs, according to the station.

The killing occurred in Sao Jorge do Oeste, a town in the southern state of Parana that is home to around 10,000 inhabitants and located around 140 kilometers (87 miles) from the border with Argentina.

Early this year, the National Federation of Journalists, or Fenaj, denounced an increase in violence against reporters in Brazil, where 11 media professionals were killed in 2015.

In that annual report, the Fenaj said Brazilian journalists suffered nine armed attacks, 49 instances of physical aggression, 28 threats or episodes of intimidation and 13 attempts to impede their professional duties.