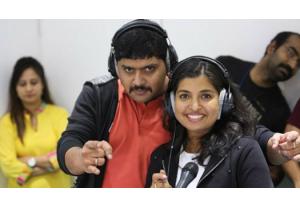 The Arabian Radio Network in Dubai has set a new Guinness World record for the longest continuous music radio broadcast by a DJ team.

Sindhu Biju and Mithun Ramesh (pictured) of Malayalam music station Hit 96.7 FM began the marathon on their Drive show at 5pm Dubai time on a Thursday, and ended the record-setting broadcast in the early hours of Monday morning.

It was done as a live OB from a shopping centre and the team lasted for 84 hours and 15 minutes on air.

The previous record was 77 hours and 11 minutes set by Gerald Koh and Adam Piperdy from Singapore's HOT FM in March this year.

Hit 96.7 caters to the largest ex-pat community in the UAE. It's the only 24 hour Malayalam station in Dubai playing non-stop Malayalam hits.Malayalam
is a language spoken in India, predominantly in the state of Kerala.

Any takers to challenge this record?