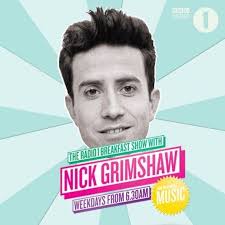 BBC DJ Nick Grimshaw said he wasn't hurt after he crashed his car near his home in London while trying to avoid running over a cat.

He was on his way to the Radio 1 studios when the accident happened.

"I came out of my street, turned right, saw quite a large ginger cat. I was like, 'Oh no, a cat.' Rather than killing the cat, I drove into a car. The car that I hit made my car tip over. The woman's car is absolutely fine… She needs a new wheel arch, which I guess I'm paying for."

The 32-year-old said the pictures shared on social media made the incident look far more dramatic than it was.

Police and fire crews attended the scene.

He said: "The cat's fine. It sat there for the full two hours while I was out in the street. The car went upside down. The cat met the police, the cat met the fire brigade, the cat watched me make a call to insurance to organise someone to pick the car up."

Nick was on his way to make a guest appearance on Annie Mac's show to discuss the new Frank Ocean album, alongside MistaJam.

Instead he waited on the street, as his £80,000 G-Wagon was towed away.

A statement from his agent confirmed the news, saying: "Nick is absolutely fine – he was driving at no more than 15mph and he swerved to avoid a cat."

The cat, thought to be a local stray tabby, apparently is fine as well.