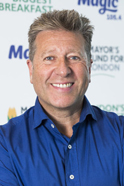 A U.K. radio DJ known as Dr Fox (pictured) has been arrested over alleged historical sexual abuse claims.

The DJ, real name Neil Fox, has been taken in by police following allegations of historic sexual assault against two women. Bauer Media, who run Magic, the London radio station on which Fox currently works, have released a statement about the 53-year-old broadcaster. It reads:

" Bauer Media can confirm that Neil Fox, presenter of the Magic Radio breakfast show, was today arrested by Westminster Police. He is currently being questioned about various allegations. In the circumstances Neil will be off air from tomorrow to enable him to devote his full attention to dealing with these matters. All other aspects of his contract will remain unchanged while matters are resolved. We can make no further comment at this stage."

Fox, who was previously a judge on Pop Idol alongside Simon Cowell and Pete Waterman, presents Magic FM's More Music Breakfast Show between 6am and 9am on weekdays.

He attended Kingston Grammar School and Bath University before embarking on a long career in TV and radio.

He has three children and owns a multi-million pound house in Fulham as well as a house in West Sussex.