Jez Nelson the Co-Head of Global Podcasts at Sony Music Entertainment says people should not be surprised that Sony Music has got into podcasts.
The strategy is important for the company's music discovery strategy, but there is more to it than that, Sony Music sees real potential for podcasts to develop a range of good revenue streams.
"Podcasting still a young industry but rapidly growing," he said.
"The business model for Sony Music is to derive more revenue streams such as subscriptions to new music podcasts, plus sales and sponsorship. Ideas from podcasting are also coming into film and tv and we see options for music in those productions too.
"This sector is moving at such as fast speed… and people are experimenting with business models before our eyes, we are seeing exciting things."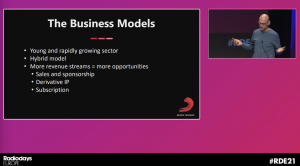 Nelson believes podcast subscriptions will become very powerful over the next few years and that they will generate as much revenue as advertising.
He gave three example of types of podcasts that he believes will grow revenue:
The listeners to this podcast can get it for free, but they love it so much they want to feel part of the club so they pay to subscribe and get more content and connection.
Is a breaking news podcast which follows a court case in real time. It is subscriber-only content with weekly updates from two seasoned reporters who are following the case daily inside the court. "The subscription conversion of this show is mind boggling," says Nelson.
Is a full series available to buy and binge. The rate of conversion is high after people listen to the first episode according to Nelson. "From one episode they then go to buy the whole thing, this subscription model for binge listening content is likely to work if the content is good enough," he said.