SCA CEO Grant Blackley told the Radiodays Europe audience about the experience of transforming the company "from a traditional linear radio company into a digital audio company."
The aim of the transformation is to capture people who have moved from the old linear broadcast listening pattern to new non linear consumption patterns.
When Blackley joined SCA in 2015 the company had 68 stations, now it has 99. Strategy was mostly short term and concentrated only on radio industry competition.
"Distribution was only one-to-many… monetisation was not about growing the market," so the company worked on developing a new strategy first then execution second. When it came to execution the main priorities became: Content, Distribution and Monetisation.
"Radio doesn't have a consumption problem. Consumption is changing from linear to digital, but the opportunity is that consumption is growing not shrinking," said Blackley.
Radio was a low growth low yield industry, so SCA had to work on a new vision to move from radio to an audio company. The first part of that was to have a clear strategy.
As SCA developed its podcast strategy it concentrated on five key verticals: Factual & Drama, Entertainment & Culture, Sport, News and information, Parenting & Kids. These supplemented the existing radio catch up podcasts and then SCA added partnerships with other podcast publishers to its offerings.

"For catch up radio content, we don't just replay what we broadcast, we apply high production values to re-editing those shows," said Blackley stressing the need to put work into repurposing radio for the podcast medium. He also pointed out the difference between music radio stations and music streaming services like Spotify – radio is local, Spotify is not.
Distribution & Technology became the focus as the process of change took place. Key strategies in that area were: Cloud first, Cost controls, Data driven decision making, Security, Turning vendors into partners, and a philosophy to buy rather than build where possible.
SCA digitised its offices and all its 400 studios, using RCS Zetta and GSelector. The company also brought in a content management system and created a National Operations Centre (NOC) which can monitor every piece of equipment and every studio to avoid failures.
After those two pillars were completed the next stage was digital audio revenue.
"We needed to educate the advertisers in the marketplace first to build the size of the pie, then to chase growth… We tried to work together with the whole industry," said Blackley.
SCA experimented with subscription podcasts, but Blackley believes the should leverage its digital opportunities more through advertising rather than subscriptions. He made the point that Spotify only gives advertisers 15% of its audience, the rest don't get ads because they pay a premium, so they never hear the work of the advertising agencies. As this becomes more clear to agencies, some are moving away from advertising in music streaming services.
SCA sells its digital advertising programmatically, but is not selling it cheaply. "We have to ensure that we are benefitting from the price, we are charging a premium… podcasts are inventory light, so we have to charge more for each ad within them." Salespeople are asking for higher prices due to the fact that podcasts are a premium product.
The next priority was people, said Blackley as he worked systematically through the business steps taken to transform the company.
After the successful development and implementation of strategy, you need to get buy-in from staff and form a culture that supports the transformation.
"We had a staff of 2000 people who had been in the radio industry for some time," as part of the change process SCA set out to change the skills and knowledge of existing staff and to bring onboard new digital natives to the staff mix. "This is helping to create a different culture, moving from individualism to a culture of collaborative curiosity," he said.
"Upskilling has been tough but very rewarding… We have onboarded 600 new digital natives which has changed the shape of our workforce… we have a more efficient structure with digital capabilities."
The final step in the change process was marketing and branding. "We had many different logos and brands. We aligned across only two brands, Triple M and Hit Networks. We will soon turn off all those individual station apps because we now have LiSTNR."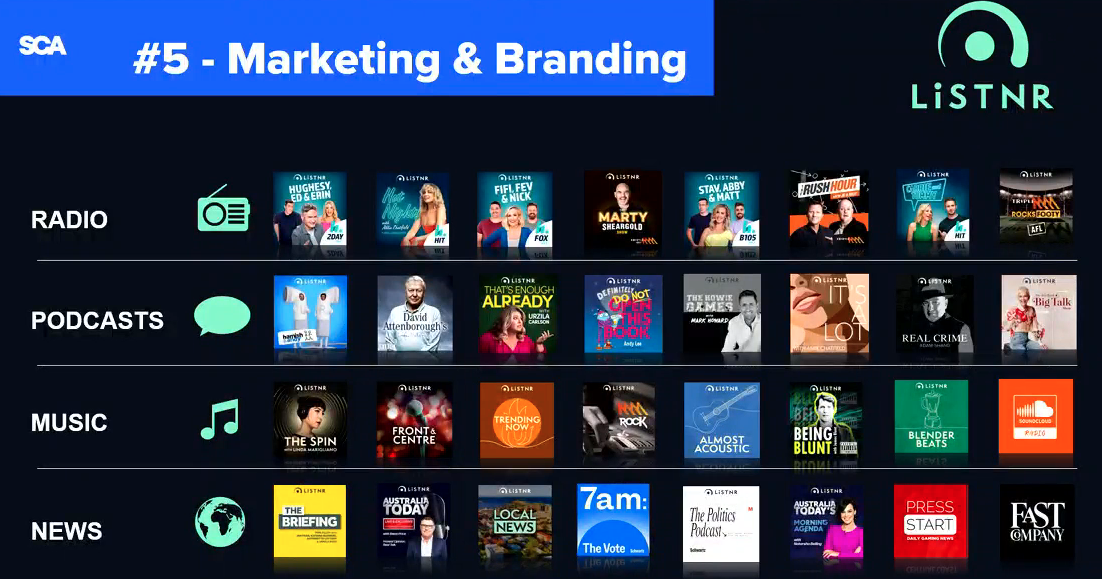 He made the point that it is better to have fewer apps because you can't fit lots of apps on to a car dashboard.
"We also needed our own ecosystem as a single destination for all our stations and podcasts.
Now that SCA has launched LiSTNR it is able to introduce live radio to younger audiences because "they begin by listening to podcasts and then discover live radio, sport, news and the other rooms in our house. They are spending more time in our ecosystem and finding more and more things they like.
SCA has become "an audio company that appeals to a mass audience in a premium environment."
Indicating the importance of the LiSTNR platform, Blackley said: "One day our company might be called LiSTNR not SCA… The launch of LiSTNR has been the catalyst for change at our company. We are now an audio company with a digital first focus… Our journey has been extremely rewarding."
After the presentation, radioinfo's Wayne Stamm caught up with Grant Blackley.