2BS Bathurst announcer Ardin Beech says he will honour a bet he made with local member, Andrew Gee, to play AC/DC music in exchange for a parliamentary mention.
Yesterday we broke the news that the Member for Orange used his parliamentary address to congratulation 1503 2BS Gold on their recent ACRAs success. He then added:
"I take this opportunity to formally call on 2BS Gold in Bathurst to lift its ban on AC/DC requests. It is un-Australian and a position that we do not want to see in the country. I formally ask this House to take note of my request and call on the radio station to remedy this gross injustice. I particularly refer to presenter Ardin Beech, who has been at the forefront of this ban for a number of years. It must change."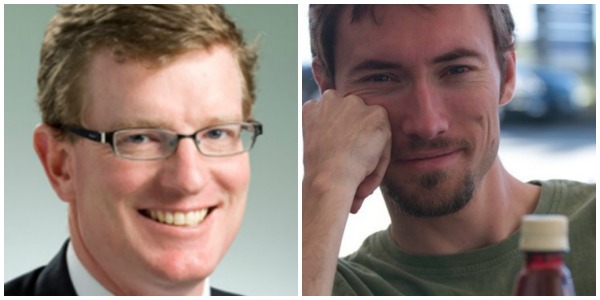 Andrew Gee, left, and Ardin Beech, right.
Today, Beech has responded, saying:
"He's not our local member, but the member for the neighbouring electorate with whom Bathurst has always had a friendly rivalry. This meant chats with the member for Orange were always a lot of fun, and he was granted a "song of the week" that would somehow relate to the topic at hand. Several times he requested AC/DC and was flatly denied (in good fun) since 2BS is more your Elvis/beatles crowd and even a quick listener phone poll suggested they'd rather more country music than heavy rock.
I then made a bet with Andrew Gee that if he mentioned us in a parliamentary speech, I would relent and play some AC/DC for him. Several months later, he came through with the goods in spectacular fashion! A very good sport for sure and a great friend of the station. I suppose now I'll have to visit our sister station's classic rock music library and grab something to play!"
A brilliant day for AC/DC fans around the world.