To help lift the profile of the already popular festival to celebrate the cultural heart of Sydney, 2Day FM and Sydney Fringe Festival have partnered in an effort to connect new audiences to the events which will feature thousands of local and interstate artists.
The partnership will see co-host of the Today Network's national drive show Dan and Maz, Dan Debuf, come on board as one of the ambassadors for the Sydney Fringe Festival.
As we highlighted in a recent profile of Dan and Maz, Dan is a comedian with a quirky sense of humour – the perfect voice for the festival program, which spans a diverse range of creative and performing arts.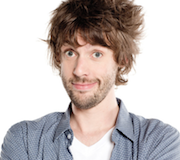 2Day FM will support the festival on-air in the lead up, engaging its listeners and active online communities via its popular shows and presenters, as well as participating in on the ground activity at selected events, which will take place at more than 50 venues across Sydney from now till the end of September.
Debuf says, "I've never been to a Fringe Festival and not seen something that's blown my mind! From big names testing new material, to stars of the future, to a dude on a unicycle kicking fish into a bowl on his head, magical things happen at Fringe. I'm excited!"
Sydney Fringe Festival Director Kerri Glasscock says, "Now in its fifth year, the Sydney Fringe Festival is the largest independent arts festival in NSW and this year we are gearing up for the biggest most impressive festival yet. We are delighted to partner with 2Day FM and look forward to reaching new audiences with such innovative content."