Triple J is celebrating its 40th year of broadcasting with a concert featuring an all Australian line up in the Domain on January 16th next year. The day will be simulcast live on triple j around the country and aims to encapsulate the cultural impact triple j has had over the last 40 years.
In 1975, a little radio station called 2JJ launched in Sydney, changing the face of Australian radio forever.
The first track ever played, Skyhook's 'You Just Like Me 'Cos I'm Good In Bed', set the tone for the risqué antics and love of Australian culture and music that would unfold over the next four decades.
40 years later, and now a national network, triple j continues to be as passionate and provocative as ever.

The concert will house a diverse mix of Australia's best live acts, as well as some special guests. It promises surprises like special acoustic arrangements, unexpected collaborations and covers of legendary Australian hits made famous over the years on triple j. Tickets on sale Mon 27 Oct.
The concert is just the first announcement for Beat The Drum: Celebrating 40 Years of triple j. In 2015, there will be an exhibition, TV documentary, book, CD release and of course, radio and online content celebrating 40 years of triple j.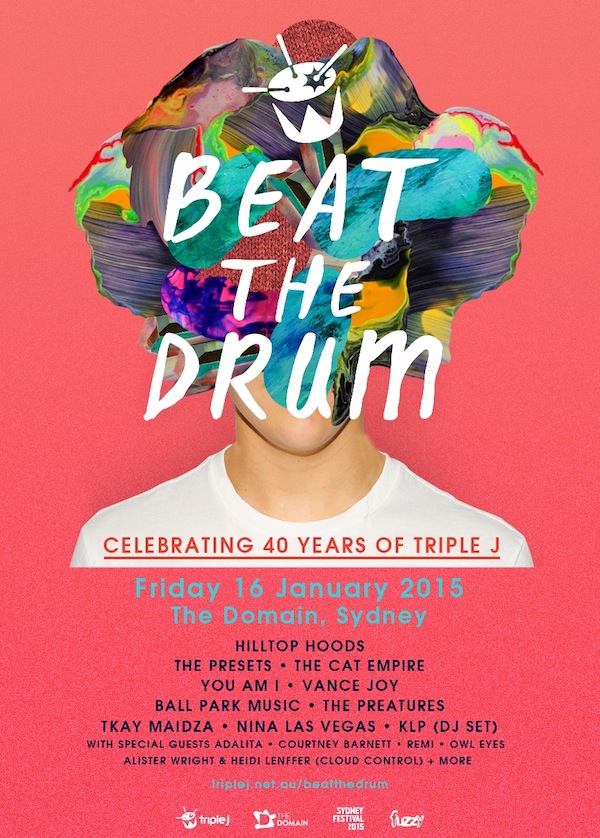 Related report: The Origins of Double J, by Gayle Austin.