Kirsty Meyer
will spend 5 minutes with interesting radio personalities in a series of profiles for
radio
info.
Her first guest is Ellie Angel (nee Mobbs).
Job Title: Workday Announcer 9am till 3pm & Social Media Manager
Station: 2DayFM
What do you love most about your job?
I love Top 40 music, so working on CHR is my dream as I get to sing and dance along to my fav music. I also love that I can bring happiness to those who listen, whether that be by playing their favourite song or giving them a prize. I love that radio is so personal.
What do you NOT love about your job?
Working breakfast hours and the coffee shop is not open until 7am #FirstWorldProblem
The first thing I do when I get out of the studio is: Raid the lolly jar.
You started in radio where and when?
16 as a volunteer the Canberra FM's Community Switchboard. I've lived in Melbourne, worked at Snow FM/2XL in Jindabyne/Cooma, 92.9 Perth and now 2DayFM. 5 years here and not going anywhere.
What did you first want to be when you grew up and how did you end up in radio?
A killer whale trainer. Seriously.
Where are you from and where do you consider home?
A proud Canberran. Go the green machine and the Brumbies. I don't give a crap about politics.
Tell us a little known fact about Sydney:
Check out the Bay Run in Sydney's inner west every weekend and you will see the city's last remaining roller blader (me).
What was the last album/song you downloaded? Justin Timberlake
Most listened to track on your iPod/Phone? In the past week?
Justin Timberlake! I just saw his 20/20 Experience World Tour in Sydney. O. M. GEEEEEEEEE. What a show.
Most embarrassing track on your iPod/Phone?
Mariah Carey "All I Want For Christmas"

Favourite gig you've ever been to?
JT & Pink. When I grow up I wanna be Jessica Biel or P!nk.
Have you worked overseas? No
Favourite country? Germany. Hello beer and pretzels.
Your most annoying habit? Biting my finger nails. I can never have a manicure!
Claim to fame?
I met Taylor Lautner and he said I could be Kristen Stewarts twin. I smile more.
What's your favourite movie and why?
Love Actually. Every Christmas I must watch this movie, it's my holiday tradition!
Married? Single? It's complicated? Married. How grown up and responsible.

Any celeb crushes? Jamie Angel
One day, I would love to: rescue all of the animals at refuges and live on a big farm with my family!

Why didn't you ask me about: My dog.

What's the best piece of life advice you have ever received? Don't f*** it up.
Some good advice you would give to someone who wants a career in radio? Be passionate. Be persistent and don't give up.
If I wasn't working in radio I would be a: training dolphins (bit easier to access than Orcas) or training guide dogs.
Best interview you've had? Jared Leto is exceptional talent, for on-air and to look at.
Other than your own show, who do you enjoy listening to? I really enjoy flicking around and hearing other stations, there is no standout fav.

Most shocking moment on air? I stuttered on the word country. Yep. C Bomb.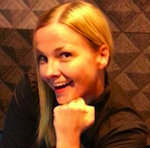 Our profiler, Kirsty Meyer, has worked in news and programs in Australia and internationally.
This is the first in a series of profiles Kirsty is compiling for radioinfo.