He was the voice of the award winning Australian radio program "My Generation" from 2004 to 2010. His radio & TV career has spanned decades in both Australia and the UK
The legendary Jono Coleman speaks to radioinfo's profiler Kirsty Meyer.

So Jono, it all began in Blighty, how did you end up in Australia?
Born in London 29th Feb 1956 – a leap year – Mum and Dad came to Sydney as 10 pound poms on a ship in 1965 with their kids, Jonathan and Sharon my older sister, I was only 7.
How did you land your first job in radio?
My first job in radio was working as a radio and TV copywriter for SSB advertising, Berry Currie Advertising, John Singleton advertising, I then started doing voice overs on the demo ads. Worked on the Pools ads, Levi's, Penfolds wine and a NSW Building Society campaign. First job in radio was at new Sydney station at 7 hills, 2WS as creative director/writer, also did a radio show with Graham Bond at 2WS called The Rex and Bruce show, that also got me a fill in job at JJJfm and did a screen test for Simon Townsend's Wonder World as a reporter. I had a 13 week contract that continued on from 1980 until 1985 or 86, 900 hundred filmed stories, plus a job with Ian Rogerson on JJJfm (Jono and Dano) off the record, and then brekkie on JJJ. We then jumped ship to Triple MMM Sydney/Melbourne after Mulray and Cranny left Triple J, we did drive on MMM for 1984/1985 and went to number one at nights, plus my generation for MCM media – over 600 shows on 100 stations around OZ.
Give us some career highlights:
I'm very proud of my order of Australia medal – Mum and dad would also be very proud. Jono and Dano turned out to be the first big male double act on radio and TV before the likes of Mal & Vic, Fitzy & Wippa, Hamish & Andy, Roy and HG, most of us came out of JJJ or ABC radio I loved doing My Generation and Jono and Dano on WS 101.7 I've been very lucky and met and worked with some amazing people and I'm about to celebrate 40 years plus in radio and TV in OZ and the UK. Working with Dano on the movie Young Einstein. Winning celebrity fit club on ITV in the UK which had 11 million viewers each week!
No doubt your radio timeline is a novel, could you name a few stations where you've worked that were the hardest to leave?
Loved working for Richard Branson at Virgin radio …. and Chris Wright and Sir George Martin at Heart FM, also part of Chysalis Radio and TV.
Here we go: London /UK stations; BBC London 94.9fm / GLR BBC / Also Virgin radio with Chris Evans …. 7 years brekkie with the Russ and Jono show
Heart Radio 106.2fm (Jono and the morning crew ….. 6 years or 7 years… Sony awards… Continued 'My Gen' from London and filled 3 spots a week on Sunrise and with Kerrianne on Channel 9
Last fulltime radio gig in London was 2 years on BBC London 94.9fm – Jono and Joanne Good (brekkie show) and also hosted "Hit for Six" on VH1 with Kate Thornton
So what took you to London in the 90's?
Went there on a 6 month deal on satellite TV BSkyB and lasted 16 years, loved being in London, 16 years and 2 kids later, I came back when mum started getting sick, I looked after her for the last 4 years of her life …..till 86.
What's the most shocking, (could be funny or scary) moment you've had behind the mic and why?
Strangest moments on UK radio and TV; A live call from Tony Blair to congratulate me on my Sony Award and new gig on LBC talk radio … I thought he was an impressionist!
Also the terror attacks… which unfolded during my daughter Emily's school play and all our phones stopped working! The death of Princess Diana…The 9/11 attacks and Queen Mum death, 16 years of history.
Any talent around at the moment that you think has what it takes to have a long career?
I'm a fan of Hamish and Andy and Roy and HG Nelson

How's the family going?
Both kids Oscar (21) and Emily (18) were born in London at Portland hospital. Emily attends UTS doing a communications degree, same as her mum Margot, who is head of TV at an advertising agency and Oscar is also at Sydney Uni doing a communications degree.
Is your first love radio or TV?
I love both TV and radio. Jono and Dano podcasts are still online. Still love working with Dano on radio and TV, also love doing Studio 10.
Any pets?
We have a spoodle dog Banjo, my biggest fan apart from Margot! xxx
What's the secret to longevity in this biz?
My best advice. Be yourself.
What advice do you have for Aussie radio presenters who want to make a move to the UK to work there?
Don't take no for an answer. Adapt and evolve. Don't take yourself too seriously and don't be a drama queen. Do your homework and research the UK radio, TV and lifestyle.
You've had a front seat ticket watching the industry evolve over the years, what would you say has been the biggest improvement about the industry?
The biggest advance for radio and TV are mobile phones and the net. Instant feedback for radio chat and talk back. Using your phones as a feature, a guest, an expert and phone fun. I still love music. Still love the radio and digital streaming. The future is here.
Where's your next holiday destination?
Europe in a couple of weeks!
I believe we can catch you on stage soon?
Jono, Jessica, Dicko and many stars in Panto from 3rd – 12th July @ The State Theatre in Sydney – Directed by Bonnie Lythgoe, producer and director of various theatre productions, including pantomimes and a former judge on So You Think You Can Dance Australia.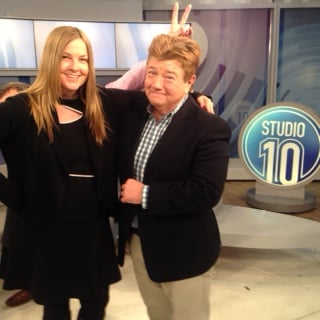 You can follow Jono Coleman weekdays on Studio 10 and on network TEN around OZ.
Jono and Dano on FB
Jono Coleman on FB
Instagram Jonoanddano
Jono and Dano free podcasts on icloud and FB
@jonocoleman on Twitter
Jono Coleman on You Tube
Our profiler, Kirsty Meyer, has worked in news and programs in Australia and internationally.
This is one in a series of profiles Kirsty is compiling for radioinfo.

@KirstyMeyer