Speaking at the ABC's 90th anniversary celebrations in Sydney last night, Prime Minister Anthony Albanese said it is a matter of national security for the ABC to make more content that projects Australian values and interests to the Indo-Pacific region. The Albanese government intends to allocate more government funding to the national broadcaster for this purpose.
"You also help us to share our voice in the region. That was undervalued by the previous government, even trivialised. That was a mistake.
"If we don't have our voice out there – if we cut programming or drop out of shortwave frequencies – others are only too ready to fill the gap.
"The ABC is a crucial part of our ongoing conversation with our regional neighbours.
"That is why my Government is committed to delivering an Indo-Pacific Broadcasting Strategy that includes increased funding to the ABC to boost Australian content and to project Australian identity, values and interests to the Indo-Pacific region. On top of every other consideration, it is a prudent investment in our security and national interest.
"Amid it all, the ABC has been powered by a spirit of innovation. You were the home of some of the earliest podcasts. You jumped into social media when it was still a novelty. And where would we be without iView?"
He also commended the ABC for its important work during disasters, saying:
"And you were absolutely crucial during the bushfires and the floods. Commercial broadcasters and community radio have played an important role, but times of disaster have seen our treasured national institution really shine.
"When mobile phone towers have been knocked out, or Telstra exchanges submerged, when the power's gone and people are down to a handful of batteries in a radio … you've been there, ready with critical information in some very fast-moving, often desperate situations."
Recalling campaigning during the recent election campaign, Albanese acknowledged the important role of local ABC radio:
"As I crisscrossed the country during the election campaign, I was reminded again just how vast our continent is. There's something especially comforting about knowing that this great space is humming with voices thanks to the ABC – whether it's TV, the internet or, especially important, local radio.
"If the ABC doesn't entirely defeat the tyranny of distance, it certainly softens it.
"Just as the ABC keeps regional Australia in touch with metropolitan areas and other parts of the country, it also provides important insights from regional and remote Australia to those in the suburbs and inner cities. There's nothing quite like sharing our stories to stop us becoming strangers to each other.
"We've all heard the mantras about the ABC as a haven of inner city elites, repeated with straight faces by critics based … in our inner cities. I hope those commentators take note of the 48 regional ABC bureaus spread in a great constellation across the country, and the continued existence of Landline.
"Likewise your announcement in December of 50 new journalist roles and a trial of five new mini-bureaus across regional Australia.
"The ABC has one of the largest dedicated rural reporting workforces in the world. It's all part of your commitment to being a truly national broadcaster."
As part of his visit, Albo met an ABC cultural icon… Bluey!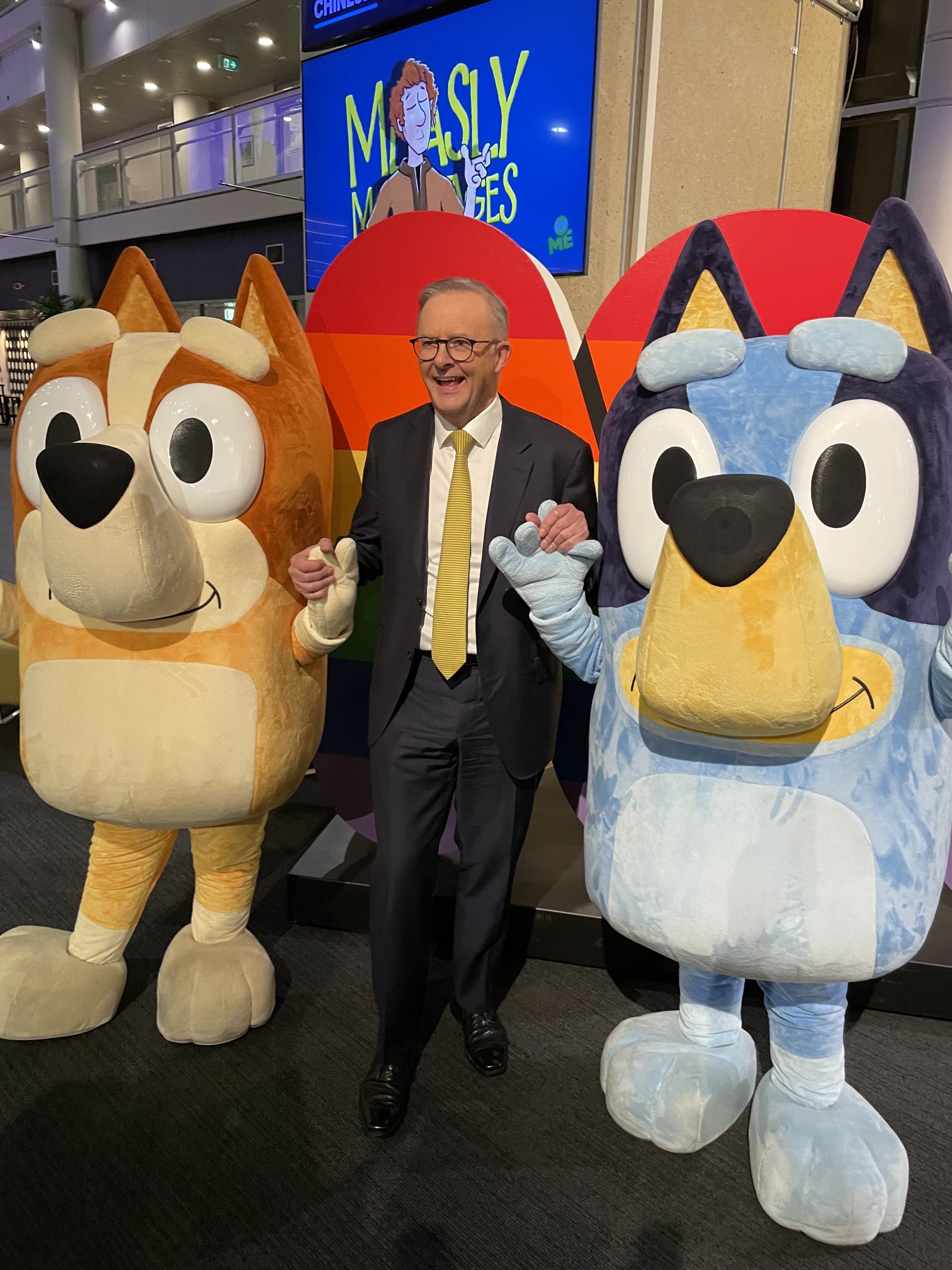 Photo: Richard Glover Twitter
The ABC is continuing its 90th birthday celebrations throughout the year.
(Main Photo: ABC James Alcock)