The normally overcrowded airwaves of Kabul are much quieter this week after the Taliban took Afghanistan's capital.
When the Taliban were last in power they closed most radio stations, leaving only a couple of stations on air to broadcast messages and recitations from the Qur'an. When they lost power, many radio licences were issued.
Currently there are still some stations on air in Kabul a few days after the Taliban takeover, but far less than usual. Listeners have reported to our sister publication radioinfo.asia that many of their usual stations, such as Radio Killid, run by the Killid Media Group, are now dark.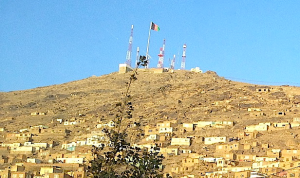 Transmitter Hill in Kabul
Of those that remain on air, the format appears to have changed.
With popular music and singing haram (forbidden) in the Taliban's view of Islam some stations have gone from a music format to broadcasting news, discussions and talk, such as Ariana FM and Arman FM when monitored by radioinfo.asia. It is not known whether the format changes are voluntary or in response to instructions from the Taliban.
Radio Arman, which has the slogan 'music never ends' was airing continuous talk and only broadcasting production music in promos when radioinfo.asia monitored the station.

Female voices are now largely absent from the airwaves, except in pre-recorded announcements running in the advertising or promo schedule.
Not all stations are dark however. Bakhtar Radio, part of the state run Bakhtar News Agency is still playing music, as are RTA's Afghan Radio stations, although it appears these are currently running loops on automation.
Female presenters have largely disappeared from station websites and have not been going to work through the streets of Kabul. Women walking through the Kabul streets report being hassled and told to "cover up."
Images of female RJs (radio jockeys) have been removed from station websites. Taliban fighters have been seen around Kabul painting black paint over images of women on buildings and shop fronts.
While radio's future is currently uncertain, other parts of the economy are returning to normal, with food markets and shops tentatively reopening yesterday before the country's Independence Day long weekend holiday, which begins today.
The Taliban have told citizens they can return to work as normal within the limits of Sharia law. The Pajhwok Afghan News service has reported a senior Taliban member in northern Afghanistan saying they "are not in search of monopolizing power " or revenge and are "striving for creation of a just system in which all Afghans can see themselves." The world is watching to see if they keep their promises.
At the national broadcaster, witnesses saw only a few staff entering the RTA compound with military troops vetting those who wished to enter. Other staff were afraid to come to work. Female staff were observed being turned away from the RTA compound.
Killid News reports that a female anchor working for RTA state-run television "claims she was sent back from office by Taliban and can no longer do her job." She says other male colleagues were allowed to enter the office premises but she was not. Her posts about not being able to work have sparked widespread reaction on social media, questioning the Taliban's commitment to allowing women to work.
The RTA website is currently "under development."
---
Subscribe to the radioinfo podcast on these platforms: Acast, Apple iTunes Podcasts, Podtail, Spotify, Google Podcasts, TuneIn, or wherever you get your podcasts.