Comment from Jen Seyderhelm
There'll be better definitions but, to me, a great orator has the ability to rally individuals and groups to a cause or circumstance. A good storyteller brings to life a person, whether real or imagined.
Alan Jones has both skills in spades. On radio, he is the Master of Storytelling.
My normal morning paneling Alan Jones started with no inkling of what would ensue. I heard from the producers at our various radio studios in Sydney, Brisbane and mine in Canberra. Just after the 8 am news Jones's long-term producer Ross Geddes said that Alan's comments would take a slightly different angle today. We'd know more in less than five minutes.
Great hook Ross, but I doubt a good hook was on his mind at all.
Then the news.
We have 13 more days of The Alan Jones Show before he retires to focus on his health, TV and other media responsibilities.
35 years on air.
The next hour was fascinating. The Prime Minister called in and Alan called him Scott, which made me smile. Stephanie said that her scorpio intuition made her know this moment was coming this week. Tony Abbott. Gladys Berejiklian, who'd apparently abandoned a press conference to ring him after being asked how she felt about it during questioning. John Laws called, apparently Jones's great rival for many years. Jones called Laws his "bitterest of friends".
Laws thanks Jones for attending his late wife's Caroline's funeral. Alan, as he does whenever he is given this sort of attention, lightly turned the thanks aside with good humour. Laws said he was "sad". How Laws said it made me realise that this really is the end of an era.
Some have and will say good riddance.
Jones ended the show with Dusty Springfield's I Just Don't Know What To Do With Myself, which he wryly sang along to. I came home and while walking the dog realised just how much I owe to this man professionally and personally. He is the best at what he does. Alan Jones's devotion to his role and the people who he has the power to provide a voice for has come at a cost to any sort of private life, regular sleep pattern and ultimately his health.
I've seen Alan speak for big causes and small. As a former speech writer for Malcolm Fraser, a man whom he spoke fondly of this morning too, Alan knows how to fire up an audience. It is when he speaks though to Stephanie and the countless other ordinary Australians, that I particularly engage. The drum Alans beats is that he is simply a vessel for the people who listen and they tell him what he needs to be addressed. Conservative or not (there is NO WAY Alan is going to run for Eden-Monaro) I have found that he has a unique way of addressing his guests before he starts any conversation with them that both helps them feel relaxed and heard. This is his storytelling gift.
Firstly he will preface the situation be it drought, bushfire, coronavirus, or so on, using the oration skills to set up a mental picture. If you've never done this, live, for several minutes, including statistics, notable characters and policy, you should try. I would imagine that the set up itself could take an hour of research.
Then, he introduces the guest. How he does this has unconsciously become part of my own professional practice. He'll say something like, "now this person won't ever tell you this about themselves but….."
And it will flow into a story, building a mental picture of a real person who deserved our listening time. Sometimes it is a couple of minutes before Alan opens the microphone to allow his guest to speak. Effectively he does the hard yards for you. There's another hour of research, context and emotional pull. Not only does it make the person feel validated, but they also feel safe. If we, as radio consumers want to continue to elicit diverse stories from fellow Australians, there is much to learn from the Alan Jones story telling technique.
On the other hand, as the Prime Minister and Gladys Berejiklian will attest, sometimes the preface will be to challenge the guest on what Alan's people has told him are issues that need addressing. Seasoned politicians, CEOs and spokespeople will be informed, somewhat, on what is coming. We all know about some of these moments that have gone well, and some where Alan has gotten himself in hot water. But, he always makes his guests into another human being with feelings and opinions, even if they differ from his own. He might then tear shreds off. I've heard a few that are most deserving of this verbal vicissitude.
People's response to my appreciation of Alan Jones is usually profoundly negative. I've had to take down a Facebook post today already. I read on another page someone saying, "I've never listened to Alan's vile vitriol…..". How can you know his vitriol is vile if you've not heard it? While I think that the next couple of weeks will be far more mellow as Alan allows himself to turn off his radio switch, I'd still ask that you switch on to appreciate for the final times, a man who is a master of his craft.
About the author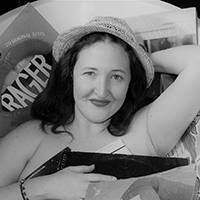 Jen Seyderhelm is an announcer, podcaster, producer, writer, news reader and music historian. She works for 2CC Canberra and is part of the Raiders Call Team.
Jen is a trainer in voice over and podcasting; her website is jenxaudio.com.au – you can find her Australian One Hit Wonders page here.
---
Subscribe to the radioinfo daily flash briefing podcast on these platforms: Acast, Apple iTunes Podcasts, Podtail, Spotify, Google Podcasts, TuneIn, or wherever you get your podcasts.
Ask Alexa
:
'Alexa, play radioinfo flash briefing'
or
ask Google Home
:
"Hey Google. Play the latest Radioinfo flash briefing podcast."
---