FBi Radio has relaunched All The Best for 2017 with a new logo, new theme music and a new tagline: 'New Australian Storytelling'.
All The Best is a podcast and nationally syndicated radio show that first launched in 2010. The program's new identity highlights its focus on showcasing Australian storytelling by young radio makers through short documentaries, interviews, personal narratives and fiction.
FBi favourites Shining Bird has composed new theme music to soundtrack the show in 2017. The experimental pop group from Austinmer on the NSW South Coast draw inspiration from Australia's beautiful natural landscapes. They were recently awarded two 2016 FBi SMAC Awards; Record of the Year for Black Opal and Best Song for 'Helluva Lot'.
All The Best worked with local creative Annie Hamilton to design a new visual identity for the show. Annie is a Sydney-based artist who showcases her love for Australiana, intricate detail and creepy insects as a freelance designer and illustrator. View more of her work at anniehamiltondesign.com
The program also welcomes Jess Hamilton (who happens to be Annie's sister) as its new full-time host. Jess discovered a love for community radio in 2013, working previously as Executive Producer for FBi's Canvas and 2SER's Final Draft.
All The Best is produced by Sydney's FBi Radio in association with SYN FM and Triple R in Melbourne. It is distributed nationally by the Community Radio Network.
Get a €200 discount for RadioDays Europe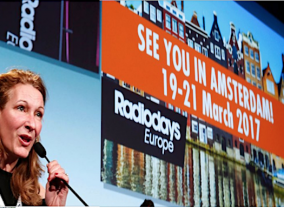 Hurry… Must be booked by February 10.
Thinking of going to RadioDays Europe next month in Amsterdam?
You can save 200 Euros off the ticket price by booking with radioinfo's special discount code.
radioinfo is once again partnering with what has become the biggest European radio event.
If you can't get there, we will cover the three day radio fest for you, but if you are going and haven't booked yet, take advantage of our discount.
YOU MUST BOOK ONLINE BY 10 FEBRUARY, USING OUR SPECIAL CODE TO GET THE DISCOUNT.
Email us for the code, no strings attached, no limits, you won't go onto a mailing list… just ask us for the code by emailing [email protected].
Participants must register on the RDE website (www.radiodayseurope.com) using the partner organisation discount code. Payment is made by credit card online.
Radiodays Europe is being held from 19-21 March at RAI Convention Centre in Amsterdam.
See some of our coverage of last year's event here.
Read more at: https://www.radioinfo.com.au/news/qa-now-offers-viewers-something-extra-radio © Radioinfo.com.au