Airplay Chart Highlights – 3 December 2020
Biggest Mover: Jason Derulo & Nuka up 257 spins to No.24 with 'Love Not War
Heating Up: Miley Cyrus & Dua Lipa's 'Prisoner' rises 9 places to No.22​
New Music: Billie Eilish enters the chart at No.32 with 'Therefore I Am'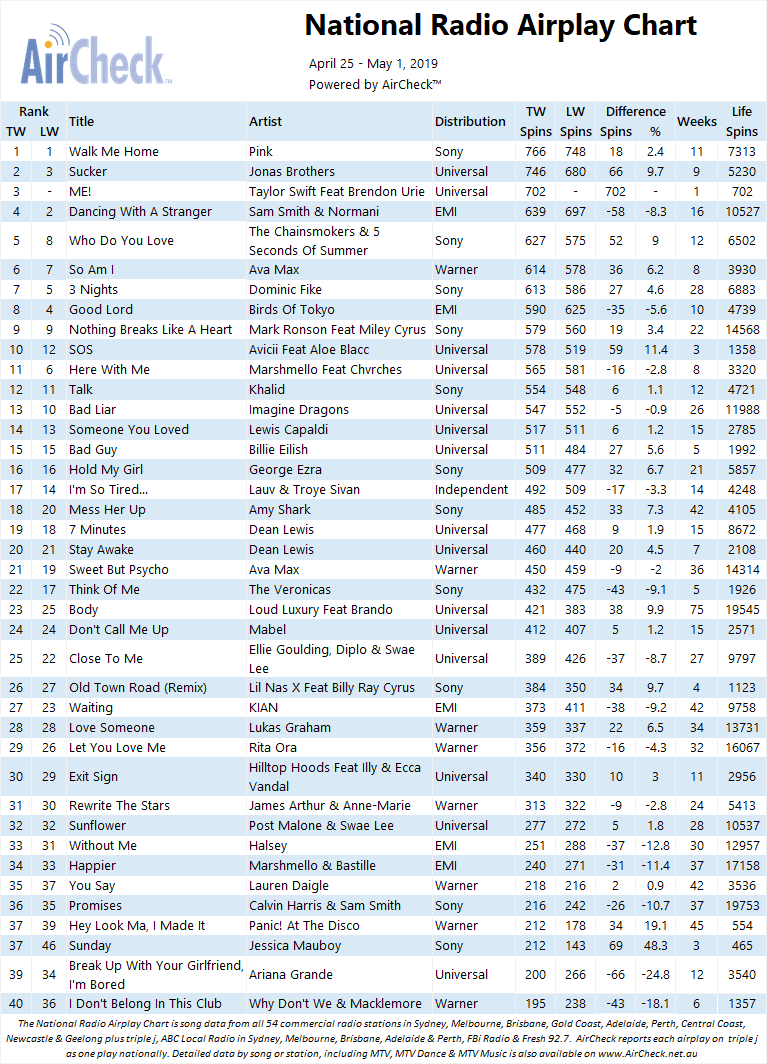 After the huge success of 'Savage Love', Jason Derulo released another hit, this time working with New Caledonian producer, Nuka. Their collaboration, 'Love Not War (The Tampa Beat)' rose 33 places this week on the AirCheck National Radio Airplay Chart, as airplay increased by 257 spins. With 18 stations spinning the track this week, the Nova network was out in front, accounting for 60% of the week's plays. The Edge Sydney made the greatest change in airplay, going from no spins at all last week to 31 this week.
Miley Cyrus and Dua Lipa continued to rise to No.22 this week, after 'Prisoner' debuted at No.31 last week with 267 spins. The collaboration earned spins across 21 stations, with KRock Geelong, Hot Tomato on the Gold Coast and Wave FM Wollongong adding the track to rotation this week. Miley Cyrus' 'Midnight Sky' still held strong at the pointy end of the chart, moving into No.2 with 836 spins.
Billie Eilish delivered new music in 'Therefore I Am' at No.32. The Edge Sydney was the top spinner adding 47 instances, followed by the KIIS network with Sydney and Melbourne adding 35 and 32 spins respectively. Meanwhile, triple j also supported the track – 'Therefore I Am' was their fourth most spun track this week.
---
Subscribe to the radioinfo podcast on these platforms: Acast, Apple iTunes Podcasts, Podtail, Spotify, Google Podcasts, TuneIn, or wherever you get your podcasts.