Our analysis of results by Networks and Cities during this cricket test and holiday season survey.
See the raw results here, Trend Graphs here and Spin Cycle here.
Networks
SCA
HIT Network
It is a rare and wonderful day when all the stations in your network go up in one survey. And that's just what they did today for HIT. It was a survey where, in general, heritage programmes were rewarded and new ones were shunned.
While you could hardly call the 2Day Breakfast show Heritage, it went up a tad to 4.1, the inclusion of Grant Denyer in the much maligned Breakfast show helped it gain 0.6 to reach 3.4. But it was in Melbourne where the well established Fox team of Fifi, Fev and Byron shot up by an incredible 3.3 to be #1 FM Breakfast and #2 overall. They helped FOX to gain 2.4 to reach a heady 10.8 share Mon-Sun.
In Brisbane Hit was up 1.2 to a 10.8 putting it in play to challenge the leaders, NOVA and 97.3FM.
Adelaide was a bit more subdued with just a 0.1 gain while in Perth, HIT 92.9 waxed on 1.5 to hit a 10.7 share.
Triple M's results were a little patchy, the most disappointing market was Sydney where the station slumped to a 4.9 share overall from 6.2 last time.
But in Melbourne the brand surged 1.1 to reach a 7.4 share. Brisbane eased -0.2 with both Adelaide and Perth brought home the relay strongly. 5MMM gained 1.3 and MIX 94.5 put on a spurt of 1.1 to consolidate its overall lead in that market with a 15.7 share.
Nova Entertainment
smoothfm
Never before have the smooth stations been so far apart in Sydney and Melbourne. In Sydney, the brand eased back just -0.1 to settle on 8.5 overall but in Melbourne it soared 2.5 to reach a 10.3 share – which is due more to the flux in the Melbourne market than any great difference between smooth 95.3 and 91.5.
NOVA
It was not a great day for NOVA. The brand went backwards in every market. Sydney was relatively steady though, with just -0.1 shed. Same in Melbourne. But in Brisbane the drop was a little bigger, -0.7, yet the station is still strong enough to retain the #1 spot.
When we get to Adelaide, the flood gates open with a -2.4 loss for NOVA 91.9. Nova in Perth fared somewhat better with a -0.9 loss in share.
ARN
KIIS
If ever there was a survey that was not worth acting upon, this one is probably it. At least that's probably how they're feeling over at KIIS. Talk about a rollercoaster. Sydney down by -1.8. Melbourne, the same. Brisbane up by 1.7. Adelaide up by 3.8. Can you believe it? Perth's 96fm, the most stable of the network with a loss of just -1.2.
Pure Gold
Pure Gold was somewhat more steady. WSFM was down -0.7 yet managed to jag #1 FM with a 9.0 share because KIIS went down by more.
In Melbourne, GOLD without the benefit of a high profile Breakfast show actually eased upwards by 0.1 to land on 9.0 share. Breakfast remained steady on 7.4.
In Brisbane, the venerable 4KQ took a -2.0 tumble while Adelaide's CRUISE1323 waned -0.4.
Macquarie and other Talk
Talking Lifestyle
Can you believe it? In Brisbane the brand almost doubled it's audience – from a low base, 0.5 to .0.9. But in Melbourne it slid to a 0.2 share while Sydney retreated by -0.1 on a 3.4. No matter, Talking Lifestyle has been earmarked for the scrapyard and hoping for better results in Sport.
Talk
2GB continues to dominate Sydney with a gain of 0.5 for an 11.8 share, the only station in double digits.
Melbourne's 3AW has a higher overall share, 13.2 despite shedding 1.8. Yet FOX and smooth also have double digits in the market.
After a promising rise last time, 4BC has eased -0.6 in Brisbane to land on 5.6 while in Perth 6PR is on a 6.2 share after dropping -1.3.
In Adelaide, after a strong survey last time, the NovaEnt owned FIVEaa has slumped -0.9 back to 10.8 share, yet it has managed to rise to second place overall as other around them have slumped further.
ABC Local
ABCSYD has lost more share (-0.4) and has been relegated to 5th place despite a 0.9 gain in Breakfast and a 2.0 gain in Evenings.
ABCMEL shed -1.2 to land on a 8.1 share overall putting it into 5th plane in Melbourne too. A far cry from the reliable 2nd place the ABC used to occupy in both Sydney and Melbourne.
ABCBRI, also on 8.1, is in 7th place after shedding -0.4. Adelaide was the network's best performer with a 1.7 gain and a 10.4 share, good enough for 4th place in the market. Perth remained steady on 7.6 which ranks it 6th.
triple j
Aunty's youth network fared better with rises in Sydney (1.8), Adelaide (0.3) and Perth (2.2).
It shed audience in Melbourne (-0.6) and Brisbane (-0.4)

Cities
Sydney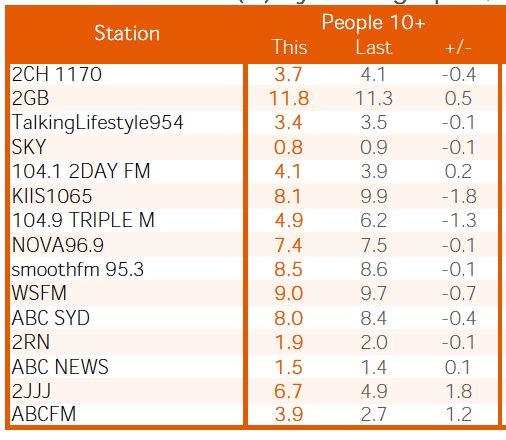 Triple j scored the biggest gain this survey, up 1.8 to 6.7% overall. ABC Classic FM was also up by 1.1 to 3.6%.
KIIS and Triple M were the biggest losers, with KIIS dropping 1.8 and Triple down 1.3 share points.
Top station 2GB increased its lead, up 0.5 to 11.8% overall.
Second placed WSFM dropped 0.7 to 9.0%
Smooth fm was third, down 0.1 to 8.5%, followed by KIIS, down 1.8 to 8.1%.
ABC Sydney was in fifth place, down 0.4 to 8.0%.
In the breakfast timeslot, 2GB, triple j and Classic FM all increased share. 2GB's Alan Jones remains on top in this timeslot, followed by ABC Sydney's new double header breakfast show with Robbie Buck and Wendy Harmer, which gained 0.9 share points. Kyle and Jackie's KIIS breakfast fell to third place after a drop of 2.1 share points. 2Day breakfast edged up slightly, gaining 0.6 to 3.4% in that timeslot.
In the hotly contested Drive shift, Nova moved into first position with its stable Kate, Tim and Marty breakfast show gaining 0.2 to 10.5%, while other shifts that have made changes showed some volatility. Also benefitting from stability was WSFM, which gained 0.4 to 9.2% in this timeslot.
KIIS lost 1.7 share points with the departure of Hughesy and Kate, and now sits third in the timeslot on 9.1%. 2Day FM was down slightly by 0.3 after the departure of Hamish and Andy and the addition of Hughesy and Kate, with the show now sitting on 5.2%. Triple M's new Kennedy Molloy show gained slightly, up 0.1 to 5.5%.
Melbourne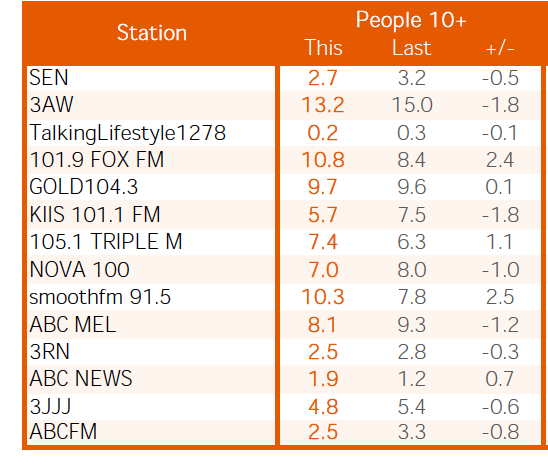 Fox gained most this survey, up 2.4 overall to 11.4%. Smooth also gained strongly, up 2.5 to 10.3%.
Losers this survey were: KIIS, which is bedding in new breakfast and drive shows, down 1.8 to 5.7%; 3AW, also down 1.8; ABC Melbourne, down 1.2; and Nova down 1.0.
Top station 3AW slipped to 13.2% from its lofty 15% at the end of last year.
The quick Fox jumped into second place, up 2.4 to 10.8%.
Smooth fm was third, also gaining strongly to 10.3%
In fourth place, Gold gained 0.1 to 9.7%, followed by ABC Melbourne, down 1.2 to 8.1%.
In the breakfast timeslot Fox FM's Fifi Fev and Byron scored a big increase, up 3.3 to 10.3% in that shift, second placed behind market leader 3AW, which had a drop in breakfast during the summer survey, losing 1.1 in this tmeslot to score 19%. KIIS breakfast with Jase and PJ dropped by 1.2 share points, as did ABC Melbourne's news breakfast team Jacinta Parsons and Sami Shah, who were down 2.9 to 10.1%.
In Drive, the new Melbourne based Triple M Kennedy Molloy show scored the biggest rise, up 2.2 to 8,7% for that shift. Stablemate Fox, which won the Drive timeslot with its new Melbourne based Hughesy and Kate show, jumped 1.7 to 12.7% in the drive timeslot (which includes half an hour of Carrie and Tommy). KIIS 101.1's new Will and Woody show replacing Hughesy and Kate dropped 2.0 to 7.4%. Smooth, which had no changes to the drive lineup gained 1.7 to 8.8% in that timeslot. Nova dropped 1.8 to 8.7% despite stability in its Kate Tim and Marty show. 3AW saw little change and ABC Melbourne was also stable, despite a format change to the afternoon current affairs show PM, which is now 30 minutes long, beginning at 6.30pm.
Brisbane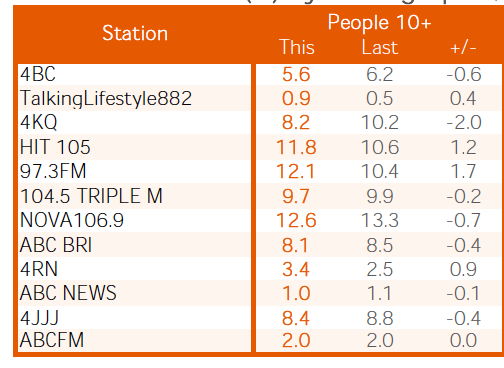 97.3FM and Hit105 both increased this survey, with 97.3 up 1.7 share points to 12.1% overall and Hit gaining 1.2 to 11.8%.
4KQ was the biggest loser, down 2.0 share points to 8.2% overall.
First placed Nova held on to top position despite slipping 0.7 to 12.6%.
Jumping into second place, 97.3 was just behind Nova, up 1.7 to 12.1%.
Third placed Hit 105 jumped to 11.8%, followed by stablemate Triple M, down 0.2 to 9.7%.
Fifth placed 4KQ scored 8.2%, followed by triple j then ABC Brisbane.
Hit 105's Stav, Abby and Matt lifted by 1.5 to win the breakfast timeslot, just ahead of Nova's Ash, Kip, Luttsy and Susie O'Neill, which dropped 1.9 to 12.2%. ABC Brisbane's new presenters Craig Zonca and Rebecca Levingston dropped to third place, down 0.5 to 11.1%.
In Drive, Nova easily retained top position with Kate Tim and Marty on 15.3%, followed by Hit105's new drive show with Hughesy and Kate, slipping slightly by 0.5 to 12.7%. 97.3's Will and Woody gained strongly, up 1.8 to 12.2% in that timeslot.
Adelaide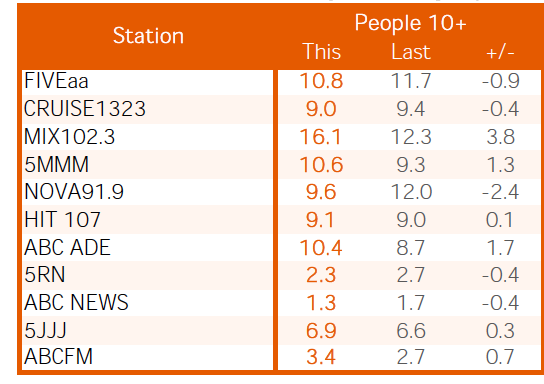 Mix 102.3 rocketed ahead of the pack this survey, gaining 3.8 share points to jump to 16.1% overall, about 6 points ahead of its nearest rival.
Triple M and ABC Adelaide also gained. Nova was the biggest loser, falling 2.4 share points to 9.6%.
Second placed FIVEaa lost 0.9 to 10.8%.
Third placed Triple M rose by 1.3 share points to 10.6% overall.
ABC Adelaide moved back into fourth pace, gaining 1.7 to 10.4%.
Nova dropped to fifth place, scoring 9.6%.
Mix 102.3 won breakfast after Jodie and Soda gained 3.3 to score 15.1%. FIVEaa was second in the breakfast shift with 13.8%, down 1.1 share points. ABC Adelaide gained 1.1 in breakfast to score 13.7%.
In Drive, Mix was again on top, gaining 2.4 to 15.2% with Will and Woody's new drive show. Nova was second in the timeslot with its incumbent team Kate Tim and Marty, despite a fall of 3 share points bringing it back to 12.3%. Triple M's Kennedy Molloy gained 1.6 to be in third place for this timeslot with 10.3%.
Perth
Triple J had the biggest increase in Perth, with its Hottest 100 countdown on 26 January falling within the survey period. The national youth station gained 2.2 to 10.8% (see related report here). Mix 94.5 and Hit 92.9 also rose.
6PR was the biggest loser, down 1.3 to 6.2% overall. 96fm also dropped, losing 1.2 share points to score 9.0% overall.
Top station Mix 94.5 gained 1.1 share points to 15.7%.
Second placed Nova 93.7 lost 0.9 to 12.8%.
Triple J was third with 10.8%, followed by Hit 92.9, up 1.5 to 10.7%.
Fifth placed 96fm lost 1.2 to 9.0%, while ABC Perth was steady in sixth place.
Mix's Clairsy Matt and Kymba won breakfast, gaining 1.8 to 15.1%, ahead of Nova's Nathan Nat and Shaun, up 0.4 to 14.8%.
In Drive, Nova consolidated top position, up 0.8 to 16%. Mix followed closely behind with Kennedy Molloy gaining one share point to 15.9%. Hit and triple j tied for equal third breakfast show with 11.8% each.
Digital Radio
In digital radio results, released simultaneously with analog ratings for the first time, networks of note include Cloes Radio, with 198,000 listeners across all five capital city markets, iHeart Radio's 80s station with 178.000 listeners across the four markets, and Triple M's Classic Rock station, which has 152,000 listeners across four markets.
ABC Radio's Double J and ABC Jazz both scored well in all markets, with Double J scoring 217,000 listeners across the five capitals and ABC Jazz on 187,000 listeners. ABC Grandstand scored strongly with its cricket coverage, especially in the Eastern States, with 159,000 listeners across all markets.
See the digital radio results in this report.