Our analysis of the networks and cities.
Refresh this report during the day to see the latest updates.
Raw results here. See also Digital Results, Cume Report, Spin, Analysis.

Networks
SCA
Starting with the best results first:
B105 has hit number one in Brisbane in what continues to be a tight contest for supremacy in that market. Only 1.1 share points separate the top five stations with Triple M on 10.0 and sister B105 on 11.1.
Triple M in Adelaide also enjoyed a good lift (+1.1) while SAFM eased back a tad (-0.4) ranking them 6th and 7th respectively.
Perth was steady with MIX94.5 #2 in the market, maintaining a 12.6 share overall and Triple M edging upwards (+0.2) to return an 8.2 share overall.
Not much movement either way for FOX or Triple M in Melbourne. Both breakfast shows returned the same figures as last time, 7.2 and 6.2 respectively, with overall numbers down -0.3 for FOX and up +0.1 for Triple M.
In Sydney, neither brand, 2Day or Triple M gained ground overall, down -0.3 and -0.2 respectively. 2Day is on a 3.9 share overall and Triple M on 5.9.
ARN
To prove the old radio adage, "It's not the band but the content that counts" the venerable 4KQ in Brisbane and CRUISE1323 in Adelaide, both music stations on the AM band, reached number two in their respective markets, hobnobbing it with their FM counterparts.
In other parts, Sydney, for example ARN experienced the rare thrill of both their stations, KIIS106.5 and WSFM notching up substantial, gains on the same day, +1.0 and +1.7 respectively with both Breakfast shows, Kyle and Jackie O together with Jonesy and Amanda also rising.
In the Melbourne market GOLD104.7 has bounced back much better than its FM rivals to hold down 2nd place on an 11.3 share (a mere 5.6 behind 3AW) and 2.7 ahead of next best, ABC MEL and 0.2 for smooth91.5 leaving little left to divide between the rest.
KIIS101.1 lost ground and remains one of the rest on a 5.5 share overall.
Nova Entertainment
When smoothfm was launched a decade ago, programming supremo Paul Jackson made the bold prediction that the brand could reach a 6.0 share – more than double the ratings its predecessor Vega had been averaging. Today they Sydney's smooth95.3 raked in a 9.3 share while Melbourne's 91.5 fetched an 8.4. Is Mr Jackson happy? Quite. But he did remind us that 'They had previously reached the 10's and 11's.'
Nova's success in Sydney has been its sheer consistency, the brand's more spectacular results have come in the three small metro markets. In Perth it dislodged Mix 94.4 form it's long held #1 perch some surveys back and has assumed the position for itself.
In Adelaide, Nova 91.9 is number three, FM with Ben and Liam, number two, FM, in Breakfast. And in Brisbane, Nova106.9 is only 0.5 off the lead in a tight packed bunch.
Nova's most encouraging result for the day was in Melbourne where Nova 100, gained +0.8 to put it nearer the FM leacders.

NINE Radio and other Talk
While Nine's flagship stations in Sydney and Melbourne remained comfortably in the lead in both cities, their results could not have been different. It's been five surveys coming since Covid has eased but, finally, 2GB has had that reality check many pundits had predicted.
The station lost -1.0 in overall share to land on a 13.4 while Ben Fordham plummeted -2.6 to return a 15.5 in Breakfast. Still, management wouldn't be unhappy because those numbers remain consistent with what 2GB was achieving pre-covid with Alan Jones in Breakfast.
In Melbourne, though, 3AW has kicked again, +0.6 for a 16.9 share overall and daylight to next best, GOLD on 11.3 – which, itself, is well ahead of the ABC and smooth91.5.
"Live and Local" has yet to kick in in Brisbane with 4BC down -0.7 for a 6.0 share overall. But there was better news in Perth with a +1.1 surge for 6PR to find itself on a highly respectable 9.3 overall.
In Adelaide, the NovaEnt owned FIVEaa remained fairly steady (-0.3) on a 9.7 share.
Nine Radio's music stations had mixed fortunes. 2UE was steady at 2.3% market share in Sydney, Magic 1278 dropped by 0.5 to 1% in Melbourne and 4BH gained 0.1 to score 2.2% in Brisbane.

ABC Local
While ABC SYD lost ground in every session, the Breakfast shift with Wendy Harmer and Robbie Buck, bucked the trend by posting a +0.5 gain for a 13.2 share and second place, beating out Kyle and Jackie O. Nonetheless, the station overall dropped by 0.4
In Melbourne, Covid's sugar hit has subsided to the point where the ABC has settled back to an 8.6 – about half the 16.9 of 3AW. The network lost ground in every other market too.

triple j
Now that winter approaches, the ABC youth network too, has lost ground in every metro market except in Perth where it gains +0.5 and reach a 9.1 share.
SEN
The Sports Entertainment Network now has a rated presence in two capitals, so we can report on it in our network roundup.
In Melbourne SEN grew audience fractionally, up 0.2 to 3%, its strongest market. In Sydney, where is SEN is on the former 2CH AM frequency, the station remained at its debut figure of 0.4%.
The network also has a growing number of SEN and SEN Track stations in other markets.
Cities
Sydney
2GB dropped most, while WSFM and KISS had the biggest gains.
2GB retains top position, dropping 1 share point to 13.4%
Second placed ABC Sydney lost 0.4 to score 11.8% overall
Third placed smooth slipped 0.1 to 9.3%
Fourth placed KISS gained 0.1 to 8.9%
Fifth placed WSFM gained 1.7 to 8.3%
Nine Radio's 2UE was steady as its music format beds into the market, SCA's 2Day dropped fractionally, with the new breakfast show slipping 0.6 on last survey.
2GB has the number one breakfast show, followed by the other AM talk station in the market ABC Radio Sydney, then KIIS FM.
2GB won mornings, ABC Sydney won afternoons and drive, 2GB won nights and weekends.
Melbourne
There was very little movement in the Melburne market this survey, with all moves less than one point. Smooth and Magic dropped most while Nova had the biggest gain.
3AW strengthened its top position, up 0.6 to 16.9%
Second placed Gold gained 0.3 to 11.3%
Third placed ABC Melbourne slipped 0.1 to 8.6%
Smooth was in fourth place, down 0.5 to 8.4%
Fifth placed Fox lost 0.3 to 7.2%
Nine Radio's Magic lost 0.5 to sit at 1.0%, ahead of Ace Radio's 3MP and RSN.
AM talk dominates the market, as it also does in Sydney. 3AW won breakfast, ahead of ABC Melbourne, then FM music stations Nova and Fox.
3AW won mornings, Gold won afternoons, 3AW won drive, evenings and weekends.
Brisbane
4KQ had a massive gain this survey, while triple j had the biggest fall, down 1.5 to 7.2%.
B105 is the new market leader, up 0.9 to 11.1% overall
4KQ jumped into second place with a rise of 2.0 share points bringing it to 11.0%
Nova was pushed down to third place, losing 0.8 to 10.6%
Fourth placed 97.3fm gained 0.3 to 10.2%
Fifth placed Triple M gained 0.1 to 10%
ARN's 4KQ won breakfast ahead of a resurgent B105 then Nova. 4KQ's gold music format also won mornings, B105 won afternoons, Nova won drive and evenings, 4KQ won weekends.
The B105 team were happy with the result today. How do we know? We got this oout of office email when our alert email went to their inbox!
Adelaide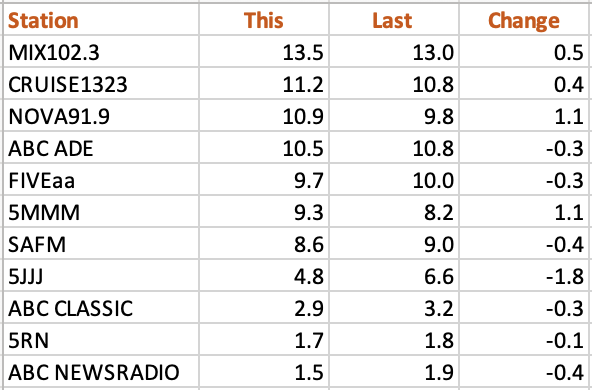 Nova and Triple M had the biggest gains, while triple j had the biggest fall, as the Hot 100 effect wears off in this market and across most markets for the national youth broadcaster.
Mix consolidated its top postition, up 0.5 to 13.5%
Cruise locked in its second position, up 0.4 to 11.3%
Nova moved up into third place, gaining 1.1 share points to 10.9% overall
ABC Adelaide slipped into fourth place, down 0.3 to 10.5%
FIVEaa dropped to fifth place, down 0.3 to 9.7%
Triple M moved into sixth place, up 1.1 to 9.3%
ABC Radio Adelaide won breakfast ahead of FIVEaa then Mix. Mix won mornings and afternoons, Nova won drive and evenings, Crusie won weekends.
Perth
The AM talk stations had the most movenet this survey, with 6PR gaining most and ABC Perth falling most, down 1.1 to 7.0%.
First placed Nova slipped 0.3 to 13.3%
Mix was steady in second place on 12.6%
Third placed 96fm gained 0.9 to 10.7%
6PR jumped into fourth place with a rise of 1.1 bringing it to 9.3%
Fifth placed triple j gained 0.2 to 9.1%
Breakfast was won by Nova, followed by Mix then 6PR. Mix won mornings and afternoons, Nova won drive, ABC Perth won evenings and Nova won weekends.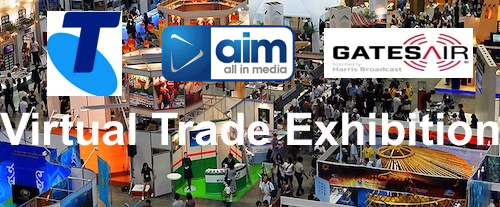 ---
Subscribe to the radioinfo podcast on these platforms: Acast, Apple iTunes Podcasts, Podtail, Spotify, Google Podcasts, TuneIn, or wherever you get your podcasts.