Our analysis of networks and cities.
Refresh this page regularly to see the latest additions.
Raw results here, also: Trends, Digital Results, Cumes, Spin.
Networks
Southern Cross Austereo
Survey 4 has been a white-knuckle ride for most networks. SCA being one of them.
In Sydney, Triple M gained +0.5 to put them on a 6.0 share but stablemate 2Day, which reached a hard-earned 6.0 two surveys ago, slid back a further -0.8 since last survey to land on 4.7.
In Melbourne, FOX had a +0.8 gain to put it on top of the FM tree while Triple M eased back a tad, -0.2, for a 6.7 share overall.
In Brisbane, Triple M was up by +0.4 to a 10.4 share while HIT105 plummeted -1.2 to land on 9.7.
In Adelaide the M's were up +0.5 while HIT107 was down -0.9.
Then in Perth, things got really weird. Perennial market leader MIX94.5 nosedived by a huge -2.2 and gave up its lead to Nova (+1.5) in a massive 3.7 turnaround. HIT92.9 shed an almost negligible -0.3
Nova Entertainment
smoothfm
For the first time in a long time both smooth stations lost audience share. In Sydney, it was only by -0.1 but it was enough to reduce it to single digits; 9.9 rather than the more boast-worthy 10.0 share it had before.
In Melbourne, though, smooth sunk by an unprecedented (for them) -1.5 to a still respectable 8.8 share but down to #3 on the FM ladder and #4 overall.

NOVA
All told, NOVA had a great book – all gain, no losses. Sydney up +0.3 to 7.5 (numbers exactly matched by their breakfast show). Melbourne was rock steady also on a 7.5 share.
In Brisbane, the brand was up +2.0, consolidating its lead in the marketplace. In Adelaide, Nova returned a 10.9 share, up +0.6 since the last survey.
The champagne corks will be popping in Perth. 93.7 shot up +1.5 to take the lead away from MIX94.5.

ARN
There's no rest for the boffins in management at ARN.
Flagship, KIIS106.5, lowered its mast by -1.2 while WSFM upped theirs by a fraction, +0.1. The frustrations of a 'one up, one down' result continued in Melbourne with the local KIIS entity up by a nice +0.6 and even more pleasing a +1.3 gain for its brealkfast team, Jase & PJ. But sadly, news from the other side of the building was not so good with GOLD104.3 down -0.9 and the Christian O'Connell Breakfast Show, which had been doing so well recently, was down -0.7.
In Brisbane, while 97.3FM settled for a small -0.2 loss, the venerable 4KQ shot up +1.2 to a 7.5 share to be #1 AM and level-pegging with 97.3.
In Adelaide, both Mix102.3 and CRUISE1323 shed a wee dram of just -0.1 with Mix retaining market leadership. Perth's 96fm remains problematic for the network, -0.2 this time.
Macquarie Media and other talk
After the sugar hit provided by the federal elections, you might expect talk stations to shed some share – 2GB was down -0.8. But someone forgot to tell 3AW (+0.5), 4BC (+0.2), FIVEaa (+0.6) and 6PR, steady (0.0).

ABC Local Radio
After a relatively poor showing last time, ABC Local radio re-gained share in three of five markets.
In Adelaide it shed -0.7 and -1.0 in Brisbane which puts ABC Bris on a 6.8 share.
In Sydney, however, which in Survey 3 posted its worst result in 13 years, was back on the track to former glory with a +0.7 rise. It's much maligned breakfast show with Wendy Harmer and Robbie Buck gained +1.0 to land on a 9.9 share and third in the market.
Melbourne squeezed upwards with a +0.1 increase while went a bit better, +0.2

triple j
Not much doing for triple j in Sydney, Melbourne and Brisbane +0.4, +0.1 and 0.0 respectively. But things got choppy in Adelaide (-1.0) and Perth with a +1.7 lift which elevated the station to an 11.5 share and placed it third in that market.

Cities
Perth
There's a lot happening in Perth, so this survey we are starting in the West.
There was plenty of movement in the top stations, with Mix 94.5 losing most (down 2.2), triple j (up 1.7) and Nova (up 1.5) gaining significant overall share.
Nova has snatched market leadership with a gain of 1.5 to put it in top postiion at 14.1% overall.
SCA's Mix 94.5 was pushed into second place, losing 2.2 share points to 12.1%.
Triple j consolidated its third position with a rise of 1.7 taking it to 11.5%.
Fourth placed Hit 92.9, an SCA station, slipped slightly, down 0.1 to 9.1%.
ABC Perth moved into fifth place, gaining 0.2 to 8.0%, while ARN's 96fm slipped further, losing 0.2 to 7.7%, dropping out of the top 5.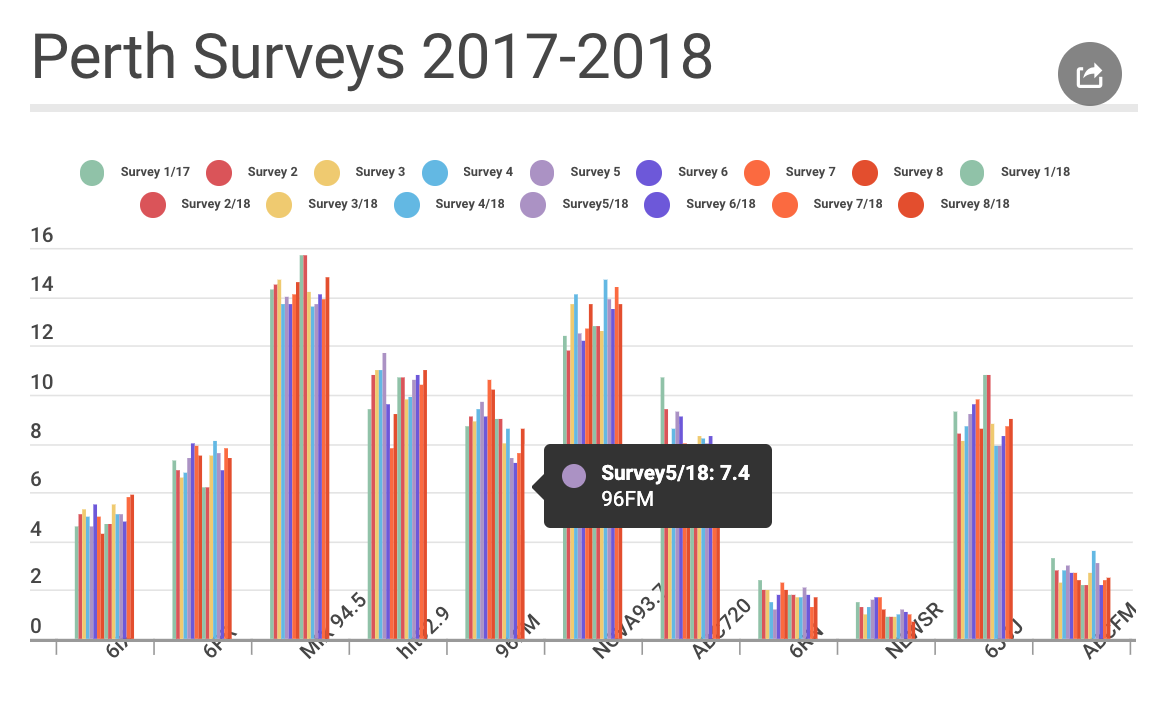 Over the past couple of weeks some major changes have taken place in Perth, with a 'radio war' being declared by the local newspaper.
Mix – part of the Triple M network, has shown a downward trend this year, while SCA's Hit 92.9 has been consistent over rthe past three years as our trend graph shows. Nova has been increasing steadily, but ARN's 96fm has been fighting to stay in the top 5 since mid last year, when a steady decline began (click the right graph to explore the live trend figures from 2017 & 2018).
With 96fm's trends (see current chart) not improving this year, ARN has begun to make changes, bringing back legendary Perth manager Gary Roberts, poaching Dan Underhill from Nova and ditching the previous breakfast show to bring back local personality Fred Bottica. Time will tell if those changes can reverse the trend for 96fm.
Nova won 10-17s, triple j won 18-24s, Nova won 25-39s, Mix won 40-64s, and ABC Perth won the over 65s.
Nova's Nathan, Nat and Shaun won breakfast, just ahead of a tightly contested breakfast pack including second placed Ben & Liam on triple j, Mix and ABC Perth. 96fm scored the lowest breakfast share of the commercial stations. Mix won mornings, Nova won afternoons, drive, evenings and weekends.
Adelaide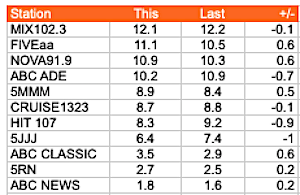 Triple j had the biggest fall this survey, losing one share point, while other stations had fractional movement.
Top station ARN's Mix 102.3 slipped 0.1 to 12.1%.
FIVEaa continues its climb back to more healthy figures, up 0.6 and moving into second place with 11.1%.
Nova dropped 0.6 and fell back into third place with 10.9%.
Fourth placed ABC Adelaide also lost ground, losing 0.7 to 10.2% and also losing a Content Director as Barry Keohane prepared to move to the rival ARN stations in the market.
Triple M moved into fifth place, up 0.5 to 8.9%, pushing Cruise (down 0.1) to sixth spot on 8.7%.
Nova won the 10-39 demographics, Mix won 40-54s, Cruise won 55-64s and ABC Adelaide won the over 65s.
ABC Adelaide dropped significantly in breakfast, retaining top position by only 0.1 ahead of FIVEaa and Mix. FIVEaa won mornings and weekends, Nova won afternoons, Mix won drive.

Brisbane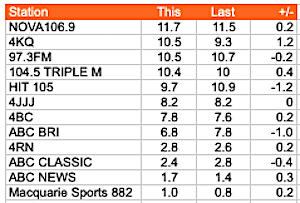 Hit and ABC Brisbane had the biggest falls of the survey, while 4KQ had the biggest rise.
Nova retained top postiion, up 0.2 to 11.7%.
4KQ bounded into second position with a gain of 1.2 bringing it to 10.5% overall. Equal second was 97.3fm, which lost 0.2 to 10.5%
Third placed Triple M gained 0.4 to 10.4%.
Hit 105 slipped to fourth postion, down 1.2 to 9.7%.
Fifth place went to Triple J, steady on 8.2%.
ABC Brisbane fell below 4BC, with the two talk stations in 6th and 7th positions.
Nova won the 10-39 demographics. Triple M won 40-54s, 4KQ won 55-64s and 4BC won the over 65s.
Nova won breakfast, just ahead of Triple M and 4KQ. Triple M won mornings and afternoons, Nova won drive, ABC Brisbane won evenings and 4KQ won weekends.
Melbourne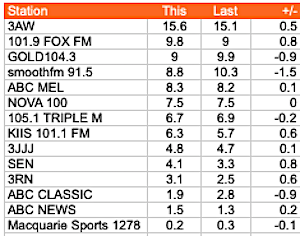 smooth, Gold and Classic FM fell most this survey, while SEN and Fox rose most (less than one share point).

3AW retained top position, up 0.5 to 15.6%.
Fox moved into second place, up 0.8 to 9.8%.
Gold slipped into third place after losing 0.9 to score 9.0%.
smooth dropped 1.5 to 8.8%, falling from second to fourth position.
Fifth placed ABC Melbourne was up 0.1 to 8.3%.
Nova won 10-17s, Fox won 18-39s, Gold won 40-54s and 3AW won the over 55s.
3AW won breakfast ahead of Fox and ABC Melbourne. 3AW won all other shifts.
Sydney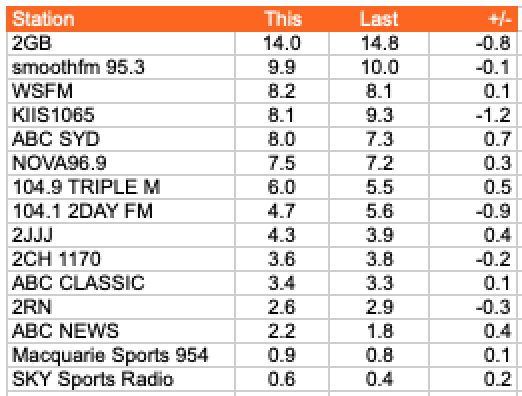 KIIS had the biggest fall this survey and ABC Sydney had the biggest rise (under one share point).
First placed 2GB lost 0.8 to 14.0%, after a turbulent month of rumours about shift changes that resulted in Chris Smith leaving the station and Steve Price moving to afternoons.
smooth was second, down 0.1 to 9.9%.
Third placed WSFM gained 0.1 to 8.2%.
Fourth placed ABC Sydney rose 0.7 to 8.0%.
Fifth placed Nova gained 0.3 to 7.5%.
Of the sixth and seventh placed SCA stations, Triple M rose while 2Day fell. Triple M's highest rating shift was The Chaser.
Nova won 10-17s, KIIS won 18-39s, WSFM won 40-54s, 2GB won the over 55s.
2GB won breakfast ahead of KIIS and ABC Sydney. 2GB won all other shifts in the market.