Our analysis of the networks and cities for Radio Ratings Survey 5.
Refresh this page during the day to see the latest updates.
Check last survey's analysis here, and also this survey's Spin Cycle.
Networks
SCA
Triple M Network
It was a good survey for the M's: Rock steady, with both Sydney and Melbourne returning a a gain/loss of 0.0. Brisbane eked out a 0.1 gain while Adelaide starred for the brand rocketing up by 1.2 to a 10.0 to secure a seat at the double digit table.
Meanwhile in Perth where Triple M is nominally Mix 94.5, the station consolidated its hold on market leadership with a 0.3 gain to land on a 14.0 share overall.
HIT Network
In Perth, HIT 92.9 enjoyed a solid gain of 0.7 and there was an encouraging 0.2 uptick for 2Day in Sydney with 0.3's worth of green shots for Em Rusciano and Harley Breen's breakfast show.
ARN
It was a Pure Gold survey for ARN with both the brand's stations going up in the money markets of Sydney and Melbourne. Sydney's WSFM did the better of the two, posting a 0.7 gain to go to a 9.3 share which puts them at #1 Fm and #2 overall in Sydney.
Melbourne's GOLD 104.3 waxed a mere 0.2 but it was enough to "catapult" the station into second place on the FM band behind smooth and a faltering FOX.
Even the venerable 4KQ kept the show going in Brisbane with a 0.4 gain while in Adelaide, CRUISE1323 posted a resounding 1.5 surge to reach a 9.8 overall.
KIIS Network
It was a mixed result for the KIIS network – steady as she goes for KIIS 106.5 in Sydney with the station up 0.3 to an 8.4 share placing it #2 FM behind stablemate WSFM. Kyle and Jackie O returned a 0.0 gain/loss in Breakfast.
KIIS 101.1 in Melbourne eased -0.3 leaving it on a 6.1 share to languish at the tail end of the commercial FMers. Brisbane fared no better, with 97.3FM suffering a -0.6 loss but still retaining its second place in the market.
Nova Entertainment
smoothfm
Funny how fickle listeners can be. Like McDonald's smootfm is pretty consistent whether one listens in Sydney or Melbourne. A few surveys back, the two stations were level pegging. Then Sydney's 95.3 shot to #1 FM. Now it's Melbourne's 91.5 that holds that accolade in its respective market.
Nova Network
Not much to say about Sydney and Melbourne which went down -0.1 and up 0.1 respectively.
After that, it was a pretty wild ride looking at the other cities.
106.9 in Brisbane shed -1.1 but still managed to hang on to its lead on a 13.0 share as rivals also tumbled around it. In Adelaide, though, 91.9 gained 1.5 to leapfrog HIT for #3 FM.
Macquarie Media and other talk
MacRadio's flagship stations, 2GB and 3AW both consolidated their number one status' with solid gains of 0.7 and 0.4 respectively.
Perth's 6PR also did well with a 0.6 gain but on a much lower base (7.4) than its high flying sisters. 4BC in Brisbane was relatively steady, shedding just -0.1 on a 5.8 share, overall.
The NovEnt owned FIVEaa is on a highly respectable 11.4 share in Adelaide having slipped slightly by -0.3 but well ahead of main rival, ABC Adelaide on a 10.1 share.
TalkingLifestyle
While the brand is only 0.4 away from an asterisk in Melbourne and 1.0 in Brisbane, remarkably it gained 0.5 to be on a 3.4 overall in Sydney despite its breakfast team of John Stanley and Garry Linnell dropping -0.5.
All the station's other shows went up, including the long running George and Paul weekend show which shot up by 1.5 to land on a 6.5 – almost double the station average.
ABC
Local Radio
Add up all the gains and losses and it seems that, as a network, ABC Local Radio shed -0.7 in audience share, overall. Sydney took the biggest hit, losing -1.0, leaving it in third place in the market.
The largest gains were in Melbourne and Perth, each with 0.7 to their credit.
triple j
Add up all the gains and losses and it seems that, as a network, triple j gained 0.9 in audience share. But they achieved that result in a more volatile fashion than their colleagues at ABC Local.
The ups and downs went this way: Sydney, +0.5; Melbourne, -0.4; Brisbane, +1.5; Adelaide, -1.2; Perth; +0.5.
Cities
Sydney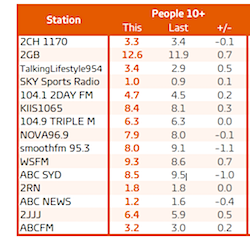 Smooth and ABC Sydney both took hits this survey, dropping over one share point each. Other stations increased fractionally, but there were no significant upward movements.
Top station 2GB consolidated its lead, gaining 0.7 to 12.6% overall. Sister station TalkingLifestyle was towards the bottom of the pack, but inched up slightly, gaining 0.5 to 3.4%.
WSFM pushed out ABC and Smooth, moving into second place overall (number one FM), up 0.7 to 9.3%.
Third placed ABC Sydney dropped 1.0 share points to 8.5%, just ahead of KIIS, in fourth place, up 0.3 to 8.4%.
Fifth placed Smooth FM lost 1.1 to score 8.0%.
Melbourne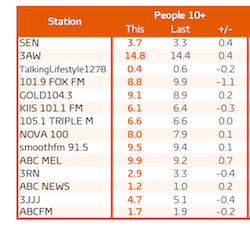 Fox dropped most this survey, ABC Melbourne gained a little, but there was not much other significant movement.
3AW retained its huge first position lead in the market, up 0.4 to 14.8%.
ABC Melbourne moved into second place, pushing out Fox from that position after gaining 0.7 to 9.9%.
Smooth retained third place, up 0.1 to 9.5%.
Gold was fourth, up 0.2 to 9.1%, followed by Fox, slipping 1.1 share points to 8.8%.
Brisbane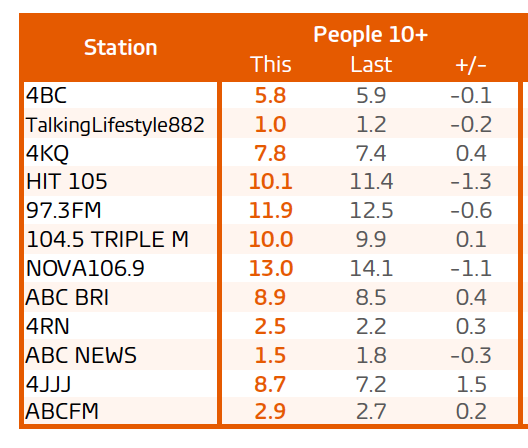 Hit and Nova suffered then biggest falls in the Brisbane market, while triple j had the biggest rise.
Nova retained its top position, despite sliding 1.1 to 13.0% this survey.
Second placed 97.3Fm dropped 0.6 to 11.9%.
Hit105 was third, dropping 1.3 to 10.1%, closely followed by sibling Triple M, up 0.1 to 10.0%.
ABC Brisbane won fifth place with 8.9%, up 0.4, just ahead of stablemate triple j, which had a big increase of 1.5 share points, to score 8.7%.
Adelaide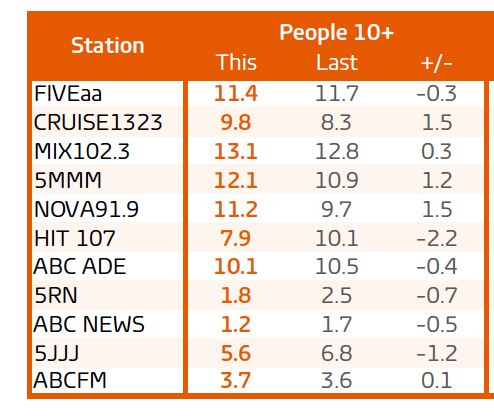 Cruise, Triple M and Nova all had strong gains in Adelaide, with Hit and triple j suffering the biggest losses.
Mix 102.3 consolidated its top position, up 0.3 to 13.1%.
Triple M moved into second place, with a rise of 1.2 share points taking it to 12.1%.
FIVEaa was third, down 0.3 to 11.4%, followed closely by Nova, which jumped 1.5 share points to 11.2%, pushing out Hit from fourth place last survey.
ABC Adelaide was fifth, down 0.4 to 10.1%.
Cruise rose into sixth position, up 1.5 to 9.8%, while Hit slipped to 7.9% after losing 2.2 share points this survey.
Perth
Nova had the biggest fall of the Perth survey, relinquishing top position back to Mix 94.5. There was little significant movement at other stations.
Mix 94.5 took first position, up 0.3 to 14.0%.
Nova slipped back into second position with its fall of 1.6 share points moving it to 12.5%.
Hit92.9 was third, up 0.7 to 11.7%.
Fourth placed 96FM gained 0.3 to 9.7%, followed by ABC Perth, which rose by 0.7 to 9.3%.