Our analysis of networks and cities
Refresh this page regularly to see the latest additions.
Raw results here
Networks
Nova Entertainment
smooth
Survey 5 brought another one of those "one up, one down" results for smoothfm. This time the -0.8 for Sydney's 95.3 coupled with the +0.6 for Melbourne's 91.5 served to bring the two closer together with a 9.1 and a 9.4 share overall respectively.
NOVA
As a network, NOVA experienced little movement but had two important wins in Perth and in Brisbane. Perth is perhaps the most significant where NOVA93.7 has consolidated its lead on a 14.4 share, now 2.7 ahead of the once impregnable MIX94.5.
In Brisbane, NOVA106.9 was able to withstand a resurgent 97.3FM to retain the top spot. In Sydney and Brisbane both stations eased back -0.3 to land on the same overall share, 7.2.
In Adelaide, NOVA 91.9 remained rock steady in 3rd place with a 10.9 share.
ARN

Survey 5 of 2019 will surely go down in ARN history as one of its finest innings. With the exception of venerable 4KQ which tumbled -1.8 in share, yet still managed to retain its #1 AM spot in Brisbane, all of its other stations posted gains. None bigger than the hitherto struggling 96fm in Perth that shot up by +3.0 on the back of a new breakfast show and Real Music positioner. The station now finds itself in 3rd place on a 10.7 share.

In Adelaide, where MIX102.3 was in danger of losing its crown to Nova, it kicked again, up +1.2 to lead by a 2.4 margin on a 13.3 share overall. CRUISE1323 also firmed +0.6.

In Sydney it was 'steady as she goes for KIIS and WSFM, both up just a tad, but both up in the same survey is a rare occurrence.

Perhaps the most pleasing results for ARN were in Melbourne where the unprecedented risks with unknown talent in Breakfast on both KIIS and GOLD seem to be paying off. On GOLD 104.3 Christian O'Connell's breakfast show was up to an 8.0 share while Jase & PJ on KIIS are now on a highly respectable 7.2 share. Drive with Will & Woody is up too on 7.6. Overall the station went up +0.4 to land on a 6.7, leapfrogging Triple M.

SCA

HIT Network

If the Survey Gods had been up to their usual mischief, then 2DayFM would have put in a blinder just to embarrass management for having axed the Breakfast line-up last week. Instead, the result, -0.6 for a 4.1 share overall has vindicated their decision but we doubt they'd celebrating.

In Melbourne, though, there's plenty of cause for celebrations with 101.9 FOX leading the FM pack on a 10.2 share and #2 overall in the market. In Brisbane, HIT105 slid -0.4 to be on 9.4 but has three FM stations ahead of it, all in double figure.

Adelaide's HIT107 also shed market share and its 7.9 only gets it 7thplace on the ladder while in Perth, HIT92.9 is steady on a 9.0 share.

Triple M

In Sydney, the Triple M brand firmed +0.1 to a 6.1 share while in Melbourne it was 6.4. The brand goes up a gear or two in the other capitals.

In Brisbane, it ranks 3rdon 10.8. In Adelaide, 5thon 8.9 and in Perth (MIX94.5), 2ndon 11.7
Macquarie Media and other Talk

It was a "not much to see here, folks" kind of survey for MacRadio. Most interest centred around the talent reshuffle with Steve Price replacing Chris Smith in Afternoons (-0.3) and John Stanley going into Nights (-0.9). But with every other shift on the station down by similar amounts, there's not much can be read into the line-up change.

In Melbourne, 3AW is down -0.4 off a high base to a 15.2 share, 5.0 ahead of 2nd placed FOX. In Brisbane 4BC was down -1.1 to 6.7 and in Perth, 6PR was up +0.1 with a 7.7 share.

FIVEaa owned by NovaEnt, in Adelaide was steadyish (-0.1), #3 in the market on 11.0.
Macquarie Sports Radio
In Sydney and Brisbane the brawny brand has lept into whole single digits, recording a 1.0 share in Sydney and a 1.5 in Brisbane, leaving Melbourne struggling on a 0.2 share up against SEN on 4.5.
ABC

Local Radio

ABC Sydney had a blinder with Wendy Harmer and Robbie Buck in Breakfast hitting their straps and putting on a spurt of +1.6 to propel them into second place on an 11.5 share behind Alan Jones and ahead of Kyle & Jackie O. This was enough to park the station into second spot in the market overall on a 9.4 share, ahead of smooth in 3rdon 9.1.

Aunty didn't fare so well in the other markets, with a modest fall in Melbourne, -0.3 with an 8.0 share. -0.9 with a 9.3 share in Adelaide and -1.1 with a 6.9 in Perth. Brisbane, though, edged up +0.1 with a 6.9.
triple j

Big in Brisbane: +0.1 to 8.3. Even Bigger in Perth: despite a drop of -2.2 it managed to land on a 9.3 share overall. A slight gain in Sydney: +0.2 to 4.5. A drop of -0.5 to 4.3 in Melbourne and -0.8 in Adelaide to finish on a 5.6 share.
Cities
Sydney

ABC Sydney had the biggest rise, smooth slipped a little, while most other stations were relatively steady.
Top station 2GB dropped by 0.6 share points to 13.4 in a survey that contained the latest campaign against breakfast presenter Alan Jones. The station is still well ahead of the rest of the market.
ABC Sydney jumped into second place in a big way, up 1.4 to 9.4%.
Smooth slipped into third palce, down 0.8 to 9.1%
Fourth placed WSFM gained 0.2 to 8.4%
ARN Stablemate KIIS was fifth, up 0.1 to 8.2%
Melbourne


It was a steady survey in Melbourne with no extreme movement.
Top station 3AW lost 0.4 to 15.2%
Second placed Fox gained 0.4 to 10.2
Gold gained 0.8 to 9.8% in third palce
Fourth placed Smooth regained 0.6 to 9.4%
Fifth placed ABC Melbourne lost 0.3 to 8.0%
Brisbane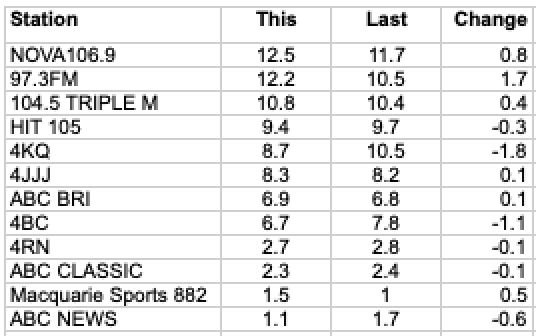 97.3 had the biggest rise, while AM station 4KQ and 4BC had the bigest falls.
Top station Nova gained 0.8 to 12.5%
A surging 97.3 is coming close to challenging for the top spot, up 1.7 to 12.2%
Third placed Triple M gained 0.4 to 10.8%
Fifth placed Hit lost 0.3 to 9.4%
Adelaide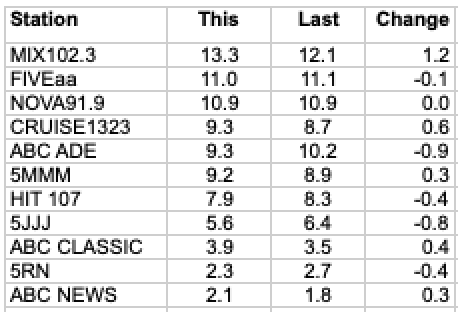 Mix had the biggest gain in Adelaide while the rest of the market was fairly steady.
Mix consolidated its lead with a gain of 1.2 to 13.3%
FIVEaa slipped 0.1 to 11.0%
Third placed Nova was steady at 10.9%
Fourth placed Cruise gained 0.6 to 9.3%
ABC Adelaide slipped into fifth place after losing Content Director Barry Keohane, down 0.9 to 9.3%.
Perth


96FM had the biggest gain while the ABC's triple j and ABC Perth slipped most.
Nova was to with 14.4%, up 0.3
Second placed Mix lost 0.4 to 11.7%
96FM moved into third place with a gain of 3.0 taking it to 10.7%
triple j lost 2.2 and slipped into fourth place with 9.3%
Fifth placed Hit lost 0.1 to 9.0%